As one of the leading operators in Portugal, IDEA Spaces began with a mission of keeping community at its core. Now with three locations open in Lisbon — the most recent of which, IDEA Saldanha, opened in the middle of the pandemic — the coworking brand is getting close to its goal of recovering to its normal pre-Covid occupancy rate of above 90%.
Throughout COVID-19, one thing was clear: IDEA Saldanha was simply the result of the operator's continued mission of investing in progress, keeping members safe, and focusing on "local" as a starting point.
With this focus, IDEA turned to legendary local street artists, Los Pepes Studio, who are known for their colorful, geometric works of art all throughout Lisbon and Porto.
We caught up with Vanessa Nunes, IDEA's Member Experience Manager, to learn more about the company's story and how understanding the power of empathy and reciprocity has led to powerful collaborations with local businesses like Los Pepes.
So, tell us the story of IDEA Spaces! How did the coworking company get its start?
IDEA Spaces is much more than "spaces." We are a community that enables its members to gather physically in their cowork spaces. The project started back in 2014 with the first location at Parque das Nações, in Lisbon, and has been growing ever since. The second location opened in 2017 and the most recent one opened at the end of 2020, also in Lisbon. 
This only means that the community has been growing. Companies and people look for different benefits and amenities along their growth journey, and IDEA has been beside them every step of the way. We value the relationship we create with our members, and we're very proud to still have people from IDEA's "day one" within our community .
The way we see it, since the beginning, is that people should be seen and treated as a community. We offer an amazing space and conditions to work, but only as a part of our concern and dedication to our members' wellbeing. If you are looking for a place to share ideas, knowledge, insights, or just a beer; a place to know incredible businesses and inspiring people; a place with people who celebrate your success and stand by you in the most difficult times; IDEA is the right place.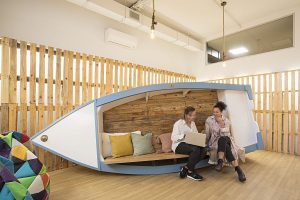 How has the brand evolved over the years and throughout COVID-19?
COVID-19 was obviously a challenge for us, like it has been for everyone around the world. We never closed our doors, because correspondence management was still required, and we needed to allow our members to come to their workstations if needed. But we did change our operation a few times, respecting government restrictions and healthcare recommendations.
Today, Portugal is opening borders and lifting the strictest measures. People can now slowly resume their social and work activities and there's a positive vibe about the future in general. That surely has a lot to do with the vaccine, but also with the efforts everyone and every business is making too.
At IDEA, we have a wide range of safety and hygiene measures in all locations that we will keep for the long-term, including free antigen COVID-19 testing every week for all members who regularly work from our locations.
Coping with COVID-19 was also an opportunity to revisit old ways and to invest in progress. Our IDEA mobile app was born from that exercise, and now it's an amazing tool in what concerns the experience as much as it helps people reduce contact with surfaces. The IDEA app is exclusive for members, connects and engages everyone within the community, and with it, our members can open doors at all locations using only their own phone.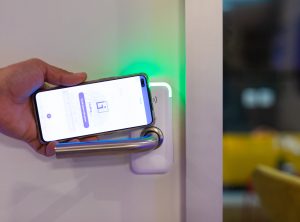 On the other hand, we started noticing the increasing interest for more flexible memberships, and because of that we launched a hybrid membership called (re)work. With that membership, companies can rotate their teams from remote to office work, giving their workers all the benefits of being an IDEA member, but paying only for the contracted workstations.
So, we've been evolving in different ways, respecting the immediate needs of our community as well as building the experience we want to deliver in the future.
As a result of these efforts, IDEA Spaces has a current community of 806 members and 203 companies, getting closer to accomplishing the goal of recovering its normal pre-pandemic global occupancy rate of above 90% by November 2021.
Recently, IDEA Spaces opened its third and newest location in Lisbon. Could you tell us more about this new space and its amenities?
The new location in Lisbon's city center (Avenida Defensores de Chaves, Saldanha) is only a three-minute walk from the subway station, joining the previous IDEA locations in Lisbon.
IDEA Saldanha has an area of 5.,000 sqm, 12 floors with more than 34 private offices and capacity for 500 workstations, 18 meeting and event rooms, a private cinema room and a 800 sqm terrace where a swimming pool will be built. The building also has its own parking, numerous phone booths and two lounge floors, a cafeteria, and even a few showers for our sports' club members.
Like all IDEA locations, you can subscribe to coworking hot desks, private offices or virtual offices, and still have access to all other locations, as well as happy hours every Thursday afternoon to engage with the community and access our exclusive mobile app to chat directly with all members.
Betclic, Carlsberg Data, Emma Sleep, Lockwood, Extia Portugal, Flixbus, Ingecom and Element Alpha are some of our resident companies at the new location, and the space. is almost at its full capacity already—just one month after officially opening!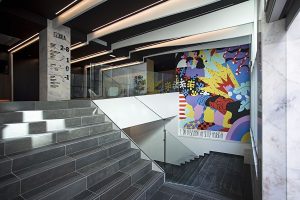 The new space features unique art by a local artist in Lisbon, Los Pepes Studio. Can you tell us about how this partnership came about?
IDEA Saldanha opened in the middle of the pandemic, during a time when Portugal was in lockdown. Uncertainty, struggle, and financial difficulties were everywhere; many people did not know what to expect from the future or if they even had one. But, at the same time, they were reinventing themselves, fighting to keep their businesses going, innovating, getting help and helping back, and some ending up getting great results from all that effort. 
That was the trigger that made us want to pay tribute to everyone who was resisting the pandemic, recognizing the importance of everyone's contribution to the common good and remembering that, no matter what may come, we'll get over it together.
So, we had the perfect "canvas" at IDEA Saldanha and the message; we only needed the artists. Los Pepes Studio came up right away because we've reached out to them for a different project before. We knew their work, we related to it. and we were sure that they would do a great job finding the right way to turn the message into a piece of art.
Why was it important to IDEA to integrate local artistry in the new space? How does the art add to the space's environment and feel?
More than integrating local artists, we are aiming to deliver meaningful messages. That is always our starting point. But it's true that art adds an inspiration factor that we look to offer in all IDEA locations. It is something that we are open to and will integrate in many different ways in the future, hopefully with more local artists. 
If there's something we can take out of all this pandemic experience, it's that we can make a difference starting with those closest to us. We won't be able to save the world, but we have the power to look around us and to help a few lives, that would then be able to help others, and from then on. So, "local" art, services, and people is always the best way to start.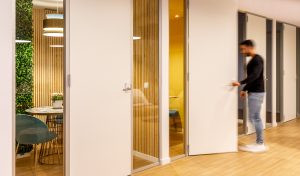 But answering your question about what the artwork adds to the space, "The House of the IDEA warriors," in particular, is a statement piece. As soon as you set foot in IDEA Saldanha, a huge, colorful, and powerful street art piece stands in front of you. It's impossible not to notice it and to not have an immediate reaction . That was something we were hoping to achieve with this piece—that it would never go unnoticed.
How does featuring local artists in your spaces like Los Pepes align with your overall mission?
As I said, "local" should always be the starting point.
"Local" means proximity, closer relations, engagement, and collaboration, which is the way we believe everything should be built. IDEA Spaces guides itself by human values, understanding the power of empathy and reciprocity in a person's wellbeing, as well as in the overall good. That's why "Let's Build Together" is one of our mantras. 
To learn more about IDEA Spaces, visit their IDEA Saldanha listing on Coworker here.