If you're still working from home six months into the global COVID-19 pandemic, chances are you're itching for a change in scenery. However, many offices are remaining tightly shut for the foreseeable future and some, like Twitter, have recognized the benefits of working out of the office to the point where they've decreed permanent remote-work status for their employees.
With official offices shut down and home offices maddeningly dull, many are looking to coworking spaces as a way to shake things up.
The Need for Post-COVID-19 Coworking Spaces
If a corporate office and a coffee shop had a baby, it would be a coworking space. They represent an office-like setting within which you can work alongside individuals who aren't technically your coworkers. Their one-of-a-kind flair makes coworking spaces a unique workaround to the whole social-distancing, professional crisis.
A traditional corporate office functions with the idea that those in attendance are working in close proximity together—in one unified direction. This requires gathering, meetings, and face-to-face interactions on a daily, often hourly basis.
By contrast, a coworking space allows individuals to both get a creative change of scenery and gain access to social networking with peers without the need for anyone to crowd into a boardroom or gather closely around a table. Each remote worker can establish their own workstation and remain a comfortable distance away from others, as everyone plugs into their own virtual workspace. 
The added presence of a quality coffee bar and wi-fi enables a cowork space to serve as the perfect fill-in both for the countless coffee shops and professional workspaces that have remained shut throughout the pandemic.
This blend of a socially-distanced workspace and a well-stocked coffee shop makes coworking spaces uniquely suited to answer the need for remote workers across the globe. Not only that, but they can serve as the perfect escape for cooped up students as well. One of the benefits of online classes is the ability to learn from anywhere, making a cowork space the ideal getaway for your studies as much as for your work assignments.
New COVID-19 Coworking Considerations
While the need for coworking spaces is more important than ever right now, that doesn't change the fact that working in one can expose you to health concerns — particularly germs. This shouldn't be a deal-breaker, but rather a reminder that remote workers should be careful when they utilize a coworking space.
Here are a few of the best practices that you can follow in order to stay healthy and remain safe in a coworking space during the pandemic:
Bring a Good Mask
A comfortable mask is essential if you're going to spend several hours around other people. Whether you choose to wear it the whole time or your space allows you to remove it while you're sitting, the need to wear, put on, and take off a mask all day long makes it worth investing in a comfortable piece of headgear.
Follow Social Distancing Rules
It's tempting to get overly comfortable with others once you finally are able to be in a social setting again. However, it's crucial that you remember to maintain your distance — both for yourself and for your co-coworkers. Outpost, a coworking operator in Bali, is an excellent example of how a space can be set up to accommodate social distancing without compromising on the benefits of a collaborative work environment.
Wash Your Hands Often
Washing hands is, hands down, one of the best ways to combat the spread of the virus. It helps you stay safe after you touch various surfaces and can prevent others from getting your germs if you cough or touch your face. Washing well on a regular basis and carrying a bottle of hand sanitizer around with you are excellent measures that can help to keep you healthy and safe while you're working.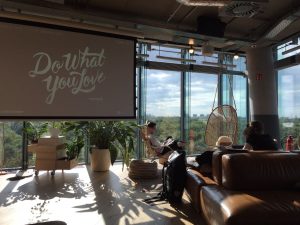 Remember Classic Coworking Habits, Too
While the primary focus, at least as far as health is concerned, is to fixate on actions like wearing masks and washing hands, there are a few other healthy habits that have always been essential to coworking success in the past. These are important and shouldn't be forgotten in the rush to don a mask or get an extra squirt of hand sanitizer: 
–Get plenty of exercise: Staying fit and healthy at your desk can be a challenge. However, if you take walks during the day, Use an exercise ball at home, stand while you're working, or even regularly stop simply to stretch, it can help you stay in good physical shape, which is beneficial for your overall health.
–Take breaks often: Prolonged periods of time doing the same test can reduce productivity. In fact, it's recommended that you should never spend more than two hours on the same task.
–Maintain boundaries: Remember to set working hours, stick to routines and rituals, learn to say "no," and generally preserve your work-life balance.
These traditional workplace health concerns should remain an integral part of your coworking regimen, even in the "new normal."
Staying Healthy While Coworking
There are many considerations that must be taken into account when working in a coworking space, and this is especially true during a pandemic. Nevertheless, if you can adhere to traditional healthy coworking activities while also integrating the new coronavirus-inspired health protocols, cowork spaces can be both a viable and valuable alternative to the home office.
As the myriads of workers who have remained confined in their homes over the last six months begin to go a little stir-crazy, coworking spaces remain one of the best options for a change of scenery where health restrictions can still be observed.