The atmosphere, quality and vibe of a coworking office space can make a big difference to employee productivity levels. No one wants to work in a drab, dirty, derelict office space – people want to work somewhere where their creativity can flow and they can perform at their most efficient level.
With 2020 just around the corner, now is the perfect time for coworking space operators to revamp and revitalize your shared office. Start off the new year by creating a beautiful work environment where workers can easily perform to their full potential.
Implementing even the most minor changes can have a massive impact, transforming your office space from dull and uninspiring to somewhere that motivates and encourages collaboration. From buying new plants to simply getting some new branded gear, listed below are seven of the best ways to revamp your coworking space just in time for the new year.
1. Eco-friendly energy
It's no secret that climate change is on the rise, and a growing number of people are now putting significant effort into making the world a more sustainable place. By installing an energy-efficient heating system at your office space, you can demonstrate to your workers that you are dedicated to making a difference.
While the up-front cost may be initially expensive, whether you choose to install a ground-source heat pump, a biomass heating system, or a few solar panels, you could actually save yourself a ton of money over the long term.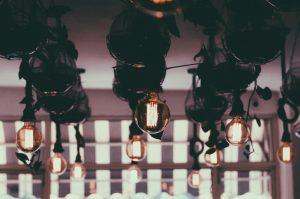 2. Let there be light
Dark rooms are not just unattractive, they also make people feel sleepy and sluggish, counting down the hours until they can go home. Therefore, by creating a brighter and airier environment, your space's lighting can go a long way to improving employee productivity.
Installing energy-efficient LED lighting is a proven way of enhancing motivation in the workplace, and could actually save you money in the long run. However, if you're keen to give your office a 'cooler' vibe, quirky desk lamps can be highly effective, as can utilizing any light that comes in through the office windows.
3. A little bit of elbow grease
It's no secret that coworking offices can be fairly germ-ridden places. From the germs on your office phone to the bugs on your office mug, just because you can't see bacteria doesn't mean that it's not there. Why not spruce your office up for the new year ahead?
Working in an unclean environment can be incredibly demotivating and make staff ill. By cleaning your coworking space on a regular basis, you will not only make it look 20 times better, but you'll also limit the number of sick days that staff will need to take throughout the year.
4. Anyone fancy a game?
When you're staring at a computer screen all day long, it can become easy to lose motivation. Therefore, it's important to give your workers the space and opportunity to get away from their desks every once in a while, so they can refresh their minds.
One of the best ways to do this is by adding some fun into the office. Whether you choose to install a table tennis table, pool table, TV, games console, or something else entirely, giving your members the chance to escape the monotony of work for a little while can be a great way of reinvigorating their engagement with their work.
5. Get arty
While on the theme of making fun additions to the office, why not think about adding some quirky artwork? No one enjoys staring at blank walls and computer screens all day long so, by adding some artwork, you can help your members get those creative juices flowing.
Whether you prefer images of soaring landscapes, cute animals, or inspirational quotes, the way you decorate your coworking space can make a big difference to a coworker's ability to concentrate and stay engaged with their work.
6. Plant it up
Plants don't just look good; they do good, too. Numerous scientific studies have found that adding green plants to an office space significantly reduces rates of stress and depression, making the overall atmosphere of an office feel calmer.
What's more, plants oxygenate and remove unwanted impurities from the air which, in turn, reduces the risk of members becoming sleepy or ill – helping them maintain their level of focus. If you do decide to install office plants though, make sure you don't overdo it. The last thing you want is to create a cluttered workspace where no one can concentrate, so try to keep it as minimalist as you can.
7. Upgrade your supplies
One of the cheapest ways to revamp your office space is simply upgrading your office supplies. From the pens and notepads on their desk, to the toaster and microwave in the kitchen, everyone likes new things. Plus, if you purchase some office supplies that are branded with your coworking space's logo, it can give your members the chance to promote your space even outside of the office.
Even the small gesture of replacing these supplies can go a long way toward revitalizing working attitudes and improving employee productivity.