I've been asked for advice many times over the years about staffing and recruiting remote workers effectively. The COVID-19 pandemic shone a spotlight on remote working like never before, but it was already well established in many sectors long before 2020.
My own experience of recruiting remote staff stretches back well over a decade – back even before coworking had really taken off. Now, my team staffing includes workers across the globe, some based from home, others using coworking spaces.
The pandemic has created a huge shift towards remote working. In the UK, for example, 46.6% of people in employment did some work from home back in April, 86% of which was a direct result of the pandemic. Such figures would have been absolutely unimaginable just a couple of months before, and I've seen this replicated around the world.
In light of this, I wanted to share some remote working tips on how to recruit and onboard staff effectively.
Staffing and recruiting remotely are not the same as in person
There's a common misconception that staffing and recruiting remotely should try to deliver an experience that's as close to the in-person one as possible, just in front of a webcam.
James Hirst, COO at Tyk (a remote-first company that employs staff in 26 countries), points out that it's far better to "think about the benefits that come from being remote, then build a process that uses them to be better than the experience could be in person. For instance, capitalize on how accessible leadership can be over video calls, to make introductions quicker, more structured, more accessible."
That's definitely something I've been able to do over the years as part of my own leadership – engaging with new starters in ways that would just be ridiculously time consuming and expensive if we had to try and get everyone into the same country at the same time.
In terms of the recruiting services process, building that remote-first approach from the outset is really valuable. When creating job descriptions and planning inductions, it's important to look for the opportunities that remote working brings – and then to embrace them.
Think carefully about remote recruiting services
It can be harder to get a feel for people when you interview them remotely, but this is fairly easy to overcome as part of the interview process. Putting thought into asking additional questions and exploring the individual's feelings about working remotely – whether from home or through a coworking arrangement – can add plenty of value.
Interviewing online is also the ideal time to start discussing the company's values. These should form a key part of the whole onboarding process, beginning with a discussion at interview about how they complement the candidate's own values.
Having clear values is important for any business. For remote-first companies, they are even more so. Values are part of the glue that holds remote teams together. A coworker who feels invested in their company's values is likely to work harder towards achieving that company's goals.
So, build your onboarding process to reflect those values and to demonstrate how and why they are so important.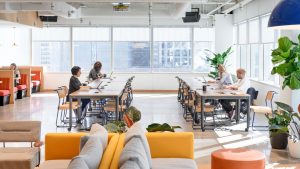 Don't rely solely on coworking to make remote workers feel connected
What are the benefits of coworking? One that remote workers often relay to me is that they feel a greater sense of connection when working alongside others, even if it's as part of a shared work space rather than within one company. It is a key part of the coworking space concept. But companies that work hard to build a remote first culture should really focus on providing this sense of connection themselves.
I think the value of human connections here is really important. The onboarding process should ensure the new remote worker doesn't just meet their colleagues over email but has video calls with them in a variety of formal and informal settings (a remote coffee break or team lunch can work wonders). Remote working can be lonely, but it certainly doesn't have to be with the right approach. From Zoom to Slack, there are plenty of ways to engage remote workers and ensure that they feel connected to the company and to their colleagues.
It's worth adding a quick word on training in a remote team staffing setting here. A training session where one person drones on over a video call while flicking through slides on a shared screen for half a day is unlikely to make new recruits feel engaged and excited. Instead, make training as interactive as possible. Set out to inspire your new remote workers and get them thinking and interacting throughout any required training.
Build trust
I'm often asked: Is remote working effective? Opinions differ wildly on this subject. I read the other day that just 20% of the average workday is spent on important things. Should you, then, keep an open video call link to all of your team members or use time tracking software to check that they're all doing what they should be? Not in my opinion, no.
Remote working requires trust. You need to have faith that your staff will do the tasks assigned to them. Invest sufficient time and energy in creating effective recruiting services and a solid onboarding process and you should find you've recruited the right people, whom you can trust them to deliver what's expected, no matter where they're based.