The year may be coming to a close, but it was a year of many changes when it came to the American workforce.
Due to the COVID-19 pandemic, many businesses asked their workers to go remote. Other individuals decided to leave their jobs (or were let go) and joined the gig economy.
Now, with millions of people working remotely full-time or opting for a hybrid schedule, coworking spaces have become more popular than ever. In 2019, there were around 5,000 coworking spaces in the U.S. As remote work becomes more popular on a long-term basis, that number is likely to increase.
But, as coworking spaces flourish, they need to make sure to do so safely. If you intend on using one for your own career, it's just as important that you keep yourself safe.
So, what are the advantages and disadvantages of doing your job in a coworking space, and how can you protect yourself while you do?
What are the advantages of coworking spaces?
Why get involved with a coworking space? Wouldn't it be safer to stay home and work? In some ways, yes. In others, maybe not.
There are plenty of advantages to working in a unified space with others, including:
More networking opportunities
A harmonious atmosphere
An environment that can spark creativity
Your workday is more flexible and you can be more self-sufficient
Reduced risk of social isolation
That last benefit is perhaps the most important. Throughout the pandemic, social isolation and loneliness have wreaked havoc on the mental health of millions, especially the elderly and young adults.
So, would you be healthier sitting at home doing your work? From a physical standpoint, maybe. Distancing from others can help to stop the spread of COVID-19 and other viruses. But, it's also important to keep your mental health in mind.
Plus, there are things you can do to keep yourself safe in a coworking space, no matter how many people are sharing it.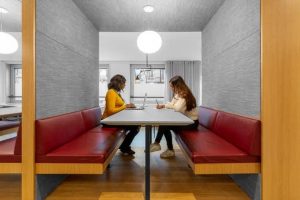 Do your research
Before you decide on a coworking space, make sure you're as prepared as possible. Research the space and its policies. What are they doing to protect the people who work there? Some things to look out for include:
Mask wearing
Required vaccination status or proof of negative test
Social distancing
Frequent cleaning/sanitizing
If you're not sure what their policies are on keeping people safe, it may not be the right space for you.
You can also give yourself greater peace of mind by researching the latest trends when it comes to the pandemic. Working side-by-side with people you don't know might be nerve-wracking, especially if you don't know people's vaccination status or there is no mask policy in place.
If you want to stay up-to-date on the latest recommendations and calm your nerves, listen to the findings and suggestions of area health professionals, like epidemiologists. It's their job to study viruses like these and inform the public of the best practices for safety.
By staying well-informed in every possible way, you're likely to feel less stressed, so you can be productive and enjoy your workday, rather than worry about it.
Using the space safely
No matter what type of coworking space you decide on, there are things you can (and should) do to protect yourself every day. Maintain safety protocols based on the advice of healthcare sessions. That might include wearing a mask, sanitizing things frequently, and using virtual meetings as often as possible.
If you're starting to feel overwhelmed or stressed by your worries, or you want the advantages of a coworking space but struggle with social anxiety, you can still make it work. Start small and take baby steps toward interacting with others. If you're struggling, consider simple breathing exercises or meditation to build a foundation, or focus on something else completely. Social anxiety is manageable, but it often requires professional help.
As the pandemic continues to weaken thanks to mitigation efforts, coworking spaces are likely to see a rise in popularity again. More people are working remotely and are willing to step out of their homes into a safe environment.
Coworking spaces come in all sizes, schedules, and flexible plans. Whether you want to manage one or use it for your own work, the benefits and the draw for people to interact with others are what will take coworking spaces into the future.