Since the onset of the pandemic, businesses have been struggling to get employees back into the office. 
As it stands, most businesses have implemented a hybrid work model. This is where people in the organization conduct business at the office and home. There are days when employees go into the office, and other days where they work from home.
Again, it can't be helped that businesses are forced to adapt to a hybrid work model in the current climate. But leadership has found it challenging to maintain employee morale due to the drastic shift in their work conditions.
Nonetheless, some people have become used to remote work. So, even if things go back to normal, there's no guarantee that everybody would want to continue working in the office.
If hybrid work is now the new normal, you need to find ways to roll with the punches and sustain a thriving startup culture come hell or high water.
This post will help give you ideas on dealing with company culture in a hybrid work model.
Improve digital fluency
Since not all of your team members are present in the office, you will have to resort to tools to maintain contact with each other at all times.
There are lots of apps and software you're already familiar with and use within your organization. But assuming that most people in the company elect for a hybrid work model, you need to be prepared to transition your operations and workflows digitally fully.
Aside from using project management, online chat, and video conferencing software, consider getting an office hoteling or desk booking software. Assuming that your company downgraded its office space to a smaller one due to the pandemic, it won't be able to accommodate all your employees simultaneously. 
To work your way around this issue, people who want to work in the office can book a schedule for a workspace in advance through office hoteling software. Employees must check in and out like in a hotel, so the system acknowledges whether a particular workspace is occupied or free.
The software allows you to organize who will go to the office for work on which days. It can also help you automatically fill out the remaining days within a timeframe in your calendar. This way, you can focus on making the most of what's left in your office space while streamlining productivity and lowering costs.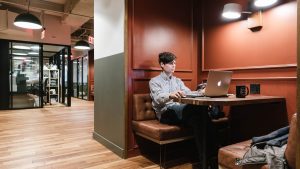 Establish effective communication
Communication has become more critical than ever, considering that you won't see everybody in the office in person due to this setup. At the same time, this doesn't mean you have to schedule hour-long meetings every day hammering on the same points.
Remember that just because you're not using people round the clock during work hours doesn't mean you have to compensate for long meetings. These only disrupt the flow of work and further put a damper on company morale.
The best communication in the workplace happens only when necessary and in small doses. Using your video conference application, have a clear plan and set a time limit to ensure you don't go beyond the schedule. Also, have a meeting moderator to facilitate the discussions efficiently. Finally, have someone list down the meeting notes to be shared with everyone after it concludes.
When it comes to instant messengers, you must set ground rules on what can or can't be shared in them. For example, it's okay to discuss non-work-related matters unless it becomes a detriment to productivity. Also, encourage people to indicate their status on their chat profile, i.e., if they're away from the computer, busy, available, etc.
Also, using screen recording software can help simplify communication. Instead of describing an issue with your team, you can take a video of your screen while discussing what you're seeing.
Lastly, using a project management tool or team planners is another critical component in workplace communication. You need everybody to comment on tasks assigned to and inform team leaders if they're done or having issues with them. This allows them to stay updated with your process and help you in any way they can.
Observing these practices should help promote a culture of productivity by keeping everybody on the same page and distractions at a minimum.
Instill confidence in leaders
Leaders in an organization have their work cut out for them in this hybrid work model. If managing an in-house team is hard enough, they have to sustain everyone's performance and morale when half of the group is not in the office.
One of the things they need to learn in managing a hybrid work-centric team is to adapt to the needs of each individual. Each employee responds differently to a particular leadership style. Therefore, the leader is tasked to use a leadership style that will inspire that person to do better instead of feeling demoralized. 
Also, leaders must be available for communication with the team during work hours as much as possible. Since they will be responsible for navigating the ship with their respective teams and departments, they need to provide their leadership and guide the team with issues and concerns regarding the project tasks.
Again, it's not simply a matter of leaders implementing all the advice above. They need all the help they can get from their managers and executives, trying their best to make the situation work. 
If you're in a position of power, consider updating your leadership training courses and modules that include managing hybrid teams. Even better, enroll them in programs to help build their leadership skills to learn at their own pace.
By supplying leaders with the necessary resources and support, you give them your vote of confidence. In effect, this could motivate them to do an even better job with their respective teams. Their effects will then spearhead your efforts to achieve a more customer-obsessed company culture.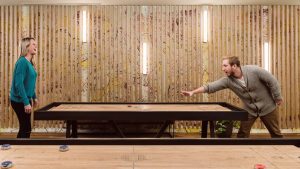 Celebrate wins
Whether it's completing a project on time months in the making or finishing up work for the day, people deserve to treat themselves for a job well done. However, not everybody can join the team for a meal out or a few drinks due to some of your coworkers working remotely.
Nonetheless, this shouldn't stop people in your company from having fun as a team. After all, since this is a group effort, you need to celebrate it with them in any way you can.
For starters, you encourage everybody to join a virtual party you or someone else will hold for the team. The party's goal is to get everybody in the same (online) room, celebrate your achievement, and have fun in the process. 
Some companies host virtual celebrations with themes such as a virtual campfire complete with s'mores and sharing of ghost stories. This helps keep the event festive and light.
You can even extend virtual celebrations company-wide during the holidays. This lets you have everybody online to catch up and celebrate company culture despite being away from each other. Also, take this opportunity to send free swag to employees like company shirts to help make everybody feel like part of the company.
Conclusion
Let's face it: the hybrid work model is far from perfect. While it's afforded people with the privilege of working from home, there's still no replacing working at an office space with your team and ingratiating yourself into a  company's culture.
Nowadays, if this work model is here to stay, this post should have prepared you with tips and advice on dealing with it properly.
Aside from adapting to the changes, the shift to a hybrid workplace only makes your employees accountable for the work you'll give them. At the same time, instead of being skeptical, you need to trust that they'll do an excellent job for your business. These shifts in mindsets among executives and employees should help sustain company culture, if not improve it.