More than any other time in history, people are working remotely instead of going into their traditional office spaces each day. While this may not be the ideal style of work for all types of businesses, remote work has many known benefits for both employers and employees. Remote work is advantageous to the employer because they can downsize their office (or not have one at all if everyone is working remotely). And for employees, it offers benefits like saving time and money, which can also make other parts of daily life more convenient.
But there is one big drawback to remote work — it can be hard to manage employees located in different parts of the country (or world) who are working in different time zones. This can result in certain employees lagging behind and slowing down projects.
Therefore, to make it easy for you to properly manage and increase the productivity of your remote team, here is a quick guide with several ideas you can easily implement.
Get your employees to follow a schedule
Just because your employees are working remotely, it doesn't mean that you allow them the liberty to run their entire day as they please. If you want all of your employees to reach the goals you have set at the same time, you need to ensure they all follow the same productivity strategy that is designed with the goals you have. You can either create this schedule for them and set it up using a tool like Deputy's employee scheduling software, or you can require your team members to set their own schedule.
It doesn't have to be a stringent schedule. You can offer some flexibility; after all, 78% of employees feel that a flexible schedule makes them more productive.
During the early days of implementing a flexible work schedule, you should monitor your team members to see if they stick to the schedule. It's possible to do so by using an employee monitoring app to see if they are adhering to the schedule you set. If they are doing their own thing instead, you should pay close attention to the results they achieve.
Have regular staff meetings
One important thing you need to do every day is have staff meetings. Set a time each day or each week where all of the employees sit down and have a video chat using a VoIP software such as Zoom. It is best to do this first thing in the morning if all your employees are located in the same time zone. If they are in different time zones, you can do it at a time which will be convenient for all or most of them. You can also use a tool like Doodle to schedule and plan meetings.
During this call, you can go over the tasks each team member needs to complete and the resources they need. This will give them a clearer picture of what they need to do and will also provide accountability. During the meeting, they can make sure their questions are answered by other team members, if necessary.
Encourage bonding between employees
One big problem with having several or all remote employees is that the engagement rate will drop, especially among the employees themselves. They will feel little-to-no sense of personal connection with each other, as they won't run into each other around the workplace or engage in the typical office small talk. This is why it is always the job of the manager to encourage this type of bonding between employees.
You can do this by getting employees to regularly speak to each other on a regular basis. Another way is to plan an annual or biannual meet-up or retreat so that all the employees can get together and meet one another in person.
Encourage competition
Along with building the bond between the employees, you should also encourage competition. This will get them to work even harder and strive to compete against each other in a positive way. Make sure you execute this is at a healthy level because if it goes out of control, it could lead to problems.
An easy to get started with this is by running sprints — where you set a project goal and get individual employees or an entire team to work toward the same goal in a specific time frame. And then reward the winner with a simple gift like a coupon or a meal.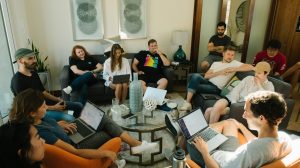 Get feedback
One of the most important things you should be doing to maximize productivity is to gather employee feedback. A great way to do so is to run an open-door policy for a certain time period every day where employees can call you up and have a quick chat. You can also run quarterly surveys and interviews to gather information.
There are several tools like Google Forms or Typeform that can be used to gather surveys. So, create a survey using them and email it to your remote employees. If necessary, give them the option to leave feedback anonymously.
Conclusion
These are the different ways to improve the productivity of your remote team. Begin implementing them today to get all your employees to accomplish projects and goals at the same time. This will take some extra effort from you and your team. But the rewards will be worth it, as an increase in productivity will also lead to an increase in revenue.