If you have recently decided to enter the world of freelancing or work remotely in a dedicated coworking space, first of all – congratulations! 
Whatever industry you work in – whether it be journalism, marketing, finance, or design – working as a freelancer can be one of the most rewarding, albeit challenging, things you can do, pushing yourself hard to only ever do the work you actually want to do. 
However, now that the world of work has started to adopt and accept the transition towards remote working, there has been one major caveat that's beginning to affect both employees and freelancers alike: cyber-attacks. 
In light of the growing movement towards remote working, more and more cybercriminals have been seen to infiltrate the relatively weak remote servers and home working networks that general workers have set up, breaching existing vulnerabilities to access confidential data and launch cyber-attacks in a variety of ways. 
From phishing scams to malware attacks, cyber-attacks can take several forms, making it vital to understand how to recognize them as soon as possible.
Especially when dealing with client data, it's important to ensure your freelance work remains as safe and secure as possible. Although freelancing from home is often preferred, coworking in a cyber-protected space is increasingly being viewed as the 'safer' option.
In this article, we take a detailed look at what you can do to improve your overall cyber security, ensuring that your remote setup is private and your client's data stays protected. 
Use anti-virus software
With cyberattacks continuously evolving, it is imperative to ensure your computer continues running effectively by providing it with the best protection possible.
As such, investing in a decent anti-virus software could prove to be money well spent, not only keeping your laptop working efficiently but also providing your system with a form of bundled protection.
Utilizing a combination of firewalls, anti-spyware and anti-malware functionalities, anti-virus software keeps your laptop and network secure at all times, constantly running in the background to monitor any suspicious activity and alerting you to any potentially dangerous material it identifies.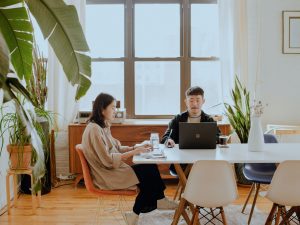 Invest in penetration testing 
One of the best initial things you can do to improve your cybersecurity is to test it using the help of a professional.
Through services like ethical hacking and penetration testing, you can quickly and easily investigate your existing setup, looking to identify any potential access points or existing network vulnerabilities you weren't already aware of. 
Then, primed with this information, you can make more informed decisions on what you should do to improve your existing setup in the most appropriate manner. 
Enable two-factor authentication
Whether it be in your coworking office, at the local café, or down the pub, it can be all too easy to get distracted and unintentionally leave your laptop unattended for a set period of time.
So, to prevent any unauthorized access to your accounts or client data, it could be worth setting up two-factor authentication – a form of security system that requires two separate, distinct forms of identification in order to provide access.
While it may become a little cumbersome having to constantly sign in in this way, from a personal protection point of view, it could make all the difference, helping prevent your data from being seen, breached, stolen, or deleted.
Set up a VPN connection
While on the topic of working at the local pub or café, if you are needing to rely on using a public Wi-Fi network, make sure to use a VPN connection at the same time.
Public Wi-Fi networks – and home Wi-Fi networks for that matter – are incredibly weak infrastructures that can be easily penetrated by even the most amateur of hackers.
Therefore, by using a VPN connection, this will establish a much more secure connection between you and the internet, routing all your data traffic through an encrypted virtual tunnel while disguising your IP address at the same time. This, in turn, will then make your location invisible to everyone, helping secure your network against the threat of an external attack.
Final thoughts
Working as a freelancer and remotely can be tough at the best of times, so don't make life harder for yourself by having a weak level of cybersecurity. 
With just a few upgrades here and there, you can make penetrating your network significantly more difficult for any potentially lurking hacker, helping better protect any important data or client campaigns that you are currently working on.