Virtual offices have become increasingly popular these days. If you're in a metropolitan area, you're surrounded by virtual office options. You may be wondering how to spot the ideal virtual office out of the sea of options available for you. Well, this article is for you. 
Because virtual offices eliminate the need for high start-up costs such as renovation, furniture, power, and internet connectivity, they tend to be cheaper than long-term office rentals. This factor makes virtual office spaces a cost-effective option for businesses.
Choosing the ideal virtual office is not a straightforward decision. After all, this is a choice that will impact the success of your business. So, let's dive into what a virtual office means and how to choose the ideal one for your needs.
What is a virtual office? 
The idea of the virtual office originated from the executive suite industry. Today, virtual offices have become quite popular as they minimize overhead and provide a whole range of benefits.
Generally speaking, a virtual office is a flexible workspace solution that gives businesses a combination of services, technology, and spaces without incurring the cost of owning or leasing a traditional office. 
A business gets a set of virtual and physical products that facilitate a hybrid work environment. They get virtual solutions  such as live content sharing and audio/video conferencing for remote meetings. A virtual office also includes a physical address in a desirable location where you can meet your team members, clients, or investors for a few hours if needed. 
You also get communication services, e.g., sales dialers, customer service, a local phone number, business address services, and meeting room services. These services are available for a monthly or annual fee that is a fraction of the costs of a full-time office rental. 
Virtual offices: a great fit for remote teams?
Virtual offices are an excellent fit for remote teams because they make it easy to communicate and collaborate. If you've worked remotely before, you probably know the challenges of communicating with a team member on Slack. You can spend 15 minutes messaging your team member and waiting for a follow-up each time.
Despite email features like reminders or notifications, it can be easy to lose track of meetings and pending emails, making communication more challenging. 
Although there's a physical business address associated with the company, you can have employees working from anywhere provided that they have uninterrupted internet connectivity. This is particularly useful if you're working on digital products that do not require any actual physical (ie., hard copy) output.
Virtual offices also bring teams together by providing access to coworking spaces. One of the challenges facing remote workers is loneliness. A recent state of remote work report by Buffer shows that the top concerns of remote workers are loneliness (24%) and not being able to unplug from work (25%).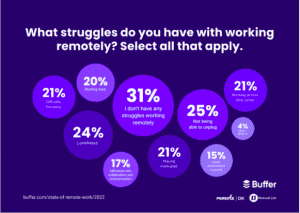 In coworking spaces, workers can physically meet with their team members or other like-minded individuals. Some coworking spaces have a snack bar or a hangout joint where employees can spend their recreational time.  
Lastly, virtual offices help remote workers find the proper work-life balance. The boundaries between work and personal time are blurred in remote working, and some employees end up working beyond their work shift. Another recent study showed that 55% of remote employees work on average for more hours than at the office. 
The virtual office changes all that by providing employees with an alternative location where they can work. Also, the automation tools that permit employees to clock in and out of the virtual office creates that much needed separation between work and personal time that's often missing in remote working environments. 
The technologies used, coworking spaces, communication support features, and a physical business address are all factors that make virtual spaces the best option for a remote team. 
What do the best virtual offices have in common?
The best virtual offices provide you with a professional business address in your desired location. The address becomes the company's identity and can be used for business cards or online listings, company documents, and client correspondence.
These offices provide you access to an alternative category of workspace. You get access to on-demand meeting/conference rooms. The virtual office is also technology focused, often incorporating automation, exceptional digital products, artificial intelligence, and the internet of things. 
An ideal virtual office has excellent services with a flexible payment schedule. Depending on your work style, you can access services such as a 24/7 reception team and the regional or national business number. 
What should you look for in a virtual office?
There are many options for virtual offices in the market, primarily if you're located in a large metropolitan area. It may be difficult to spot the right fit. Here are four factors to help you find the ideal virtual office for your business. 
– Membership terms
Membership terms are a legal contract that lays out the expectations between the client and the provider. It contains details about the cost of membership, restrictions under the contract, obligations of the client and the service provider, and liability exemptions that protect the provider from being sued by the client. 
Unlike a traditional lease, a membership term contract is more flexible when you consider cost and duration. You can cancel the contract anytime or within a relatively short window of time. You only pay for the services you require and can upscale when your business expands. 
– Location
Virtual office providers allow you to choose a preferred location where you'd meet with your clients or team members. You should choose a realistic location for your business that's easily accessible for you, your clients, and your team. Also, it should be a place with access to structures that are important to you, e.g., a parking space. 
You should choose a location that's likely to appeal to your target clients. Having a business address in an appealing city center will likely boost your brand image and credibility. Although there's nothing wrong with having an address in a rural location, such an address lacks the impact of a city center business address. 
You may find a provider with multiple locations within your preferred city. That means you can work in whatever space that meets most of your needs, which is great for the traveling professional.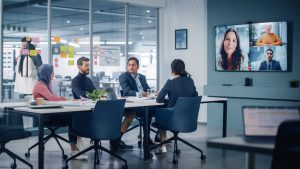 – Meeting room availability
A virtual office with conference and meeting rooms that members can utilize when needed is vital.  Maybe you're a start-up or a small business, and you feel that you may never need such a space. However, as your business grows, having a place for productive and focused remote-work meeting rooms could become vital. 
You can look for a provider who will give you as much space as you need, no matter the size of your business. You will not need to book for weeks or months in advance, and you get to schedule meetings plus use the phone reception without incurring any extra costs. 
When you eliminate the concern for space, you get to focus on completing your strategic objectives – including workforce expansion.
– Overall costs
Virtual office spaces come with different costs depending on the services and amenities offered. If you opt for a virtual office in a reputable or prestigious business location like Central London, the cost may be higher than one in a mid market location. 
Virtual offices typically range from $50 to $200 per month. Some companies offer a basic plan for core services like a business address, mail receipt with a local pick-up station, plus mail forwarding services at an extra cost. Alternatively, a comprehensive plan will likely include add-ons like a telephone number and receptionist support. 
Every virtual office space has different terms on what is included in the quotation. Some offices may limit access to services like printing and copying. 
You need to ask for a clear breakdown of costs at the beginning before entering into a formal contract. 
In closing
Virtual offices have grown in popularity as many businesses opt for them. These offices are cheaper and more flexible than traditional offices. They are also beneficial to remote workers as they access coworking physical spaces in distinct locations.  
With so many virtual office options sprouting out of nowhere, it can be challenging to identify the ideal virtual office for your team. However, the factors mentioned will help you choose the ideal virtual office.
Once you find the ideal office, you can focus on completing your strategic objectives and fulfilling your goals with ease.