Times are certainly hard at the moment. The amount of uncertainty clouding our heads and those of the leaders of pretty much any business is tough to deal with. But one thing is certain: to get back on our feet, creativity, flexibility and cost-effectiveness will be key for those who haven't shut their doors — yet.
Corporations have always been extremely careful about their cash-flow and it is no doubt necessary, but corporations and other medium-to-large businesses have also been known to splurge when the economy is booming. I have also seen corporations making the wrong type of cut — while they keep a 600 sq.ft. boardroom, they choose to cut that awesome employee who actually generates revenue for the company.
For example, if we talk about Toronto commercial real estate prices in a prestigious area and building, this size boardroom alone could cost approximately $42k per year in rent, perhaps more. A much less attractive address and envelope,and much smaller room (240 sq.ft.) could cost around $11k per year. The one thing in common for both of these boardrooms is: they sit empty most of the time.
That's money literally thrown out of the window.
Have I gotten your attention now?
We have ventured into totally unpredictable times, in which we don't just have a recession (yes, it's already here), but we also might go into a depression if this all lasts a little too long. Brace yourself.
This recession is special though, because we are currently unable to use any of our power to create new revenue streams. If your business can't operate online, you're probably in bad shape. If you just happened to switch to online and remote work, you're probably dealing with some real craziness.
Our businesses are prepared for recession, not for shutdown. The economy is stalling and, don't get me wrong, this can happen again — and it will. You know, life and nature (with a little support of human panicking or too much excitement) have been quite creative at constantly bringing on new challenges.
Luckily, now that we've had the real-life lesson of things going extremely wrong, it's time to set the tone right and be prepared for the future. My favorite quote has always been, "Hope for the best, prepare for the worst." I guess that's a Quality Management thing — my area of expertise.
I know you are wondering what exactly it is the role that flexible office spaces will play in economic recovery, and I can tell you it's more than one. If you got lucky and your lease up in the next six months or so, my best advice to you is to look for a coworking space nearby and strike a good deal for your comeback. This will probably save your business.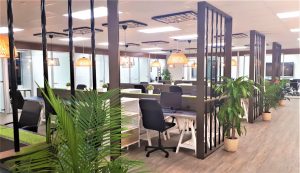 Why Coworking and Why Now?
1 — Contract Flexibility
Are you currently locked into a steep five-year lease that you can't afford because of lack of revenue? Are you thinking about signing a new lease? Have you realized just how much debt you can get into (or already are)? Well, companies of all sizes that have joined a coworking space enjoy year-to-year commitments and many of them are even month-to-month. That is, if you needed to cancel and send your whole team home, it would most likely be a no-brainer. Also, the ability of upsizing or downsizing quickly depending on your demands is something only a coworking space can offer.
We, business people, have always said that we should be able to respond quickly to market changes. If everything else requires a quick response, why is it that your real estate obligations are as static as the Rocky Mountains? There was a time when you had no choice. Now you do. Make the right one.
If a company has to close its business because it can't survive these challenging times, the use of a flexible office space will only make the burden less heavy.
2 — Quality and Cost of Resources
True high-speed internet with 1GB connection costs at least $15k per year. It also generally comes with a five-year contract. If you put it into perspective, that's $75k over the course of five years that could have been spent somewhere else. A coworking space with decent internet speeds will offer you this service at a fraction of the price — you won't even notice it.
3 — No More Wasted Real Estate
I know, when you leased your office you had a vision, a dream. We all get it. But you know what, waste is a thing of the past. It's tacky. Big kitchens and cafeterias, reception, common areas, meeting rooms, and training facilities ONLY take up space. They are all nice to have, but they're extremely costly. If that's not the heart of your business, just accept it: you don't need it. Unless your business is taking full advantage of these facilities for at least 80% of the time, money is going to waste and that's a shame. Remember how much that cost at the beginning of this article? That money could have gone into the marketing budget, better IT structure (some businesses are having a hard time adjusting their system to allow work to be done from home), you name it.
Oh, and just in case you've said you can't hire that person or give someone a raise, remember the waste of money above. Shouldn't that set the record straight?
In a coworking space, you pay for what you use. Why rent 2,000 sq.ft. when all you need is 500 or less? This accounts for five, 10×10 ft. offices. That's a lot of space, fitting 10 people comfortably. Even if you need a bit more, these spaces can fit entire teams, with most providers being able to hold up to 25 people from one company alone.
With so many rooms available inside coworking spaces and business centers, you can easily obtain a meeting room membership and run most meetings in their facilities.
The use of these facilities will even make the meetings/trainings more productive. We all want to head back to our desks as soon as we can to take care of what's waiting on our to-do-lists. Using a space that is off-site is the best investment you can make in a meeting, as there are no interruptions or distractions. This is a fully immersive experience. Now, just get the job done.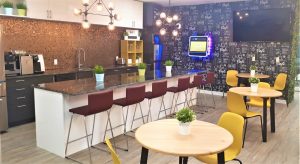 4 — Better Allocation of Human Resources
The salary of a front-desk person or receptionist starts at $30k a year. If you need a receptionist, it means your business probably experiences a good volume of calls or enjoys a considerable number of visitors. Many companies hire an administrative assistant instead, so they can carry out other supporting activities while not on the phone and deal with visitors, which raises the salary of this person to a minimum of $45k a year. Mind you, these professionals are frequently interrupted and productivity may not be as expected.
A well-structured coworking space offers live phone answering services and a receptionist, ranging from $60 to $120 dollars per month. Even if you do not use the coworking space as an office, you can still use their services virtually to answer and forward the calls to you and to your team. They also offer conferencing systems and the ability to make calls from that phone number yourself, so you don't have to use your personal number for business.
Independent of your choice, now you can have the resources and time of your assistant directed to more value-adding tasks with much less interruption. And if you enjoy the coworking space as an office, the coworking receptionist will take on greeting and checking visitors in, which ensures your team is 100% involved in valuable activities.
5 — Unburden Busy Office Spaces
Once businesses are able to get back to "normal" life, things probably won't return to exactly the way they were. Many businesses may want to keep their offices less busy or downsize to save on some costs, but so many employees will be begging to get out of their homes for a change. That will probably be a constant. Larger coworking spaces typically offer corporate packages, so employees can just drop-in whenever they want a break from the house or access to a better setting that will make them more productive.
6 — Guaranteed Professional Image
Businesses have been forced to send workers home, and while the road probably had its bumps, some may decide that this is a setting that shall be continued. While most of the work can be done remotely, there always are those clients, team meetings, training sessions, and events that need to be held in person. Plus, there is always a need for a legitimate business address to keep your business on the map, taking care of your geographical reach and your Google rankings.
Many coworking spaces offer virtual office memberships, so you can have your mail coming to a professional address and you can access their facilities for a day in the office/workspace or to use a conference-room whenever needed.
Plus, if you want to cover different geographical areas and grow your business, you can always add another business address from a coworking space located on the other side of the city or in another province.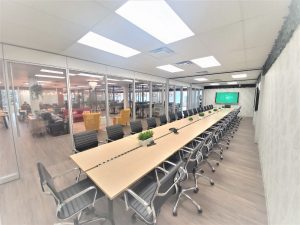 7 — Balance: Community & Flexibility
There is a reason most people prefer to work from offices, and seeing other faces is one of them. While we all try to work from home, it is important to remember that humans are social beings. The truth is that mostly, people like to be around people. We don't only like it, we need it. Loneliness and isolation have long been proven to be harmful to our body and mental health. While we can all band-aid loneliness with virtual rooms, Zoom calls, and FaceTime, nothing will replace the effectiveness and impact of in-person, face-to-face interaction.
So, if your company has decided to downsize or go remote and has sent people to work from home on a partial or full time basis, giving them the choice of joining a coworking space (and paying for it) will only make your remote work policies more effective. Remote workers have always gone to coffee shops in order to get out of the house and get more work done. If that was a viable alternative, coworking spaces wouldn't have come to life.
Among the many downsides of working out of coffee shops, mainly, there is the lack of structure: slow and unreliable internet connection, lack of or improper seating, no privacy, no security, poor cleanliness, poor lighting, and low comfort. Ultimately, there is also a huge absence of human interaction with other people at a coffee shop. It is not like you are going make friends with people sitting beside you. It might happen, but it is not comparable to the connections made within a coworking space.
A coworking space will cover all the above issues with mastery. There are plenty of events and adequate structure plus unlimited coffee, tea, and some even offer snacks.
The best news here is: your employees may even become more productive from home. Giving employees the option of going to a coworking space whenever they want to eases the "burden" of isolation in their minds, replacing it with a sense of freedom. If they need to get out and go somewhere, they have that option. A place that is close to home is good for getting work done, but more importantly, it's free from the pressures of working from a traditional office or headquarters. Research shows that people feel a lot more comfortable in coworking spaces than at the usual office setting for a few reasons, one of them being the ability to be and act as themselves. In other words: freedom!
When I opened Touchdown coworking space, I never saw coworking the way most people saw it. It is so much more than just a workspace. The benefits of using coworking services go beyond cutting costs — they allow you to allocate resources where they are needed the most. While cost consideration is always a must, I have expressed so many other ways in which coworking spaces impact your business for the better. If you just take a little time to account and estimate the costs, benefits, and investments I mentioned above, you'll get my point.
In conclusion, if operational effectiveness is critical in your business, then working from a coworking space is in order.
Original article published on Medium.