Growing your business is the dream of every company owner or entrepreneur. In the last decade, the types of people who primarily make use of flexible office space are freelancers, entrepreneurs, and startups. Today, however, large-scale businesses and multinationals benefit from flexible workspace solutions.
Flexible office space consists of shared workstations and is the opposite of a traditional office model where one business occupies one office space. In a shared workspace, you can have many different businesses, individuals, and teams of all sizes working communally in the same space.
Here are some of the top known benefits of working from a flexible working space, which can help businesses of all sizes grow and thrive:
#1 – Reduced occupancy costs
Staying in a flexible office space is cheaper than having your own space. It is particularly ideal for when you have to meet up with clients, which is one of the reasons why so many people are searching for office space post-Covid. Most critically, you can save a lot of money that you would otherwise have used to lease your own space. For established businesses, the act of sharing your space with other teams helps you maximize resources that would have been wasted. For an emerging business, you can have an attractive office at a fraction of what you would have had as lease expenditure.
#2 – Access to foreign employees
One of the ways to grow your business is by using flexible office spaces and hiring foreign employees. They can work remotely and help you accomplish your brand goals across the country. When you expand statewide or globally, there is a confidence that comes from not having to lease spaces in different countries or states that you may have to discard should the market fall. You are free to lease as much space as you need. As the needs of your business change and if you have sudden growth spurts, you can always lease more space.
#3 – Increased agility
Often in the world of business, as you begin to grow, you need more hands to manage business responsibilities. Some seasons may also require you to let some of your staff go so that you can maximize profits. This is why you need momentum in the business and using a flexible office space might be what you need, offering greater flexibility and agility overall.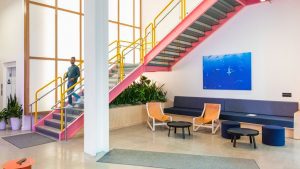 #4 – Freedom of short-term leasing model
Starting your business and weighing your finances down by taking out a lease may create challenges. A short lease will save you from making a huge expenditure. Without a fixed lease, you can readily handle any changes that come down the line, such as team expansion or even the need to transition your entire staff to fully remote work. This way, you can ebb and flow without worrying that you're tied into a long-term, hefty lease, which you likely wouldn't make the most of anyway in today's hybrid work environment.
#5 – Protection from market volatility
A unique benefit that you gain from a flexible working space is the protection you get from a volatile market. You can conserve your capital and spend as little as you need in the lean times as you give your business breathing space to grow. The vicissitudes of the industry will not affect your business. As markets fluctuate, you can be confident that your business will survive and thrive as there is no unnecessary burden on it.
#6 – Take advantage of new markets
When your business is still navigating its growth process, the calm you get from low costs cannot be overemphasized. Whether you are expanding globally or opening new branches across the country, the knowledge that you do not have to lease spaces across the states and the world will increase your confidence. You can manage risk with confidence that debt will not capsize the company. A lease on flexible office space is easier to manage, as you can increase or reduce the space occupied according to your company's specific needs.
#7 – Maintain a professional image
When you are meeting a new client, your professional image matters in helping you clinch a new deal. Working from a flexible working space inspires more confidence than when you are working from home. It is appropriate for impressing customers and partners, as well as being useful for getting work done. Clients who are interested in investing often want to check you out to safeguard their investments. Utilizing a flexible workspace will ultimately help you build that extra level of client trust.