With over 100,00 confirmed cases worldwide, the outbreak of the coronavirus (COVID-19) has brought about several ramifications for businesses large and small. As supply chains slow and stock markets plummet, companies are turning to emergency solutions to protect their employees from the virus, including the option of working remotely.
So far, 77 public company transcripts mention "work from home" or "working from home" in February, according to financial data platform Sentieo. (This is up from just four total mentions of these phrases in transcripts from February 2019.)
In an effort to navigate this public health crisis, companies are choosing to alter the way they usually operate as a preventative measure.
Most recently, Apple joined the ranks of several high-profile tech companies to encourage their employees to work remotely as coronavirus numbers continue to climb. According to U.S. News, Apple claimed they were working on "minimizing dense gatherings and reducing proximity where possible" in a company-wide memo last Friday. Japan's largest ad agency, Dentsu, also asked all of its workers in its Tokyo headquarters to work from home for the foreseeable future.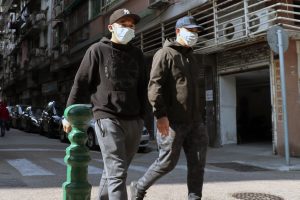 Coworking offers chance to separate workforce
For operators in the coworking industry, the question of whether shared offices offer a viable solution for the worldwide surge in remote workers arises. Currently, more than 1.18 million people work from nearly 35,000 coworking spaces globally, and it is certainly a concern that these collaborative spaces may be a viral breeding ground with so many shared amenities and utilities.
However, not all remote workers have access to the amenities they need to productively work from home, making coworking spaces appealing during this time of crisis. As long as hygiene practices and health precautions are enforced, coworking spaces provide an alternative for businesses in need of a substitute workspace that may prove useful. 
Several leading coworking operators have taken the initiative to open their doors to large corporations that are looking to separate their workforce and reduce their risk of staff contamination. 
With locations across Belgium, Germany, and The Netherlands, the well-known operator Tribes Inspiring Workplaces has initiated a working solution for concerned remote workers in Europe. After receiving a number of requests for temporary office space from corporate clients, Tribes saw the need for splitting up large workforces and has opened its doors to a new "rotation" method of coworking. 
"We completely understand the fear of the coronavirus outbreak for businesses, and we thought of an option for them to decrease their risk by physically separating their team members," said Tribes Chief & Founder Eduard Schaepman. "So, if there's an outbreak in your organization — for example, in the 10-person finance department — there's a risk that all 10 people will need to stay at home and might not be able to work. If you split up those 10 people into two groups of five each in separate locations, maybe only five will need to stay at home while the rest can continue working instead of going entirely without a finance department." 
Coworking presents a unique "back-up" office solution in case any traces of the virus appear at a company's main headquarters. At all Tribes' coworking locations, departments are able to access a fully-serviced office that's available for use, so they can proceed with business as usual without worrying about company-wide contamination.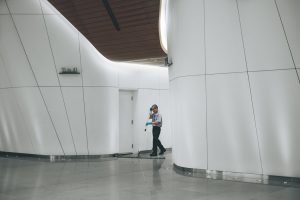 Spaces raise their hygiene standards
Numerous operators in India — which is the second-largest market for coworking behind China — are also enforcing preventative measures at their coworking spaces to mitigate the spread of the coronavirus. Garage Society and CoFynd are just two of the many operators that sent a member-wide mailer with health and hygiene tips. 
"All our workspaces have been disinfected thoroughly and this process will continue every week to maintain utmost hygiene standards," said Prashant Garg, Garage Society's country manager, in an interview with Inc42. "Full-size sanitizer bottles have been placed almost at every corner so that our members can use them wherever and whenever required."
Another well-known operator in India, Qdesq, has recognized the surge in corporates looking for contingency office space so as not to disturb workflow and expects the furthered adoption of coworking to grow if the outbreak is not contained. Working from home, Qdesk asserts, is not an option in the long run for many companies, which is why coworking is gearing up to gain even more momentum until the spread of the virus calms down.
OneCoWork, a popular coworking chain in Spain, is another operator that is taking action against the spread of COVID-19 in their workspaces at this time. In addition to implementing a stronger cleaning schedule, the operator has installed measures such as: frequent sanitization of all "high-frequency touchpoints"; distribution of hand sanitizer to multiple locations within each building; and stocking more sanitizing wipes among each community team.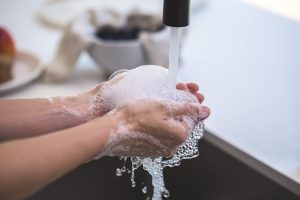 Here's what you can do
As the situation evolves and more people become infected on a global scale, unfortunately no shared space is free from the potential of coronavirus contamination. If you plan on working from your same coworking space as usual, or you've been encouraged to work remotely for the first time, there are certain actions you can take to keep yourself — and those around you — safe.
Isolate yourself if you have any symptoms
Aligning with advice from the World Health Organization, anyone who has had known contact with the coronavirus should isolate themselves. If any symptoms appear within 14 days of your last exposure, you should contact health services. If no symptoms appear, you are no longer at-risk of developing coronavirus. Still, if you are exhibiting any flu-like symptoms whatsoever, it is wise to be cautious and avoid public settings like coworking spaces so that you don't potentially infect other workers.
Wash your hands (and wash them again)
Even if you think washing your hands to the tune of "Happy Birthday" twice is a bit excessive, frequently washing your hands is one of the only ways to reduce your risk of transmitting or acquiring the virus. It's worth noting that alcohol-based hand sanitizers offer limited added protection compared to soap and water, especially in community settings. Taking the time to properly wash your hands will do the trick — in addition to avoiding touching your eyes, nose, and mouth before and after you've washed them.
Rethink your upcoming travel plans
Before you plan your next business or leisure trip, you'll want to make sure your destination is safe for travel. The Centers for Disease Control and Prevention (CDC) recently issued six coronavirus outbreak travel alerts, recommending that travelers avoid all nonessential travel to China, Iran, Italy, and South Korea (Level 3 Travel Health Notice). Older adults or those with preexisting medical conditions should also consider postponing travel to Japan. By being proactive about your travel plans, you can avoid visiting places where the virus has most rapidly spread.
_____________
As more people look to their employers for guidance and direction during this challenging time, having a plan in place that includes an alternative office solution like coworking may be the best way to proactively address the underlying uncertainty. Though it's too soon to say if the coronavirus outbreak could force a permanent work-from-home movement, it will be interesting to see how the situation and reliance on coworking spaces unfold in the coming months.