We caught up with the team at COhatch, the fast-growing Worthington-based Ohio coworking company that got its start in 2016 and now has locations in Columbus, Cincinnati, Cleveland, and Indianapolis.
According to an article by the Columbus Dispatch, COhatch CEO and co-founder Matt Davis said the company has rebounded from the fallout of Covid-19 and is now looking to continue to grow and expand. In fact, COhatch is planning on opening a new location in Beachwood, Ohio this winter in a popular mall.
Coworker caught up with the COhatch team to learn a little more about the brand's mission and the reasons why their communities continue to thrive.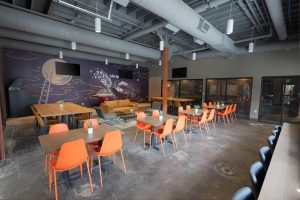 First and foremost, tell us the COhatch story!
COhatch was founded in 2016 by a group of friends who wanted more out of their day-to-day lives. Our founders are truly centered on doing good in our communities, repurposing old buildings that have been left behind into new, vibrant spaces where people want to work, meet, and live. Our goal with COhatch is to focus on what matters most: our families, health, and our individual impact in our local cities and towns while also doing the day to day work that keeps our lives going.
Our founding COhatch location is located in Worthington, Ohio, and was originally a hardware store in the late 1800s. The location is now aptly named, COhatch Worthington – The Hardware Store, to pay homage to the historic building that started it all for us and our members.
We now have 30+ locations established or under construction throughout the Midwest and in Tampa, Florida. All of which are just as fun, filled with detail, and impactful as we wanted them to be back in 2016.
What is the current mission of the brand?
COhatch's overall mission is to strengthen communities and improve lives. Even though we are a place to work, we also want our members and communities to have the flexibility, accessibility, and choice of how and when they work, while also providing a place for family events and an almost endless list of perks.
Through our locations, we also provide physical workspace for nonprofits and local startups to continue our mission to pay it forward and activate our community.
What's one big achievement that COhatch has accomplished in 2021?
In 2021, we've seen a huge influx of business across the board. After a year like 2020, we were ready to tackle every challenge and resume our normal way of life inside our locations. Through our members and partnerships, we've been able to provide local nonprofits, startups, and civic leaders with access to our space for free to ensure they are getting the work done that keeps our communities moving forward and growing.
We are awarding individuals in our markets that are making a social and economic impact in their cities through our Boost Scholarships (for local startups, minority owned businesses, and women-led organizations) and Give Scholarships (for local nonprofits) up to $500,000 across all markets.
Why is this one of your core focuses at the moment?
Coming out of a worldwide problem, you realize that work is there every day no matter what you do, but your community is what drives you and keeps you rooted. Our community members are highly active and engaged with what we're doing impact-wise, so we want to spread the word to our members and beyond that local people like them are doing big things. Through Give and Boost Scholarships, events with local partners in our communities, and finding new ways to extend our member base outside of the physical world, our members are with us every step of the way.
We want to help the changemakers of the world keep doing what they're doing and provide resources that may not have been accessible or available to many throughout 2020 and even now as the world opens back up.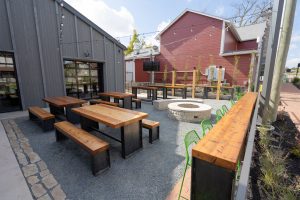 What's your community like? Have you seen major shifts in demand between 2020-2021? If so, what are they?
Our community is filled with people from all walks of life, careers, and passions. Our members are highly engaged not only with COhatch, but with other members (even across our other cities). We've seen a shift in the number of corporate members over the last few months as many businesses are working through office leases expiring and looking for more of a hybrid work model for their teams. Events and meetings have skyrocketed for us now that people are able to see their friends, family, and colleagues again.
Looking to the future of the flexible office market, what are your predictions?
For us, we know that the model we provide is more diverse than most office or workspaces in the world. What has kept us going through massive challenges is our ability to provide more than just a place to work. We are always focused on providing more perks and benefits for our members in every city we grow into. Our perks truly set us apart as we provide discounted vacation home rentals, free event and meeting hours, as well as access to a variety of fun extras like Mobi, our vintage Airstream trailer.
We also know that supporting local businesses, startups, minority-owned and women-led organizations, nonprofits, and more is the reason why we started COhatch in the first place.
By helping others grow, we only continue to see success in the flexible office and coworking market. Things may change over time, but we know that with our focus on a work-life balance, prioritizing the most important things in our life, and continuing to deliver on other benefits outside of work, is how we will continue to grow.