Since its founding, Campus X has made it their mission to support the growth and development of Bulgaria's technology ecosystem. In just three years, the coworking company has expanded to four buildings, more than 1,500 workspaces, and 700+ members. 
Extending every prerequisite needed for entrepreneurs to find success has always been Campus X's aim. By offering features like enterprise-grade infrastructure, modular offices, and easy access to funding (with two of Bulgaria's leading investment funds working on-site), Campus X goes above and beyond for its members, becoming a real partner in their business goals and advancement.
With the onset of the global pandemic, Campus X made sure they continued to support the well-being of their members not just in terms of their professional endeavors, but in terms of their health and wellness, too.
This led Campus X to become the first office space in Bulgaria to be awarded the prestigious COVID Shield Certificate—the highest level of safety by the independent Certification Body TÜV AUSTRIA.
Coworker caught up with Boyko Iaramov, CEO of Campus X, to hear how the coworking operator has prioritized putting members first and powering their success through COVID-19 and beyond.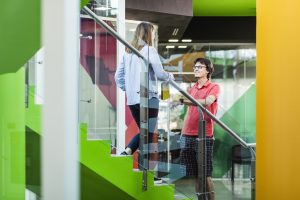 First, tell us about the mission of Campus X and how has the brand evolved over the years.
In the last three years, we've greatly expanded our capacity and community. From just one building and 300 workplaces in April 2018 to four buildings and more than 1,500 workspaces, since launching Campus X, more than 700 members have joined us. They come from over 50+ different organizations and share the same values and virtues.
We're proud to be able to greatly advance our efforts to further support and grow the local tech and startup ecosystem. To do that and to provide our members with an end-to-end experience, we have entered into a series of strategic partnerships. To create a bridge to funding and a network of seasoned mentors and investors, we collaborate with the two leading Bulgarian VC funds — LAUNCHub Ventures and Eleven Ventures — which are both based at Campus X, and many international funds and Angel investors. We have also joined forces with one of the Big Four auditing firms PricewaterhouseCoopers (PwC), Bulgaria, which has a presence at Campus X, to provide the highest level of legal and tax services to our members. 
Also, talent is the most valuable asset for companies. Therefore, we partner with the leading tech-ed organization in Bulgaria, Telerik Academy, which trains Master Junior Tech Talent and helps companies upskill their employees and future proof their businesses. Last May, we also welcomed our newest onsite Human Capital strategic partner–the HR consultancy company BICA Services.
We're humbled that our efforts have been recognized by the Central European Startup Awards (CES), who awarded us the Best Coworking Space in Bulgaria for two years in a row (in 2019 – just a year after the launch of Campus X — and also in 2020). In 2020, we also received the prominent COVID Shield certificate, which represents the highest level of safety during COVID-19.
Last but not least, the numerous success stories of our carefully curated community inspire us to keep doing what we do. It is yet another testament and reinforcement of our mission to continue delivering everything needed for success under one roof, accelerating our members' achievements, and empowering the whole ecosystem.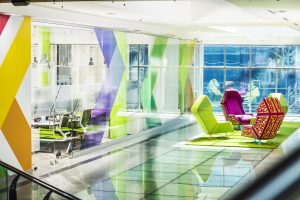 You recently shared eight success stories of Campus X members during 2020. Can you tell us about some of these stories and how your space helped them forward?
It's inspiring to see our companies achieving big milestones even in times of a global pandemic. This is proof of the indefinite power of a tight-knit community. We grow stronger together and are happy to see that the Campus X ecosystem has a tangible positive impact on our member companies.  
These eight success stories are just a small part of a list that goes on and on. Since the beginning of 2021, we've also got quite a few new major news from our members. Here're just a few examples: 
Our members

FITE got acquired by the American company Triller

. Following a period of super-fast growth, in the past few years, the live-streaming platform attracted funding from Sofia-based VC and Campus X members LAUNCHub Ventures along with other major investors. This is exit number 7 and the largest to date for LAUNCHub Ventures. 

The spend and expense management platform Payhawk 

grew 10x in 2020 and doubled its revenue in the first quarter of 2021

. This April they

raised a record-breaking Series A financing round

, the largest such round raised by a Bulgarian tech company to date. They are also part of the portfolio of our members Eleven Ventures.

Member company Gtmhub

received $30 million in a Series B funding

round led by Insight and with the participation of Singular and prior investors LAUNCHub Ventures and CRV. The company raised the new funding after growing three times in 2020. 

The air-cargo company and a Campus X member Dronamics has developed a fixed-wing cargo drone–a UAV with a wingspan of 16m that will be able to carry up to 350 kg over 2.500km at 200 km/h speed and make an impact during the COVID-19 pandemic. Also, they've recently announced

the official launch of the Dronamics Airline

with companies in three market-leading countries

. In these regions, the company will have its first customer cases that will be serviced in e-commerce, pharma, and spare parts logistics. 

Last year, our members

HashiCorrp raised an impressive $175M in Series E funding

along with a company valuation of $5.1 billion

. Thus, the Campus X community became the home to a new unicorn company.   

What is it about Campus X that makes it well-positioned to power members' success, like the above stories?
Campus X was built to operate and exist and therefore succeed only when its members succeed. Building an operation from the client-success-perspective and not from the tenant-occupancy-percentage perspective are two very different approaches to business and are driven by two very different motivators. Some executive decisions may seem extremely unpopular when viewed from a landlord/broker/service operator perspective, but not from where Campus X stands.
We put our members' needs at the core of all we do–offering them full flexibility and space to grow. Through our four main pillars, we empower companies with everything they need to succeed.
The first one is Talent. We're seeing the tremendous effect of Telerik Academy that is one of the founding pillars of Campus X. It's the first large private tech-ed initiative in Bulgaria, which has touched the lives of 130,000+ kids and professionals to date. In the last decade, it has powered businesses with leading tech talent, helped people jumpstart their careers in IT. Also, our human capital partner BICA Services helps our members source and retain high-quality talent.
The second is Capital, we provide a bridge to funding and leading mentors. We collaborate with the leading Bulgarian investment funds (Eleven Ventures and LAUNCHub Ventures) with one of the co-founders, Vassil Terziev, being a partner in Eleven Ventures. Many startups, which are part of our community, have received investments by either one of these funds or by another fund in our wider network.
Third, we're constantly shaping and expanding our Community. Our members are selected to subscribe to Campus X's values and virtues, demonstrating openness to share knowledge and experience and a desire to learn and grow together. 
Last but not least important comes the Hub. We provide modern and flexible move-in-ready workspaces that cater to the needs of today's dynamic teams. Our Hub's primary drivers are constant analysis and personalization, modularization, and efficiency of spaces. And our enterprise-grade infrastructure and redundancy, as well as world-class facility and IT services and support remove all the hassle for our members and help them seamlessly expand their teams within Campus X.
They enjoy our inspiring common areas and the cozy break-out zones, where they can network and share know-how, as well as the premier workspaces that attract new talent and existing employees love. 
In the context of COVID-19 and the unusual challenges it poses, we've gone far and beyond all global recommendations to provide maximum safety and flexibility, so that companies and individual professionals can keep up and running in the new normal.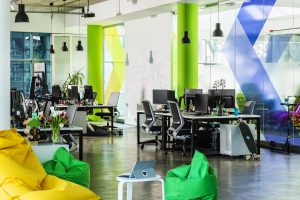 Campus X recently became the first office space in Bulgaria to receive a COVID Shield Safety Certification. What is this distinction and what does it entail?
Campus X became the first office space in Bulgaria to be awarded the prominent COVID Shield Certificate, which represents the highest level of safety by the independent Certification Body TÜV AUSTRIA. This is a testament to the efforts and resources we invest to secure the safest possible work environment for our community.
Our key priority has always been to ensure the wellbeing of our member companies and their teams. In the COVID-19 pandemic, this has directly translated into "health" and "health measures," but even prior to that we have always had laser focus on this–creating a comfortable, productive, and safe environment.
We have acted fast and worked hard to introduce the highest standard of protective measures like:
High-class air disinfection and fresh air across Campus X's buildings
We have introduced premium and safe ozone-free UVC lamps that are highly effective in breaking down the DNA of micro-organisms and cleaning the air from viruses, bacteria, allergens, mold, and mites. Additionally, we employed a leading air purification technology to greatly improve the quality of air across the Campus X's buildings.
Last but not least, we've completed the large-scale reconstruction of Campus X's HVAC (heating, ventilation, and air conditioning). This massive project will allow the flow of even more fresh air across Campus X's premises.
Rigorous cleaning and disinfection 
We perform daily meticulous cleaning and disinfection of all offices, meeting rooms, common areas, and floors with increased frequency and focus on high-touch areas.
Carefully planned well-being guidelines and signage 
Aligned with local and international health authorities' recommendations and best practices, we've placed careful guidelines and signage across Campus X. Thus, we have equipped our members with the needed information and support to ensure their safety and the safety of others.
Furthermore, long before COVID-19 has evolved into a global pandemic, we've started and are continuously encouraging prompt reporting on trips and flu-like symptoms. Meanwhile, we keep providing timely information and support to our community via Slack, which was established as our primary safety communication channel. 
We have also introduced onsite PCR Pool Tests for our member companies and their teams. Upon request, we facilitate the whole process, which is conducted by leading certified lab and personnel. More information about the safety measures at Campus X is available here.
Why was receiving this safety certificate important to you and your community at Campus X?
When an operation puts people first, the criticality and urgency of providing all components of a safe, comfortable environment are vital. Being able to once again validate to our members that we put them in front and before anything else is a testament to our mission and reason of existence.
Having our efforts recognized by an independent institution provides an additional layer of recognition and peace of mind for our community.
To learn more about Campus X, view their listing on Coworker here.