With the #FutureofCo Summit just around the corner on April 2nd at OneCoWork Catedral in Barcelona, we are so excited to announce that Coworker's Director of Network Relations, Faye Glendinning, will be presenting as a speaker. The summit will bring together a collection of shared economy leaders and starters to explore how we can bring the idea of sharing into our day-to-day lives — as both consumers and business-owners.
#FutureofCo is a movement that embraces the shared economy in all of forms; from coliving to coriding and coworking, today we are seeing "co" in front of words we never thought possible. The sharing economy is one of the fastest-growing business trends in history, with more than $23 billion in venture capital funding in startups operating with a sharing model since 2010.
The term 'shared economy' is an economic principle that is constantly evolving. By definition, the shared economy is the use of technology to support the exchange of goods or services between two or more parties. This exchange can occur through a shared marketplace, collaborative platform, or peer-to-peer application, among other channels. With 4.5 billion people worldwide able to access the internet and mobile technology, managing share-based transactions has never been easier.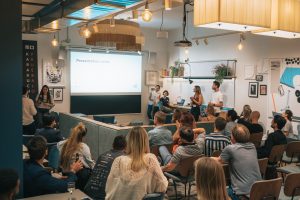 The Mission
Future of Co's mission to encourage and educate on the importance of a shared and collaborative future comes as the answer to the "green pressure" that brands and consumers have been aiming to solve.
As society questions how to build a greener future for our planet, sustainable consumerism is a healthy way forward. It's all of the little differences that make a very different bigger picture — and a brighter future overall. Fortunately, share-based transactions help to reduce pollutants, emissions, and carbon footprints and create a range of other environmental benefits as well. 
As the world turns to share-based transactions to bring a positive and productive future, it is essential to make changes in the world of work. That's where coworking comes in!
Coworking, short for collaborative working, is an innovative style of working that relies on sharing flexible workspace rather than traditional office environments. Coworking shares equipment, resources, ideas, and experiences among remote professionals. This helps foster trust and build community as coworkers begin to rely on each other. 
Faye Glendinning, our Network Relations Director at Coworker, will be speaking on a panel about building a business with a community. The coworking industry has an empowered and connected community at its core and at Coworker, we are proud to be a part of this.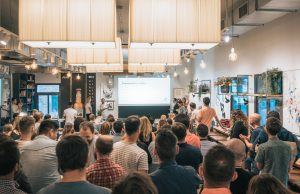 Coworking Community
With over 35,000 coworking spaces worldwide and more than 14,000 in the Coworker network, coworking has become a phenomenon that the shared-economy cannot live without. Both companies and individual consumers find themselves turning to coworking to reduce costs and increase productivity while limiting their waste of resources. 
At Coworker, we bring together thousands of coworking spaces and their individual communities so that we can support each other in our mission of embracing the sharing economy. We look forward to sharing more about our journey of building a coworking community at the Future of Co Summit in April. 
Interested in hearing how the Future of Co looks for other leaders of the shared economy? Among other speakers presenting on topics like innovation and sustainability, we will be joined by BADI Homes, who will deliver a keynote on the Future of Coliving, exploring the benefits of living a shared lifestyle. 
Register for your tickets and learn more about #FOC below: 
https://onecowork.wixsite.com/futureofco/future-of-co-summit