The pandemic has ushered in alternative ways of working. As more companies go remote and freelancing becomes more popular, coworking spaces have become more prevalent.
These modern office spaces have become a viable alternative for freelancers and professionals who need an outside space to work.
Coworking spaces allow people from all backgrounds to work on their projects in a common area. Many of these spaces have various amenities to cater to different office needs. 
There has been consistent growth in the number of coworking spaces worldwide. According to projections, there will be 41,975 global coworking spaces total by 2024.
What is coworking, and what makes a good coworking space? Below we discuss five notable modern offices that offer unique working environments and experiences worldwide. 
What is a coworking space?
Coworking is the practice of freelancers or people from different companies or institutions working together in a shared space. 
Coworking spaces are areas explicitly created for this purpose. They accommodate people from different backgrounds to work together. 
They serve as an alternative to home offices and even traditional offices. For this reason, these spaces often have shared tools, facilities, and services that allow people to work comfortably. 
Different coworking spaces come in various shapes, sizes, and office layouts. Some can be smaller with some basic amenities. Others have sprawling floor plans with workstations, cubicles, collaborative spaces, nooks, lounge areas, and indoor or outdoor gardens.
Aside from providing tools and services for working and learning, coworking spaces can foster community, collaboration, and networking opportunities. Many of these spaces also host events that cater to their members' interests, such as networking events, workshops, etc.
What makes a great coworking space?
Different factors contribute to the success of a coworking space. As we have seen from the offices we explored in the previous section, coworking spaces can look completely different from one another.
What makes a good coworking space? What do these offices have in common? Let's discuss the essentials below.
Amenities
Reliable amenities are the primary building block of a coworking space. Wi-fi, electrical outlets, comfortable desk spaces, and meeting rooms are essential to providing good service. 
Although aesthetics and decoration are suitable for enhancing the ambiance, functionality must still be present. High-quality, ergonomic office chairs, standing desk options, shelving, and other workplace necessities could greatly benefit members' work experience.
Cleanliness is also a factor that workers take into consideration when looking for a shared office space. Most establishments feature clean and pest-free areas where visitors can do their jobs without distractions.
Privacy and security
The clientele for coworking spaces would likely consist of working professionals and freelancers. For this reason, it's essential to provide measures to ensure both physical security and cybersecurity.
It can be tempting to cram several people into a shared workspace, but this could compromise people's privacy. Despite the open space, make sure to position workspaces in a way that allows members to work on private matters confidentially.
For foolproof cybersecurity, coworking spaces can use a VPN, private wifi, and IT support on standby.
Event offerings
Events are an excellent way to build community within the coworking space. These events can foster collaboration among members, who often come from different backgrounds and industries.
Coworking spaces can organize events specific to the clientele's interests. For example, they can organize talks and events around tech innovations and related topics if the space is in a tech district. For arts districts, they could stage art exhibits or workshops.
Accessible location
Enough parking spaces and proximity to public transportation can attract more people. Freelancers and other professionals would more likely patronize a coworking space near their homes or industrial centers.
Furthermore, centrally located coworking spaces can also help ease commute stress. This is why coworking spaces in suburban areas have been growing in popularity and supply.
Inspiring office design
The interior design and layout of office environments can significantly influence each member's productivity and well-being. Office decor, furniture, light fixtures, and other elements contribute to the ambiance of the work area. It can help to offer different work environments to cater to various working and learning needs.
Some people prefer working with tons of natural light, while others prefer a dark, isolated corner. Different seating arrangements are also ideal. Traditional seating, standing desks, or comfortable couches could suit different occasions and working styles.
5 Modern Offices that Break Coworking Space Cliches
Coworking spaces have become a global phenomenon and ideal choice for employers that embrace a hybrid style of work. No matter your location, you're likely to find a coworking space that fits your needs.
Below are five modern coworking spaces that provide unique working environments for freelancers, professionals, and entrepreneurs worldwide.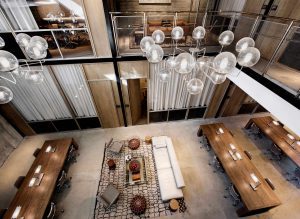 NeueHouse Coworking Space, California, USA
NeueHouse is a company that offers coworking and collaborative spaces, conference rooms, and social events. They have multiple houses across New York and Los Angeles. 
NeueHouse Hollywood is one of their most notable spaces, with seven stories of work environments perfect for creatives and other professionals. 
They have all the amenities of a coworking space—desks, private cabins, gourmet kitchens, meeting rooms, event spaces, and the like. However, they also have spaces catering specifically to creatives. The coworking space offers a screening room, podcast room, noise-canceling headphones, and art exhibition programming.
These amenities are fitting for their location. Hollywood is a hotbed for media production, and their current building was once the original 1938 CBS Radio Building.
NeueHouse Hollywood offers different membership plans for individuals, groups, or companies that want to use their space.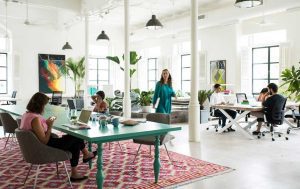 Ministry of New in Mumbai, India
Ministry of New occupies a 2,200 square-foot main workspace for individuals and teams. If you need a smaller space, they also offer separate rooms members can book for more privacy and focus.
Aside from having the necessary amenities like desks, high-speed internet, and a library, the space is well-decorated. Each room is well-lit and designed for photography or production needs.
Ministry of New also hosts various member-exclusive and public events on multiple fields and topics for entrepreneurs in Mumbai. These events encourage collaboration, education, and networking.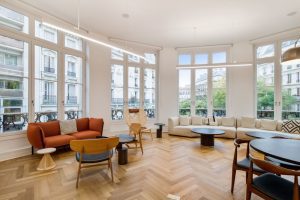 Patchwork in Paris, France
Patchwork is located centrally in Grande Armee, near the heart of Paris. Its name is a nod to its interior design, which features prominent blocks of color. Patchwork brings designers, artists, bloggers, developers, and entrepreneurs together.
Members can join the well-lit, shared working space, or book a small office or meeting room for more privacy. They can also access the space 24/7. This accommodation caters to different working hours and creative ideas that may come in the wee hours.
Patchwork also organizes weekly events covering different topics, mostly architecture, design, and other creative pursuits.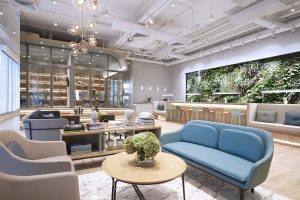 The Work Project, Causeway Bay, Hong Kong
The Work Project in Hong Kong spans over 30,000 square feet of workspaces, from individual desks to private offices. They have large event spaces for significant gatherings and spacious meeting rooms for teams.
They are located centrally, neighboring major tech offices such as Google, Alibaba, Apple, and Facebook. Their four-story building is also only two minutes away from the Causeway Bay MTR station.
Aside from workplace essentials, The Work Project also offers creature comforts like a gourmet pantry, happy hours, and housekeeping. They also organize networking events for their members.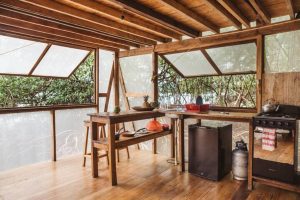 Cocovivo
, Isla de San Cristóbal, Panama
If you plan to go somewhere more remote, Cocovivo would be an excellent choice. Although more of a resort than a traditional office, Cocovivo has high-speed internet and electricity that also accommodates remote work.
Guests can work while enjoying the tropical Isla de San Cristóbal, surrounded by beaches and local wildlife. Guests can enjoy nature retreats and activities like snorkeling, kayaking, hiking, and yoga on their off time.
Cocovivo is ideal for freelance writers, bloggers, and professionals who want a change of view from regular city life.
Boost Productivity and Collaboration Through Coworking
The way people work has changed significantly in recent years, and coworking is now a popular player. 
There is no single picture of what productivity looks like, as we have seen from successful coworking spaces worldwide. Coworking spaces have proven that collaboration, networking, and creativity further productivity and innovation across many industries.