Founded in 2016 in Austin, Texas, the coworking operator Firmspace was originally designed for law firms who needed a private, secure space to work – but without all of the administrative work that comes with a traditional office environment.
After launching, the team at Firmspace quickly realized that its model was suited to a wider audience of achievement-driven professionals and executives, like those in accounting, real estate, technology, consulting, financial services, venture capital, and more. Many of these professionals that became Firmspace's member base had tried coworking in the past, but it wasn't a fit.
With a growing number of professionals who value and need privacy, security, and support to be as productive as possible, Firmspace saw the opportunity to meet this demand and accommodate members through a hybrid model of coworking.
Since founding Firmspace and opening its first location in Austin in 2017, the operator has now opened four additional locations across the country in Atlanta, Chicago, Houston, and Denver, with plans for continued expansion.
Coworker caught up with 

Anish Michael
, CEO of

Firmspace

, 

to learn more about the operator's journey including its hybrid product, Firmspace Hybrid.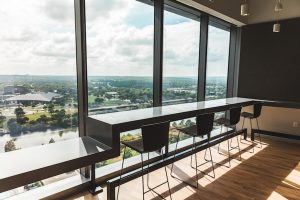 What is the mission of Firmspace and how has the brand evolved over the years?
At Firmspace, we provide unparalleled private work environments and unmatched support to enable flexibility, productivity, and growth. The end result is a private, secure sanctuary for professionals that's distinctly different from other coworking options on the market and one that helps professionals do deep work. We call it "proworking."
From the start, we've provided professionals with the sanctuary that they need to be productive. The pandemic made our product even more relevant for professionals who can't get work done when working from home or at a coffee shop. With private offices, noise cancelling technology, frosted glass on office windows, and additional privacy and security features, professionals find that Firmspace is their getaway from all of life's distractions.
Recently, Firmspace launched its hybrid private offices product, Firmspace Hybrid. Could you tell us more about the product and how the idea came about?
Firmspace Hybrid provides private and secure office space to better balance the needs of employees, so they can be productive individually and participate in collaborative on-site work when they need to. A Firmspace Hybrid membership includes shared access between three members from the same company to office key fobs, mailboxes, a networking dashboard, billing, conference rooms, printing, and more. Members from the same company can share a single desk, but use it at different times.
We introduced this product because we recognized that employees want both flexible remote work options and in-person time with their teams, while the pandemic accelerated the need for more flexible lease arrangements. Firmspace Hybrid meets the needs of the evolving workforce and the future way of working. 
Why do you think Firmspace Hybrid will be beneficial to your member base now and in the future?
Over the course of the past year and half, companies realized how much money they were spending on unused office real estate, so many continue to explore options to downsize their real estate footprint. Firmspace Hybrid gives companies even more options to configure their workforce, add or reduce seats as business needs fluctuate, and the opportunity to collaborate in-person when needed.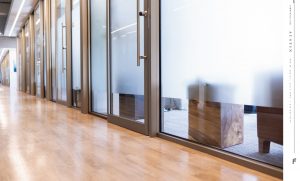 The pandemic also gave rise to what's being called The Great Resignation. Some of these professionals are quitting their jobs and starting their own businesses, and some of them open shop right here in Firmspace. For example, one professional in Houston started her own accounting firm with Firmspace as her headquarters. In Chicago, one real estate professional opened his own brokerage firm and plans to use our Chicago location as he scales his team. That's all to say – we think the demand for hybrid and flexible work arrangements is here to stay.
What does the word "hybrid" mean to you as it pertains to the coworking industry? As it's a relatively new buzzword; how do you define it?
Hybrid used to mean working either at home or in the office. But it's evolved a lot over the past year. Now, it basically means wherever and whenever you get work done. As businesses increasingly buy into the idea of hybrid work, they're also becoming more comfortable with work being done at untraditional hours or locations. That's where Firmspace's proworking model can provide a lot of value because members have 24/7 access, so they can get work done on their own time. 
It's also important to point out that before the pandemic, the war against open office plans was in full-swing. The pandemic accelerated that and now having a private, secure space to work is more important than ever – both because it's safer and because open office environments aren't always conducive to productivity.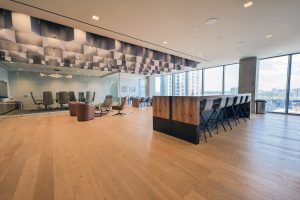 What are your predictions for the flex office industry's future beyond 2021? How will hybrid office models play a role in this?
The flex office industry is a massive market. It's expected to grow to $110 billion over the next several years, so there's a lot of opportunity here. As companies continue to think about flex space, there are a couple ways we see hybrid office models playing a role:
Return to office decisions are not trivial. Professionals are job-hopping more than ever before, and a company's remote or hybrid work policy is playing a major role in someone's decision to stay put. For any executive concerned about turnover in a highly competitive labor market, flexible work arrangements can go a long way in maximizing employee happiness and minimizing turnover.

Flex space options can free up a lot of overhead spend. Traditional office leases can be very expensive and you're often locked in for three to five years or longer. This gives very little flexibility if your business needs fluctuate. Flex space allows you to add or reduce seats as the needs of your business change.

We expect HR departments and COOs to continue seeking out hybrid work arrangements for their workforces. These conversations should pick up even more early next year, as

new COVID-19 variants

continue to interrupt return-to-work plans and these departments increasingly see the need and desire for more flexible work arrangements. 
To learn more about Firmspace, visit their Coworker listing for Austin, Texas here.