Penang has long been hailed as the Pearl of the Orient. This is not because it's particularly famous for having many pearls along its clean sandy beaches, but due to its mixed landscape of Colonial, Oriental and local influences, together with a social fabric woven of Asia's richest cultures which has made it a most extraordinary landmass.
Penang was also the first state in Malaysia to be declared a free trade zone in 1972. This paved the way for a massive boom in the electrical and electronics (E&E) industry.
Fast forward five decades, Penang now accounts for almost 7% of global semiconductor exports; not bad for an area that's only slightly bigger than Singapore.
This rapid development is still persisting well into the 2020s, and with the pandemic changing the landscape of the work environment, many entrepreneurs are now seeking mobile locations where they can enjoy the convenience of working remotely away from home and still mingle with like-minded people.
Although the main hub of Penang's E&E industry is located on the island, convenient real estate comes at a premium, traffic is often congested, and parking can be a nightmare.
To address this issue and to spur the advancement of entrepreneurship on the mainland, the Entrepreneur Growth Hub (EGH) was created. The hub's main purpose is to serve as a melting pot where individuals and businesses from the local start-up community can band together to share knowledge and networks.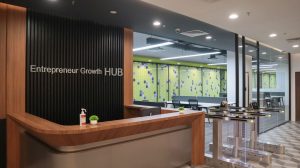 The EGH is arguably the newest and coolest coworking space in Penang's mainland, located inside the iconic Ship Campus building—the first lifestyle and learning campus in an industrial park in Malaysia. The entire building is built in the shape of an actual ship, but rest assured, it's situated on solid ground so you don't have to worry about icebergs or tsunamis. 
As part of PKT Logistics Group's foray and investment into Malaysia's northern E&E sector, The Ship Campus was strategically built in the heart of Batu Kawan industrial park in order to capture and cater for the needs of the industry by providing myriad logistics and commercial solutions.
Here's why Entrepreneur Growth Hub embodies the trifecta of an effective coworking space, maintaining a community that allows both digital nomads and enterprise teams alike to be successful.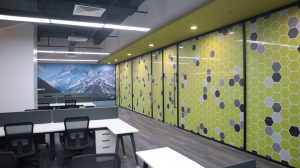 1. Custom Scalable Solutions
Featuring private office suites, ergonomic hot desks, modern meeting rooms, and even the option of a virtual office, the EGH has various options to suit individual requirements.
Coupled with smart displays, high-speed W-iFi, and different printing packages, the only thing you need to worry about is where you're going to get your next caffeine fix!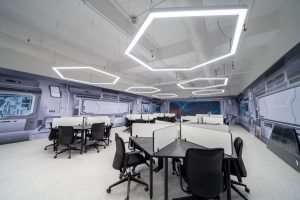 2. First-Class Ancillary Services
Outside of the EGH and still within The Ship Campus building, the coworking space also has a chic café serving the finest French patisserie and coffee, a world-class gym with the latest exercise equipment, a library with thousands of information resources available, an Opera Theatre, and multi-function halls. All of these are for members' benefit whether they need a place to focus, simply unwind, or host an event.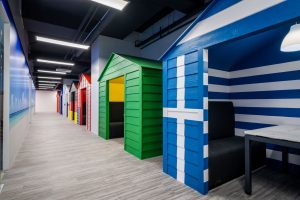 3. Connections, Connections, Connections
What would a coworking space be without networking with the right people to ignite a start-up spirit?
Starting with the entrepreneur in residence for idea incubation to a panel of expert business advisors for business navigation, there is no shortage of business connections at EGH. Moreover, the company schedules regular workshops and networking events to promote learning and socialization, giving members the chance to make industry connections with well-known semiconductor giants.
EGH's education arm, Peninsula College, also offers courses relevant to IR 4.0 from diploma to post-grad level.
At EGH, members get the chance to meet people from all walks of life who are willing to share ideas and information, all with the common goal of having the courage to pursue their dreams and dare to be different.