Spending long hours in any one workspace means that the aesthetics can directly impact your productivity and motivation—either for better or for worse. And while being distracted by the aesthetics might not aid you in meeting that 11 a.m. deadline, turning your attention to your office's artwork can actually lower stress and improve well-being.
In one study about workplace design at the University of Exeter, researchers found that a sanitized, lean office space isn't always the answer to boosting productivity. Instead, if a space is enriched by creative, visually-appealing images or paintings, people will generally feel much happier at work and therefore work better.
Just ask the German investment bank, Deutsche Bank. With one of the largest collections of corporate art in the world, Deutsche Bank owns some 60,000 works of art across their 900 offices in 40 countries. Moreover, employees can use a special app to learn more about the painting they are viewing, and the bank is known to host a variety of talks by famous artists.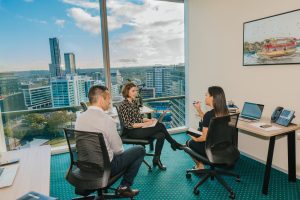 Servcorp's commitment to local artistry 
In line with this same philosophy, Servcorp has also made it a priority to incorporate inspiring art pieces into their coworking spaces. Not only does the artwork at Servcorp's spaces add to the feeling of being in a five-star environment, but the pieces are often created by local artists, which ground the spaces in their surrounding locale.
For example, in several of Servcorp's overseas locations, the coworking provider has commissioned local artists to paint scenes that are distinctive to that city. This strategy is a great selling point for members, offering a stark and welcome contrast to other, more generic artwork that usually adorn typical office spaces. 
This particular attention to creating a five-star coworking environment has even led to several Servcorp members purchasing artwork from the spaces' floors. Clients simply fall in love with the look of the floor and want to replicate that look in their own homes. For several of the local artists featured on Servcorp's floors, this has brought about many beneficial private commissions.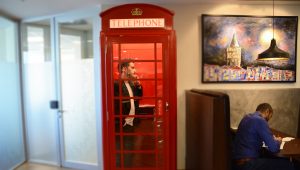 Famous artists featured by Servcorp spaces
With 67% of people believing that art in their work environment improves their morale, Servcorp has made it their mission to create an inspiring environment with the help of local artists. Three famous artists that members can see around Servcorp spaces include:
–Pariny Laosy
After viewing some of her artwork in the market at The Rocks Markets in Sydney, Servcorp contacted Pariny Laosy about including her pieces in several coworking spaces. Now, Servcorp has her works in numerous locations, including London, Sydney, Perth, and Dubai. Inspired by the work of Jackson Pollock and Van Gogh, Laosy is an intuitive artist who uses a dripping method and a variety of objects to create loose, expressive lines and landscapes.
–Mark Hanham
With quite a formidable reputation across Australia, Mark Hanham is especially known for his large-scale streetscapes and city overviews. Prior to opening their space in Tokyo, Servcorp sent Hanham to Marunouchi to get inspiration for the works they commissioned him to paint. Perhaps the most famous artist in Servcorp's spaces, Hanham even has a range of celebrity clients, including Russell Crowe and Lionel Richie. 
–Max Mannix
Featured most avidly in Servcorp's AMP Tower location in Perth, Australian artist Max Mannix is known for his depictions of growing up in Victorian country towns and working on cattle stations in the Queensland outback. Mannix's highly collectible work gives Servcorp's AMP Tower a certain Australian flair, granting a special insight into country life.
–Pro Hart
A true outback legend, Pro Hart was energized by all forms of creativity, including drawing, sketching, sculpting, and even performance art. Considered the father of the Australian Outback painting movement, Hart is widely admired for capturing the spirit of the great outdoors. His works also adorn Servcorp's AMP Tower in Perth, which has proven to be a great selling point! 
______________________________________
By including famous artists in their coworking spaces to inspire their members during a busy day, Servcorp and other coworking brands have recognized the power of art in creating an engaging work environment. To learn more about the importance of space design, check out this article on revamping your coworking space for 2020.