The way we work has fundamentally changed, and so has the way we cowork. With estimates showing that up to 31% of the global workforce will be working from home multiple days a week by the end of 2021, businesses will be searching for solutions to amplify output and support their remote employees from afar.
Fortunately, coworking spaces have recognized the opportunity in providing flexible, safe workspaces as an alternative to traditional offices. Though coworking operators faced several devitalizing challenges at the onset of the COVID-19 outbreak, many have been able to transition their business strategies to support members virtually. 
Already, some spaces have been able to reopen in countries where government restrictions and work-from-home orders have been lifted. Slowly but surely, coworking spaces are welcoming members back into their workspaces, but not without making permanent changes to the way their spaces operate.   
We asked our network of coworking spaces what they were doing to safely reopen and prioritize the health of their returning members. 
Here is a selection of strategies that some spaces are taking to make the transition back to work easier and safer for members.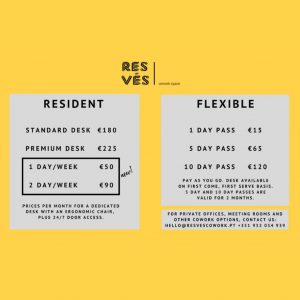 Weekly membership options
RESVES Cowork in Lisbon, Portugal decided to take flexibility to the next level for entrepreneurs that only need to utilize professional services, like meeting rooms or printing, for a week at a time. For people that enjoy working from home but sometimes want a change of scenery, weekly memberships are the perfect opportunity to work alongside other like-minded professionals on a flexible basis. This also provides a great solution for parents with children at home who could benefit from a few hours of deep, quiet focus each week. 
Work-from-home packages
One of the greatest challenges that people initially faced when they were forced to work remotely was having an adequate home office setup. AltF Coworking in Gurugram, India responded to this challenge by creating work-from-home packages, which provides companies with office furniture (like ergonomic chairs and mini desks) as well as internet connection and IT support. AltF also offers COVID-19 inclusive health insurance to members as part of the package, plus premium subscriptions to top remote tools like Zoom.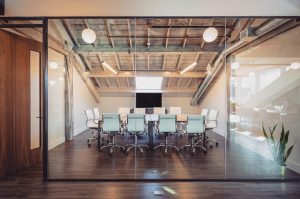 Reduced-capacity boardrooms
At KWENCH in Victoria, Canada, members can take advantage of four spacious boardrooms, operating at a reduced capacity. Every boardroom makes it easy to maintain two meters between each person and provides hand sanitizer and cleaner. No matter what you utilize the boardrooms for — from meetings and conference calls to brainstorm sessions and online tutorials — KWENCH recognized that sometimes it's nice to have a professional space that isn't just your dining room table. By offering unique pass options, people can purchase boardroom credits with or without becoming a full member of the space, which is ideal for optimizing accessibility.

Behavioral signage 
Like many coworking operators, Workhaus in Canada has rolled out full-scale "Return to the Office" guidelines, which discuss in detail the new behavioral signage in their workspaces. Across all Workhaus locations, the operator has posted a series of three new signs to promote good hygiene practices, limited capacities, and social distancing. The signage ultimately  outlines all of the new operational standards and recommended health and safety practices so members can feel comfortable at work and get right to business. In the future, having this type of helpful signage around an open workspace will be instrumental in maintaining safe distances and stopping the spread of germs.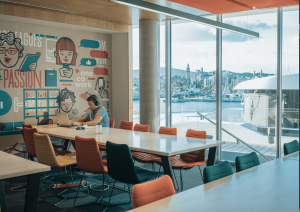 Improved ventilation systems
One of the main concerns that arose with the arrival of COVID-19 was ventilation. In a shared office space with many people coming and going, how can a workspace safely maintain adequate ventilation, rather than recycling air? At OneCoWork in Spain, each coworking space has prioritized the cleaning of all air filters and airways in its modern HVAC system for optimal ventilation. Moreover, OneCoWork also introduced pollution particle measurement devices in each space, which measure the average size of air particles. This can be a positive indicator of the cleanliness of the space's air, so safety can be maintained.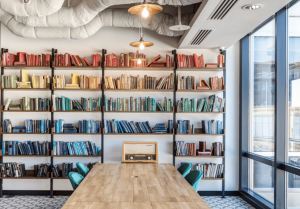 Safety seals for health and hygiene
To give members' peace of mind that their workspaces are safe and hygienic, Mindspace has introduced a new safety seal called 'The Mindspace Seal." The seal itself focuses on three key areas: cleanliness, safety, and awareness. By placing relevant signs in prominent places around their workspaces to effectively convey the seal's guidelines, Mindspace users can rest assured that the operator is complying with governmental regulations and encouraging optimal hygiene standards.
Disinfectant technologies
At Shift Workspaces in Denver, USA, the coworking space has invested in hospital-grade UV light disinfectant technologies that sanitize conference rooms and common areas every night. In addition to providing masks and safety signage, members will know that the workspaces are as clean and hygienic as possible, giving them an added sense of safety while they work. Other forms of disinfectant technologies, such as touchless hand sanitizers or electrostatic disinfectors, may also become more popularized.
___________________________________
Want to learn more about the consequences that coworking spaces are facing as a result of the COVID-19 crisis? We recently released our 2020 Future of Work Report: What the Future Holds for Coworking and Remote Work in partnership with Coworking Insights.
Discover the full report here.