The biggest international event dedicated to coworking will cover an in-depth exploration of the different facets of today's flexible workspace industry. 
________________________________________________________
The Coworking Europe Conference 2019 will take place on November 13-15 in Warsaw, Poland, for its 10th edition.Over 600 professionals — including coworking space operators, community managers, industry players, office developers, and investors — from 55+ countries are expected to attend the three-day conference at the Stadium PGE Narodowy.
At the conference, attendees will join together to network, discuss current issues, and talk about the future of the shared office arena. Data, insights, best practices, coworking hot topics, and much more will be illuminated at the conference this fall.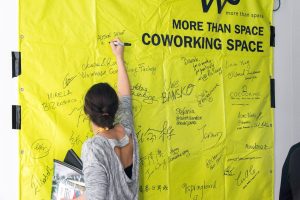 This year's conference aims to openly discuss and cast light on the world of coworking from different perspectives, including business practices, trends, and the industry's impact.
Presentation formats will range from keynotes, panels, workshops, interactive sessions, and training sessions. Moreover, each session will appeal to many different audiences — from newcomers and senior players to real estate operators and people aiming to make a lasting impact on the coworking industry.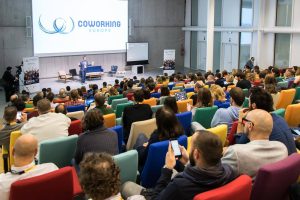 Some of the categories of this year's sessions include:
–Marketing
–Operations
–Event Planning
–Community Building
–Space Design
–Technology
–Real Estate
–Hospitality
–Finance
The conference organizers of Coworking Europe believe that coworking contributes to a better society, facilitating things like sustainable development, culture, soft mobility, urban planning, innovation, and economic growth.
This is why the conference's main mission is to support the development and improvement of coworking spaces throughout Europe.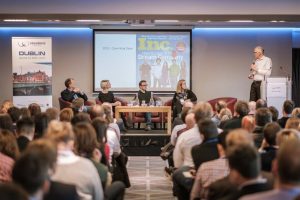 This year's coworking tour: Warsaw
Among different activities, every year Coworking Europe organizes a local coworking tour, where international attendees have the chance to visit different coworking spaces in the host city.
The coworking tour is a unique opportunity for local spaces to get in touch with the international coworking community, increase their visibility, strengthen their network, and learn from peers. It is also an opportunity for international coworkers to get to know Warsaw's local coworking ecosystem and experience it for themselves.
This year, the coworking tour will take place, needless to say, in Warsaw. The conference organizers are in touch with international players and local coworking 'big-shots' who plan to open their doors to the conference's international community.
_______________________________________________________
Have you secured your spot at this year's Coworking Europe? Reserve your seat and find out more about the presenters on the Coworking Europe 2019 conference website.