Meet Sumeet Shah, a member of Servcorp's One World Trade Center location in Lower Manhattan. Sumeet works at Swiftarc Ventures, an early-stage and growth-stage consumer venture capital firm on the lookout for the next generation of consumer brands exhibiting the next-wave trend in retail of "Contextual Commerce." Brands exhibiting this wave leverage digital and traditional tools to create human-like experiences that enable consumers to discover and purchase their products and/or services, ultimately building a loyal and sticky community.
Learn more about Sumeet's road to success and the value he's found as a member of Servcorp.
How did you come up with the idea or concept for your business?
Our team combines over 150 years of experience across both the early-stage consumer investing worlds (angel and venture) and building, scaling, running, and selling various successful consumer companies. It's a strong and established team.
Which Servcorp space do you work from currently?
We work from Servcorp 1 World Trade Center in NYC.
What appealed to you about this specific space?
When we were looking for our first office, we wanted to ensure a great community and environment for our colleagues, founders, and investor partners. Servcorp's WTC location nailed both areas, along with an incredible view of the city from 86 stories up n the most iconic building in Manhattan!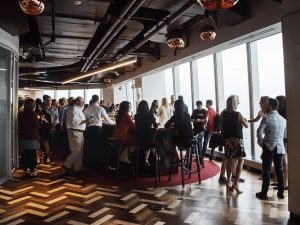 What is your favorite part of the space that you didn't know about when you first joined?
It's a mix between the stellar view and the access to the 64th Floor Skylounge that also provides food from Fooda.
What entrepreneurial tricks have you discovered to keep you productive in your day-to-day schedule?
My favorite recent one is the Mind Sweep report, designed to clear your mind of multiple thoughts and put them to paper immediately. You set a timer for two minutes and jot down those thoughts without any plan of action to work on each. Once the timer is finished, you can then draw out those plans.
What would you say are the top three skills needed to be a successful entrepreneur?
Passion, curiosity, and always being open to feedback.
How has Servcorp made a positive impact on your business?
It's been an incredible experience within our office and interacting with the community.
If you had one piece of advice for someone using coworking spaces for the first time, what would it be?
Spend time getting to know the other colleagues and team members there. The best opportunities/leads/friendships happen when you least expect it.
_____________________________________________
Want to learn more about Servcorp's spaces? Discover the four unique features of Servcorp coworking spaces that you won't find anywhere else.