Meet David Lines and Dorette (Dee) Botha, two Servcorp members at Mercury Tower in Bangkok and the co-founders of Icon Tutor Asia and DLDB Corporate. Dee and Dave are both vastly experienced educators with years of teaching in SE Asia who have created their own customized study materials and learning system. In addition, both have substantial business experience — Dee coming from an HR background and Dave as a practicing lawyer in England for over 20 years.
Learn more about David and Dee's road to success and the value they've experienced as members of Servcorp.
What projects are you currently working on?
Icon Tutor Asia assists students preparing for university admission tests such as IELTS, GED, GMAT, TOEFL, and similar. The company guides each student personally through the process so that they can excel in the examination and successfully apply to top universities. DLDB Corporate works closely with organizations to develop courses focused on the company needs and culture. Powered by an innovative AI application, we promote engagement and learning everywhere and anytime.
We are digitalizing our test preparation study materials, which are specifically written for the SE Asian market, into video courses that can be presented through online channels. In addition, we are now promoting and marketing an AI learning application that can provide companies with all of their staff training needs.
How did you come up with the idea or concept for your business?
Having spent years working in the education space across continents, we felt we had to add what is missing for the Asian market. Consequently, we set about providing innovative and engaging courses that our students can directly relate to.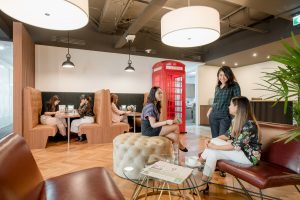 What was your mission at the outset?
To empower the future of young professionals and students in this marketplace by providing quality learning systems to ensure that our student succeed in reaching their goals.
Why did you decide to join a coworking space?
To have a professional office set-up and premium address without the responsibility of being the property owner or main tenant. The location played a big role in the decision as well — it's easily accessible from the Sky train and located near businesses and schools, so we instantly felt this was the right fit for us. We also love networking, and the connections we have made through events hosted by Servcorp have served us very well.
Which coworking space do you work from currently?
We are at Servcorp, Mercury Tower in the center of Bangkok.
What appealed to you about this specific space? 
We really like the atmosphere at this place. It's not an oppressive workspace at all, so coming to work is a pleasure rather than a chore. The open area is comfortable and very impressive for meetings, and having our own private office as well makes it the ideal place from which to conduct our business.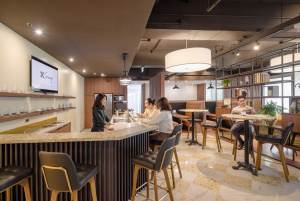 What is your favorite part about the space that you didn't know about when you first joined?
The reception desk and manager's office simply because that is where the Servcorp staff are located and before we moved in, we couldn't have realized how helpful they are.
What entrepreneurial tricks have you discovered to keep you productive in your day-to-day schedule?
To ensure that you have at least one meaningful conversation each day and to create goals for the next day. Setting just three intentions for the next day makes a world of difference in how you allocate time and tasks. Delegation is also a vital skill.
What would you say are the top three skills needed to be a successful entrepreneur?
—Confidence – Believe in your vision, no matter what.
—Perseverance – Keep your eye on the ball, no matter what.
—Patience – Understand that success takes time, never give up!
How has Servcorp made a positive impact on your business?
We have been able to forge a number of relationships with fellow users of this and other Servcorp locations. In particular, we have entered into a mutually-beneficial agreement with another business involved in the education sector but not providing the same services as ourselves, and have made a number of cross-referrals. We attribute this partnership to our location here as part of the Servcorp business community.
If you had one piece of advice for someone using coworking spaces for the first time, what would it be?
Talk to everyone! That is the only way to develop such relationships. Coworking spaces are great for making valuable business connections.
_____________________________________________
Want to learn more about Servcorp's spaces? Discover the four unique features of Servcorp coworking spaces that you won't find anywhere else.