Meet Danny Kursigara, a devoted member of Servcorp's Two International Finance Center (IFC) in Hong Kong. As the Managing Director of FreedomOne International Consulting, he specializes in executive-level coaching, business transformation, corporate training, and mindfulness. With over 18 years of experience in the banking world, Danny has worked in China, Japan, Hong Kong, Taiwan and the Philippines in the roles of Chief Operating Officer and Chief Financial Officer, which gave him his expertise in c-suite coaching. In addition to presenting to TEDx audiences in 2016, he is also the Quilly Award-winning co-author of Road to Success with Jack Canfield (the author of the Chicken Soup for the Soul series.)
Learn more about Danny's own road to success and the value he has found as a member of Servcorp.
What project(s) are you currently working on?
[At FreedomOne International,] we're currently working on providing business consulting and executive coaching services to entrepreneurs and large multinational corporations like Swire, Coca Cola, Louis Vuitton, Citi, Fendi, Givenchy, Verizon, Loewe, Gucci, RBS, Gefran, and U.S. hedge funds, etc.
Our signature programs are the 'CEO Whisperer' and 'Winning Through Change,' in addition to business consulting in the operations and technology space.
How did you come up with the idea or concept for your business?
I have always been passionate about developing the human potential and helping businesses and companies grow. Our vision is to 'empower individuals and organizations to become happier and successful.' We help them double their income, productivity, and time off in two years or less.
What was your mission at the outset?
Our mission is to positively impact 50,000 people in five years.
Why did you decide to join a coworking space?
Coworking spaces such as Servcorp provide flexibility, a professional working environment to entertain clients, lower overhead costs, opportunities to network with a diverse clientele, and worldwide access to group offices.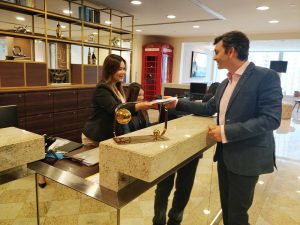 Which Servcorp space do you work from currently?
Servcorp at Two International Finance Center in Hong Kong.
What appealed to you about this specific space?
A few years back, I was searching for coworking spaces, sitting with my laptop in a coffee shop, and trying to start my business. I explored a number of options, but Servcorp was the one that stood out because of the way they handled my case. By the time I made my way from the coffee shop to their IFC office, which was under 15 minutes, their manager had researched everything about me, my business, and presented me with precisely what I was looking for. I signed up in less than an hour. It was an example of impeccable customer service.
What is your favorite part of the space that you didn't know about when you first joined?
The staff is very friendly and always helpful.
What entrepreneurial tricks have you discovered to keep you productive in your day-to-day schedule?
Knowing that my business is meaningful and contributes to making the world a better place makes me jump out of bed every morning, and it's an added bonus that I'm able to make good money doing that.
Incorporating new success habits into your routine are tiny steps toward quantum growth. For example, the Rule of Five! Doing five things every single day first thing in the morning that will keep you focused and lead you closer to your goals is extremely beneficial.
It's also wise to connect with people who have achieved what you want to achieve and learn from them to keep you productive and excited. And remember, comparison is the thief of joy. Don't focus so much on your competition, but focus on what you're best at and hire other people to do the rest.
What would you say are the top three skills needed to be a successful entrepreneur?
Purpose-driven, believing it's possible, and action-oriented
How has Servcorp made a positive impact on your business?
The biggest impact Servcorp has made on my business is having the opportunity to work from one of the best locations in Hong Kong and having close access to clients. The other positive impact comes from the Servcorp staff members – Louis Lai and her teammates and colleagues in all three locations in Hong Kong provide impeccable service and are genuinely welcoming to clients.
If you had one piece of advice for someone using coworking spaces for the first time, what would it be?
I believe you must take the time to check it out for a trial period to see if it fits your style of working, business model, and aesthetic appeal.
_____________________________________________
Want to learn more about Servcorp's spaces and decide if one of their spaces on Coworker is right for you? Discover the four unique features of Servcorp coworking spaces that you won't find anywhere else.