Originally from the wonderful little town of Durham, New Hampshire, our next Coworkers of the World feature is Alexander Harling. When he and a friend started tutoring university exchange students online in 2016, he soon realized how it was possible to have a career working from anywhere. Soon, Alexander was hooked, exploring the remote working world and learning as much as he could while freelancing until finding his current position with Dynamite Ventures.
Learn more about Alexander's road to success operating Dynamite Deals and Dynamite Jobs, as well as the value he has found as a member of ParnetWORK in Bogotá.
What project(s) are you currently working on?
Dynamite Deals and Dynamite Jobs are the two main projects I'm responsible for. 
At Dynamite Jobs, we're building a remote job board that is connecting talent with location-independent, bootstrapped companies. So far, we've filled over 220 positions! We're proud to say that every position on the site is paid, open, and remote. Many of the positions on the site aren't listed anywhere else because some of the companies choose to only post with us. 
Currently, we are redesigning the whole site. We spent the end of 2019 working with designers and are currently adding new designs to the site as we speak. We're also always on the lookout for more remote positions with bootstrapped companies and remote talent interested in a career change. 
At Dynamite Deals, we're on a mission to bring entrepreneurs discounted, top-rated products and services that our team believes in. We launched in September in 2019 and have been providing productized services such as content marketing, legal support, unlimited design services, reward travel booking, tax optimization, and podcast launch services and monthly podcast production.
Our goal is to launch a new discounted productized service once every two weeks. It can be tricky finding the right services, creating the copy and landing pages, and presenting them properly to our audience. We are in search of more productized services to partner with and share with our audience.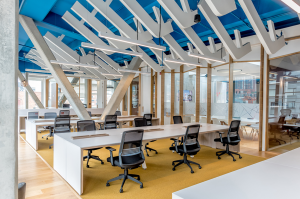 Where did this business concept come from?
Dynamite Deals and Dynamite Jobs both came from needs with the Dynamite Circle community. The ideas existed before I joined the team. Members of the Dynamite, known as DCers, are always looking for new services to help them grow their business as well as new talent who understands remote culture and will make a great addition to their distributed teams.
Both of these businesses significantly help DCers but we are operating beyond the DC and helping dozens of remote businesses each week.  
What was your mission at the outset?
The mission is to help bootstrapping founders grow their location-independent companies. All of the companies at Dynamite Ventures contribute to this mission in different ways. Here's how they're helping entrepreneurs:
–Tropical MBA Podcast – Resources and raw stories about growing location independent businesses.
–Dynamite Circle – Connecting location independent entrepreneurs through masterminds, events, and an online forum.
–Dynamite Jobs – Helping entrepreneurs grow their remote team by connecting with talent who understand remote culture. 
–Dynamite Deals – Bringing entrepreneurs discounted, top-rated products and services that our team believes in.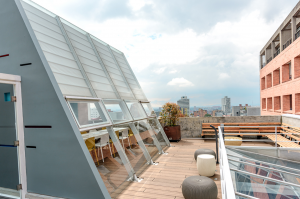 Why did you decide to join a coworking space?
I love coworking spaces! They are productive and fun environments. Each one offers something different and you get to meet great people. My partner, Lina, and I both prefer working together at coworking spaces instead of at home. We have a hybrid schedule of starting our day working from home and enjoying a few cups of coffee, but we're usually in the office by 10 or 11 and work there through the evenings. We work together on Dynamite Jobs and Dynamite Deals so we need space to spread out and collaborate.
Working from home is nice as well, but I prefer to be around other people working on interesting projects and facing similar challenges. For my lifestyle, coworking spaces are an excellent addition. They keep me on schedule and even get me excited about working on my projects. 
Which coworking space do you work from currently?
Lina and I are currently working from ParnetWORK in Bogotá, Colombia. We are picky about the coworking spaces we work from and take our time choosing one. We spent a full day visiting coworking spaces, just like we were apartment hunting, to find the right fit for us. 
What appealed to you about this specific space?
As soon, as we arrived at Parnet for a visit, we were greeted kindly and offered a tour. It sounds simple, but we didn't receive many greetings as welcoming from the other spaces that day. Parnet is a new space so each week there are new businesses renting offices and remote workers checking out the dedicated desks. The area itself is very well designed with lots of natural light, high ceilings, a terrace, and gentle colors. It's quiet and doesn't feel too 'busy' as some coworking spaces do. There are also carpets under the desks so you can kick off your shoes and work in comfort. The neighborhood is nice with lots of restaurants and coffee shops. The building also has a great gym to make things convenient for our daily routine.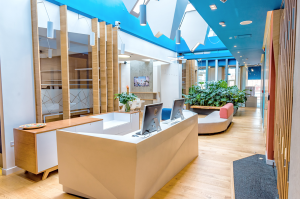 What is your favorite part of the space that you didn't know about when you first joined?
It's so hard to choose a favorite part, but what was a pleasant surprise was the quality of the desks and chairs. It seems like a simple thing, but it makes all the difference. Some spaces try to save money on the desks and chairs. Parnet has very comfortable, high-quality chairs that go perfectly with the spacious and sturdy desks. 
What entrepreneurial tricks have you discovered to keep you productive in your day-to-day schedule?
Sadly, I don't have any fancy tools to recommend sadly to improve productivity. For me, it's as simple as writing down the three most important things I need to do today. I put those into my calendar and I do them (most of the time). 
Scheduling your time well and regularly updating your calendar with deadlines and time to delegate to projects helps keep me on track. The other trick I would add is hiding my phone. Keeping my phone out of sight to limit distraction has saved me so much time. 
What would you say are the top three skills needed to be a successful entrepreneur?
Even though I'm not an entrepreneur, my bosses and all of our clients are entrepreneurs so I'm regularly learning from them. Our company culture encourages an entrepreneurial mindset and we have many opportunities to learn through events, resources, and of course our daily interactions.
Based on what I've learned, I'd say the three things needed to be a successful entrepreneur include:
–Don't be afraid to step on toes (but be gentle when doing so)
–If you see something that needs to get done, do it (or delegate it and make sure it gets done)
–Assume that everyone else knows more than you so listen and learn whenever you can (and ask questions to develop your understanding)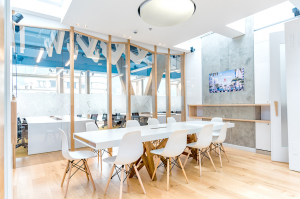 How has Parnet made a positive impact on your business?
Being surrounded by hard-working individuals in a comfortable environment is the best thing that can happen for our productivity. Being here is inspiring and the Parnet team is always offering support, asking how they can help and who they can connect us with. All of the natural light and the calming environment I am sure is also great for my productivity as well as health. Thank you Parnet!
If you had one piece of advice for someone using coworking spaces for the first time, what would it be?
Get to know the people there. Once you get to know the space and you have friends and familiar faces, you want to be there every day and contribute to the environment. This process can take a week or two but it's like finding a second home. Who doesn't like to be welcomed somewhere and be around their friends?