After several years of rapid expansion and increasing demand in markets worldwide, the coworking industry — like all industries — faced a range of unprecedented consequences in 2020 as a result of the COVID-19 pandemic. 
From navigating the effects of government-mandated closures to dwindling occupancy rates, coworking spaces were pressured to reevaluate their operations and come up with new business models, sanitation protocols, and flexible solutions for their members as quickly as possible.
Earlier this year, we surveyed our network of coworking spaces to better understand how they were navigating the COVID-19 crisis.
As expected, the pandemic proved to be a menacing adversary to typical operations, with 40.8% of spaces confirming that memberships and contract renewals dropped since March, and 71.7% of spaces seeing a significant reduction in the number of people working from their spaces this year. 
Despite this predictable downturn, the end of the year has shown a range of positive signs for coworking's future as remote work becomes a mainstay. Slowly but surely, coworking spaces are welcoming members back into their workspaces, but not without making permanent changes to the way their spaces operate.    
Moreover, emerging trends such as large corporations adopting permanent remote work strategies and enterprises looking to decentralize their teams have sparked new demand.
As remote work becomes a staple of "the new normal" on a global scale, coworking operators actually stand to benefit, with experts predicting flexible workspace will account for 30% of all office real estate by 2030.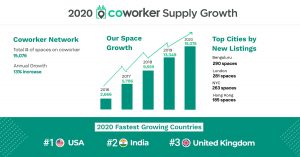 2020: Our Perspective
At Coworker, we have witnessed the slowdown and recovery of the coworking industry in terms of interest and supply this year.
Coworker ended 2020 with 15,076 total coworking spaces across 172 countries and over 2,400 cities. This represents an increase of 1,727 new spaces (+13%), up from 13,384 in December 2019.
Reaching the milestone of 15,000 coworking spaces this year provided a welcome beacon of hope amidst the many uncertainties in the industry. With analysts at Coworking Insights and Coworking Resources affirming the total number of coworking spaces globally will reach 20,000 by the end of the year, this means we proudly offer listings for approximately 75% of all coworking operations in the world. 
We of course anticipated that our number of new space listings would decrease in 2020, compared to the 40%+ growth that we experienced in 2019. Still, this year, witnessing a 13%+ growth in our overall network is indicative that recovery from COVID-19 is underway.
Additional data we've collected throughout the year has generated the following insights.

Coworking Supply Growth — Top Continents
Since our founding in 2015, Coworker has experienced rapid expansion as the coworking industry has matured and developed. Our database now includes listings for coworking spaces on every continent in 172 countries all over the world.
Broken down by continent, here is the ranking of the top continents with the most new spaces listed on Coworker in 2020:
Europe — 

+4,667

spaces

Asia — 

+4,498

spaces

North America — 

+3,655

spaces

South America — 

+925

spaces

Oceania — 

+491

spaces

Africa — 

+711

spaces

Central America — +129 spaces

Coworking Supply Growth — Top Countries
In 2020, approximately 150 new coworking spaces were submitted to be listed on Coworker each month. This monthly growth accounted for 15,076 total coworking spaces at year's end of the spaces that were approved.
Of these new spaces added to Coworker in 2020, the top three countries that added the largest amount of new spaces include:
#1 USA
Total at the end of 2019: 2,304

Total now: 2,757

Annual change: +19.7%
#2 India
Total at the end of 2019: 1,277

Total now: 1,628

Annual change: +27.5%
#3 UK
Total at the end of 2019: 631

Total now: 746

Annual change: +18.2%

Coworking Supply Growth — Top Cities
Also in 2020, the total number of cities with listings on Coworker surpassed 2,400. 
Even in the lowest-traffic months for coworking inquiries during the pandemic, Coworker saw 107 new city additions between April and September. (This means that these cities were added to our database for the very first time, including Ravenna, Italy; Myoko, Japan; and Hama, Syria to name a few.)
While the largest number of spaces in our network encompass the leading urban markets such as Bengaluru, London, Hong Kong, and New York City, seeing this type of growth in small, often suburban cities shows that the coworking industry is continuing to enter brand new markets. 
Of these new spaces added to Coworker in 2020, the cities with the most amount of individual coworking listings include:
Bengaluru – 290 spaces

London – 281 spaces

New York City – 263 spaces

Hong Kong – 185 spaces
2020 In Review
The global pandemic has made 2020 a challenging year for coworking. Despite the many unforeseen challenges this year, we believe flexible offices will play a crucial role in the gradual "return to work."
After monitoring our traffic throughout every quarter, we can confirm that search traffic for coworking has almost recovered fully to its January 2020 highs. This recovery indicates that interest in coworking has returned to pre-pandemic levels and is on the rise after declining rapidly in April during the world's most widespread closures.
Based on recent metrics, we predict global demand will climb another 40-50% from where it is today by as early as Q2 of 2021.
The Future for Coworking
Looking to 2021, the coworking industry will see a range of new trends take root, including operators prioritizing wellness offerings and corporates turning to coworking spaces for their decentralized operations. 
Furthermore, the rise of the hub-and-spoke model of working will give rise to new demand for flexible, multi-space memberships — such as Coworker's Global Pass for individuals and teams.
To further explore the impact of COVID-19 on the future of work and the overall effects of the pandemic on the coworking industry in 2020, check out our report with Coworking Insights here.