Coworking spaces have seen a huge growth in popularity in recent years, and that growth shows no signs of slowing down.
Why have coworking spaces become so popular? Employers, remote employees, and freelancers alike have all started to recognize the benefits of participating in a coworking space. They've been shown to boost productivity, provide networking opportunities, and create more structure for people who are struggling to find a healthy work-life balance.
Another major benefit of coworking spaces is that they can reduce burnout.
There's no denying that today's general work environment is stressful. People are busier than ever, including those in the gig economy. With deadlines to meet, distractions at home, and trying to find a way to enjoy your life without working grueling hours, it's no wonder why so many people are experiencing burnout from work.
Let's examine the risks of burnout, and how coworking spaces can help. Whether you're in the freelance economy, you work for a business from home, or you're an employer trying to boost the well-being of your workers, taking a closer look at the ins and outs of these spaces can help you make more informed decisions.
What is Burnout?
Burnout is more than just a feeling of stress or fatigue because of work. The physical and mental symptoms can take a long-lasting toll on an individual. Some of the most common signs include:
– Sleep problems
– Weight fluctuations
– Sadness or anger
– Lack of motivation
– High blood pressure
Burnout can also lead to mental health conditions like anxiety or depression. Unfortunately, it often goes ignored until it's too much to bear. By that time, you might need to seek out medical attention or help from a therapist or counselor.
From an employer's point of view, workers dealing with burnout are less productive and motivated, and less likely to remain loyal to the company. A stressful company culture will also lead to fewer hires and a shallow talent pool. That's why it's essential for employers to find ways to take care of their workers. What's good for the company is good for your employees.
No matter where you are or what you do, you'll still have the same amount of work to get done, right? So, how can coworking spaces help to reduce burnout? How can you avoid some of these symptoms simply by sharing a workspace with other people?
Coworking Spaces and Mental Health
Many people are flocking to coworking spaces solely for the mental health benefits. We've seen a rise in remote work in recent years. It was already growing in popularity before the pandemic. However, when more people started working at home to social distance and stay safe, it created a colossal shift in the way we think about work.
Now, we're entering a post-pandemic society, but some have chosen to stick with working from home. It can benefit employers by reducing overhead costs and lowering a business's carbon footprint. For employees and freelancers, remote working offers flexibility and more control. However, it can come with some drawbacks.
Remote work can impact productivity, especially when you're working from home and you're easily distracted by family members or your surroundings. It can also make it hard to strike a healthy work-life balance. These issues can impact your mental health quickly, causing excess stress and eventually leading to anxiety, depression, and burnout.
Coworking spaces are a fantastic answer for people who work remotely and are starting to notice some negative effects. Some of the greatest mental health benefits include:
More communication and social interaction
Better concentration
A clear line between work and leisure
The ability to set your own schedule
Coworking spaces can help you fight back against loneliness and isolation, boost your productivity, and even help you with creative slumps if you're willing to network with other people and meet individuals from different industries. When you feel inspired and excited to go to work each day, you're less likely to get overwhelmed by the stress of deadlines or a heavy workload.
It's Better for Business
Coworking spaces aren't just good for employees and freelancers. They're beneficial for businesses with remote workers, too. We touched briefly on how remote work can save businesses money, but there are even greater benefits to consider.
Utilizing a coworking space is an excellent resource management strategy. It helps to optimize your business' resources, spread out work more efficiently to reduce burnout, and minimize disruptions within your business.
You'll save money now by having fewer employees in the office, but you'll also see how quickly your business can grow and find success when your employees aren't feeling bogged down or stressed in a traditional office setting.
Coworking spaces also encourage collaboration and connection. Even if your employees connect with people in other industries, you never know what fresh ideas they could come up with, or how inspiration from someone else could boost their productivity.
Workers who feel a sense of community are more likely to enjoy what they do and feel good about their work environment. That's not always easy to establish in a small business, and it can happen more organically in a coworking space.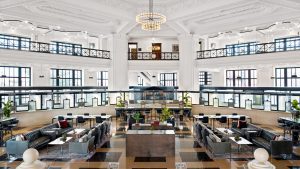 What are the Essentials for a Coworking Space?
Because coworking spaces are becoming so popular, it's important to seek out the right one to fit your needs.
Whether you're a business looking for better solutions for your remote workers or you're a freelancer needing a workspace away from home, know that not all coworking spaces are created equal. There are a few essentials that will make a big difference in your comfort, well-being, and productivity.
That starts with having the right kind of tech in the location. Look for coworking spaces that have the following:
Secure Wi-Fi
Recording equipment
Presentation equipment
Office hardware (printers, fax machines, copy machines, etc.)
Cables and chargers
The last thing you want is for your work to be disrupted due to a lack of technology. It's not enough to just have an open space for you to get things done each day. A good coworking space will be equipped with everything you need to stay productive without adding extra stress to your workday.
In addition to some tech basics, it's a good rule of thumb to look for a coworking space that makes you feel comfortable. Consider checking out a few different ones before deciding on the environment that's right for you.
Don't forget to pay attention to details. Things like ergonomic furniture can make a big difference, especially if your job requires you to be seated at a desk for hours at a time.
If you're trying to be more health conscious, you might even consider looking for spaces with standing or walking desks, or locations that are close to parks or walking trails so you can take frequent breaks and spend some time outside to rest and recharge. As coworking spaces become more popular, it will be easier to find one that fits your needs and wants nearby.
The Benefits of Boundaries
Remote work isn't going anywhere. In fact, as technology continues to advance and more people recognize the benefits, it's likely that we'll see even more people working from home or freelancing.
If you're still not convinced that a coworking space is right for you, consider the boundaries you'll have to set as a remote worker on your own. First, you'll have to establish a designated workspace at home, which can often be easier said than done – especially when you don't live alone.
Second, you'll have to maintain a daily routine and establish specific working hours within your home. Again, that's not easy when there are countless distractions and it's tempting to stay in your pajamas all day.
Coworking spaces give you the benefits of remote work – control and flexibility – while establishing the boundaries you're more likely to find in a traditional workplace setting.
You'll be more likely to stick to specific working hours each day and go home at a certain time without taking your work with you. You'll boost your productivity because you'll be in an environment that's specifically designed to help you get things done.
When you complete your work at the end of each day, you can enjoy your personal life with less procrastination and anxiety over looming deadlines.
Final Thoughts
Burnout is a very real problem facing American workers. Whether you own a business, work remotely for one, or you're freelancing on your own, it's important not to let your career take such a negative toll on your mental health.
Coworking spaces can create healthy boundaries, allow you to meet new people, and find real enjoyment in your work without giving up the benefits of being on your own. They might be trendy right now, but it's clear that there's a reason for the hype.
Consider joining a coworking space soon, especially if you're starting to feel the effects of burnout. It will help you take charge of your mental health and find fulfillment in your career again.