Rebecca Willett is the general manager at BUILDING, an innovative coworking space in Miami, Florida that invites anyone working under the umbrella of "tech" to join its dynamic community. BUILDING gives serious entrepreneurs a chance to get serious work done, all while having fun and networking with like-minded go-getters. With communal events and many unique offerings (like daily coffee shots and a rooftop patio!), BUILDING is the place to be for coworkers in Miami.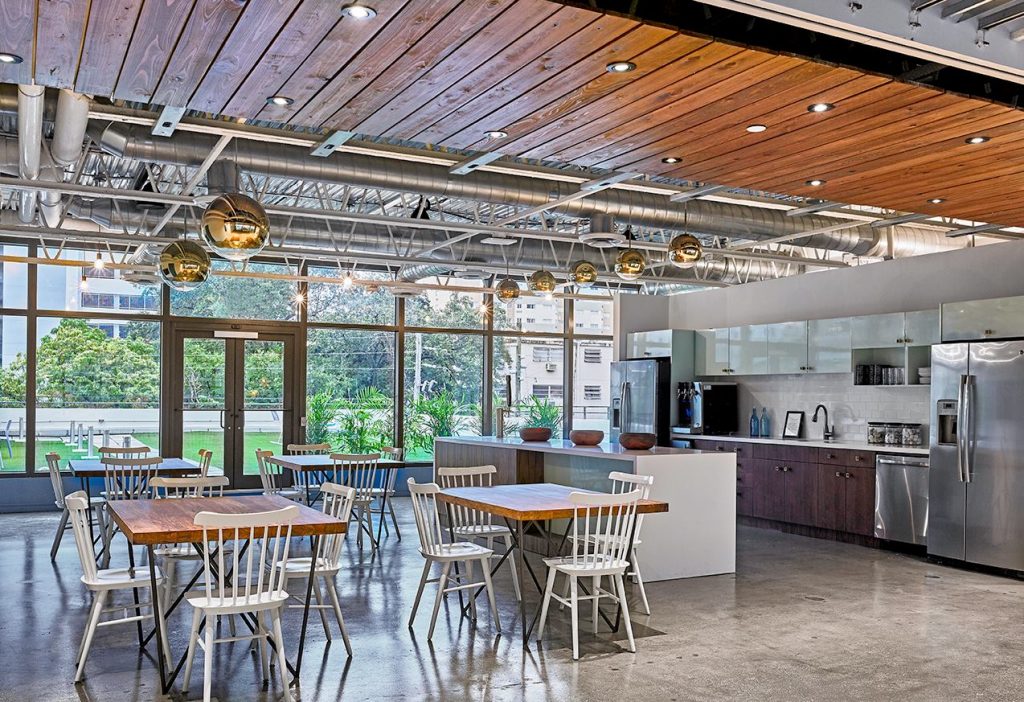 How did you discover coworking?
I have been familiar with coworking for a while, like when it was just coming onto the scene in Boston where I lived for many years. I think coworking is really exciting because of all of the different options it opens up for entrepreneurship, employment, creativity and community-building.
What inspired you to open a coworking space?
BUILDING was founded in 2015 by two Miami tech entrepreneurs, Jose Rasco and Juan Diego Calle, after more than a decade of experiences building businesses in Miami, including the launch and eventual sale of dotCo for $109M. At the time, the nascent Miami tech and entrepreneurship scene was just beginning to form; for most people who wanted to start a tech business here, the most viable option was to head to San Francisco. But Jose and Juan envisioned a Miami where founders could build their businesses right here and access all the resources they needed to grow — and so BUILDING was born. Our mission is to provide a place that is beautiful yet functional, where serious entrepreneurs can get serious work done while growing and learning alongside each other. We also strive to be a hub for the entrepreneurial community here in Miami, frequently hosting speakers, panels and networking events.
What is your involvement with the BUILDING?
I joined BUILDING.co as the General Manager in August of 2017. Let's just say I wear a lot of hats! I manage our current membership, sales, marketing, partnerships, events…and just about anything else that comes up. I enjoy being a friendly and reliable face for potential and current members, watching them all grow their respective businesses.
When did BUILDING open?
2015
How would you describe the community at BUILDING?
We carefully curate our community to bring together growing tech companies and the teams behind them. While they range in industry (from real estate, to sales, to design and more), all of our members fall under the category of "tech." They also share a common work culture — our members come to BUILDING to get serious work done. This means that we maintain a good balance of social and networking activities to bring folks together without disrupting our members' workflow.
What are some of the highlights of BUILDING?
Our rooftop patio is definitely a highlight! Everyone (including me) loves to spend time out there, whether we're eating lunch, taking an informal meeting, working or just getting some fresh air. Another community favorite is our daily "cafecitos" served at 3:05pm (because Miami is "the 305," of course!). These strong, sweet Cuban-style coffee shots are just the thing to keep our members going throughout the afternoon. Finally, our monthly Pizza Fridays are a house favorite. Once a month, our members gather to share a pizza lunch, celebrate birthdays and introduce new members.
Does BUILDING have any exciting plans coming up in the next 6 months?
Nothing that we can share at the moment, but stay posted as we're always trying out new things 🙂 Most recently we installed several electric vehicle chargers in our parking lot, which we're really excited about!
What is your favorite part about coworking?
One of my favorite parts about coworking is the relationships I've been able to build here. Especially having moved to a brand-new city where I didn't know anyone, being part of a coworking space has been so wonderful for building both professional relationships and personal friendships. As the manager of our space, my favorite parts of my job is becoming a part of our members' journeys and being along for the ride throughout their wins, milestones and challenges.

I also love seeing the organic connections that sprout among our members, simply from being a part of our community. I've seen members become clients of each other; partner or collaborate with each other; and even invest in each other! It's a dynamic that would never occur if each of those members were isolated in their own office or working from their living room.
How would you like people to remember you and BUILDING?
I hope that everyone who walks through our doors remembers BUILDING as a beautiful and welcoming space where serious people can get serious work done (but not without room for fun, of course!). Being able to help our members grow and make sure they have what they need to be productive and successful is what makes me excited to come to work every day — I would be thrilled to know that that's what our members remember about me!
What makes coworking special?
I think what makes "coworkingness" special is the opportunity to "work" together with other people who you wouldn't otherwise get to know. Although our members are all in the tech field, they are all building totally different products, services and companies, coming from different professional backgrounds. Whether it's mingling over a coffee, sharing a table at lunch or becoming nearby deskmates, they truly do become each other's "coworkers." This creates huge opportunities for learning, collaboration and growth for all.