Coworking spaces have become increasingly more popular around the globe, including on the tiny Mediterranean island of Malta.
Becoming a hub for many digital nomads and an enabler of start-ups has led the island to attract several businesses and entrepreneurs toward setting up a base in Malta. The country started booming with coworking spaces, large and small, in order to accommodate the rising need of alternative office spaces.
One such coworking office is Glashaus Startup Space, located in Gzira and boasting outstanding views of the Gardens Marina.
Glashaus offers a modern work space in a small office setting to provide clients and members with the opportunity to network while avoiding distractions that may come along with larger shared workspaces. It offers a relaxed atmosphere, free coffee, high-quality internet access, awesome people, and stunning sea views of Valletta and the local yacht harbor.
Throughout the years, the coworking space has hosted a variety of people coming from a number of different countries and backgrounds, some of which shared their opinion on the space.
For instance, Aurelija Šiugždaitė explained how Glashaus is a "simple and cozy place" that "is attractive for anybody who enjoys working in tranquility but still wants to have coffee or lunch breaks with some friendly conversations on any topic (from Bitcoin to the weather)."
She went on to say that Glashaus is truly a "stress-free space in a great location with many options for lunch, a few steps from the bus stop, spectacular balcony views, and all the amenities you could ever need for your productive day!" She ended her testimonial by saying  that Glashaus Startup Space is "what every coworking space should be like."
It is not the first time that business owners visiting Malta briefly joined the coworking space to have an ideal space to get things done. In fact, Chrissie Stephenson, a running and health coach, said: "I was looking for a friendly but professional space to work on elements of my business while in Malta – and Glashaus was perfect. The people there are really friendly and are similarly there to get work done."
Tomas Kolouch, a digital nomad, also made use of Glashaus Coworking Space for a short period. He said: "We were working here for two weeks when nomading in Malta. The location of the place is six stars out of five, the view from the balcony is absolutely breathtaking. The working environment is calm and productive. Everybody is very friendly and the manager gave us many good tips about Malta. When we come back, Glashaus is our number one choice to return to."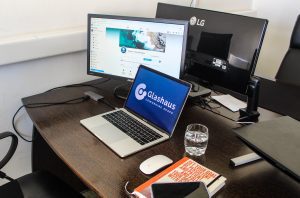 Others chose Glashaus for the comfort it offers. in his testimonial, Mark Brooks said that Glashaus offered him a "comfy chair, one desk per person, with plenty of room so you're not shoulder to shoulder."
He went on to say how the location of the coworking space has "lots of lunch choices around the office, from KFC to good cafes. Dr. Juice has a very nice spot nearby."
Asked about his own coworking space, Markus Behmann, the owner of Glashaus Coworking Space, explained how the team at Glashaus really tries to give their all when it comes to providing a great coworking experience.
"Whether it is through offering free beverages or creating fun 'Happy Fridays,' working at Glashaus is always productive and yet never boring," said Behmann. "Our coworking space boasts modern furniture, comfortable seats, and provides anything one could need for a productive work day including fast internet, spare computer screens, and spare mice and keyboards in case you don't have your own.
"Since every work day has a few breaks, Glashaus has a grassy terrace with amazing views of the Mediterranean Sea, Sliema, and Valletta, fully equipped with bean bags where you can enjoy your coffee/lunch break," said Behmann. "Last but not least, Glashaus is extremely centrally located right at the Gzira/Ta'Xbiex seafront, 30 meters away from a bus stop that offers direct connections to St. Julians, Sliema, Valletta, and almost any other place on the island. Cafes, restaurants, clubs, bars, embassies, and even a beach are all within walking distance."
Several who came in touch with Glashaus through their career explained how efficient the 24/7 access policy to the space is, with the long-term members (from a minimum of one month onwards) being given a key to access the coworking space at their own discretion. This is why several people also describe it as a great place for freelancers and startup companies.
For those interested in experiencing Mediterranean life and bringing your business (even if for a short while) to the sunny Maltese Islands, make sure to check out Glashaus Coworking Space and don't be shy to ask for a free tour!