As the world begins to emerge from the worst of the Covid-19 pandemic, businesses and workers alike face a very different landscape in many industries. Almost no sector was untouched by the pandemic – even those that were able to thrive were forced to change up a range of aspects such as strategies, working environments, and processes. 
It is not surprising, then, that there has been a great deal of upheaval. An initial flurry of redundancies as a result of challenging times for businesses has also meant that a number of industries are actually struggling to get the workforce they need to operate a service. Sectors such as hospitality, transport, and deliveries are hiring at record rates, with other issues such as Brexit affecting the employment market and availability of workers. 
But away from the companies, many individuals are looking at changed working experiences. It's not just those that have lost their jobs – many found that they were asked to work from home through the pandemic, and took a liking to the extra time around family and other benefits of remote work. This is so much the case, that many employees who previously valued a full-time in-office commitment are now looking into other options.
In fact, large numbers of workers are choosing to be self-employed as a result of the pandemic. If this is something you are interested in, it's a great idea to get as much information as possible. As with all aspects of work, there are positives and negatives to weigh up. Here, we take a look at how to go self-employed after the Covid-19 pandemic. 
A sole trader or a limited company?
It is important to understand the difference between being a sole trader and a limited company. Both can be effective for those looking to go self-employed, but they each have their own positives and negatives. Functionally, setting up as a sole trader is easier and it provides you with more privacy, as you'll be the sole owner and operator of your business. However, as a sole trader, there is no difference between you and the business you operate, meaning you can be held liable for issues relating to your business.
Limited companies are legally separate entities, and also stand to potentially put you in a more favorable tax position. However, limited companies have more responsibilities and are more complex to run. It is a great idea to take advice directly from an accountant, who can provide you with more information about which option is suitable for you. 
Learn how to market yourself
Those wishing to go self-employed may never have had to truly use marketing to their advantage. As we have noted, being self-employed has many benefits, but it does come with the challenge of having to get all your own clients. Of course, learning to market yourself is different in every industry. Take self-employed electricians, for example, who may never have thought about how to effectively use marketing channels.
Joseph Bennett, Director at Trade Skills 4U explains: "You may not associate offering services as an electrician with social media, but you'd be missing out on one of the most effective ways to market your business. Social media plays an increasingly important role in the relationship between businesses and customers, anyone running their own business needs to utilize these platforms to increase their customer reach."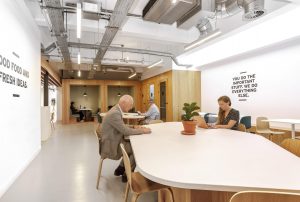 Have a space to work
One of the major challenges of being self-employed can be the change in working conditions. If you are used to working in an office with a large group of people, it can be a big change to get used to. Those who are planning to work from home should make sure that they can easily separate their work and home life in order to achieve a work-life balance.
Others will find it more difficult to be away from the office environment they have known for a long time. In this case, it could be best to work in a coworking space. This allows you to have the same buzz of the office and mitigates the issue of loneliness. 
Final thoughts
If you are thinking of going self-employed, you'll be in good company. It is an attractive option for those who are looking for more flexibility in their work. Of course, it isn't necessarily right for everyone, and it is well worth looking into how other self-employed people operate in your industry to understand whether it is a good move for you.