Starting a business is no easy feat. But what about starting a business that you can operate from anywhere in the world? It's no secret that remote work is quickly becoming the new normal. More and more people are working from home, thanks to broadband internet, laptops, and innovative collaboration tools in virtual reality.
So, what does this mean for businesses? It means that now is the best time to start a fully remote venture, as there are ample opportunities to forge a thriving, profitable business online and all from the comfort of your home.
If you aren't quite sure how best to get your business idea off the ground, here are 9 easy steps to get you started.
Why choose a remote business?
There are many reasons to choose a fully remote business over working from a physical office space. The most relevant benefits from a business perspective are:
Freedom and flexibility to set your own schedules and work when you're most productive.

Access to a larger pool of talent to choose from since there is no geographic limit on who can join your team.

You will have a lower payroll.

Remote businesses have less overhead since you don't have to pay rent or utility bills.

You can build a more diverse and creative team from different backgrounds to approach problems from different perspectives.
These are only a few of the most important pros of setting up a remote business. However, working remotely does come with its downsides, which is why it's important to do things right from the beginning.
Step #1: Start by setting boundaries to avoid burnout.
Burnout is a serious problem for entrepreneurs, especially remote ones. The average startup founder dedicates more than 60 hours per week to their new business, which is fairly more than your typical 9-5 job. However, there are ways to avoid burnout and keep yourself on track even with that much work. The best way to achieve this is by setting limits and boundaries.
 This is why time management is so important for founders, and it's also why clearly defining when you should take a break from work and share with friends or family is necessary. If you make this a priority, you're setting yourself up for success.
Step #2: Write a business plan.
The first step in starting any new business, including a remote one, is writing a well-crafted business plan. This isn't just a simple document that describes what your business is about. It should be a roadmap where you clearly sketch out your short, medium, and long-term goals as well as the strategies and tactics that will help you get there.
Your business plan will be particularly valuable when hiring team members or looking for investors, so treat it as more than an ordinary document by putting in the extra effort to make it as concise and clear as possible.
The key pieces of information that any useful business plan should have include:
A summary that clearly states what your business is about, who it services and the products or services you provide.

Your company's mission statement, which should define why you're in business in the first place.

An in-depth market analysis, including a description of your target consumer/client base, competitors, industry trends, etc.

A

financial plan

with accurate forecasts of income and expenses that show when your business will become profitable.

The

marketing strategies

you'll use to grow your customer base.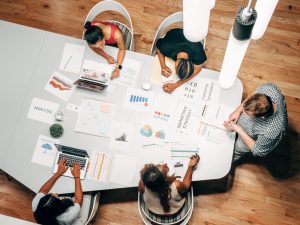 Step #3: Secure funding for your initial investment.
Once you have a clear picture of what you're going to build and how it's time to secure the necessary funding for your business. Fully remote businesses don't require physical office space or equipment, so overhead can be much lower than in traditional companies. However, some upfront investments will help make things go a lot smoother once you start working.
Some of the things that remote businesses of any kind will need funding for are:
A good laptop, especially if you plan to travel.

Website design, creation and hosting.

Digital marketing like SEO, PPC marketing, affiliate marketing and more.

Legal fees associated with business registration.

Payroll for at least one year.

Insurance
You can fund your business by taking out a personal loan from a bank or by paying with your credit card if you already have a steady source of income from another job. However, you can also find traditional funding sources like angel investors and venture capitalist firms or more modern ones like crowdfunding platforms or DeFi solutions like crypto lending.
Step #4: Choose a cloud-hosted tech stack.
Working efficiently with a remote team can be a hassle if you don't have all your apps and documents in one place. Suppose each team member uses their own software and works on different files separately from the other team members. In that case, there will be compatibility and synchronization issues all around, severely affecting productivity.
Cloud apps and other cloud-hosted services are the obvious solutions to this problem. Therefore, choosing a stack of apps that integrate seamlessly with each other, allowing interoperability of files and documents, will make your workflow nice and smooth. This will let you concentrate on what matters instead of worrying about what file version you're working on, if the formatting in a document will get messed up, etc.
Step #5: Choose your bank carefully.
When you're starting a business, one of the most important decisions you'll have to make is choosing which bank to grow with. This choice is especially important for remote businesses as you'll need a bank that offers good online banking services and mobile apps so you can manage your finances on the go.
When choosing a bank, another thing to look for is whether they offer specific services tailored to small businesses. These could include low transaction fees, no minimum account balance requirements, and waived monthly maintenance fees.
Moreover, it's important to make sure that the bank has a high reputation for customer service so you can count on them when you need help with your finances.
Step #6: Dedicate extra time to hiring remote talent.
Hiring is the most challenging and important part of setting up a successful remote business or organization. Figuring out how to find the right talent and motivate them can be a real headache, but you need to choose mindfully, so you're not disappointed later on.
There is one general rule when hiring a remote team: it's easier to teach someone new skills than to change their personality, so look for people who show a strong drive to work remotely and be as productive as possible and who are willing to learn.
Step # 7: Set up a virtual office in the metaverse.
Remote entrepreneurs have a new way to work with their teams and conduct business operations. The metaverse: an enduring virtual-reality world we can access from anywhere in the world and where we can interact, play, work and live our lives without being physically close to each other.
Big tech companies like Meta (formerly Facebook), Google and Microsoft are betting on the metaverse as the natural evolution of remote work. These and other companies offer office spaces in VR, which people can access with a VR headset to collaborate with each other more naturally and productively.
Compared to previous virtual meeting solutions like Zoom or Meet, the metaverse offers a more immersive experience where you'll be able to exchange non-verbal cues, use hand gestures and hear spatial audio, making you feel as if you were really there, at the office with your coworkers. As a bonus, these virtual spaces are even integrated with the cloud apps you already use every day like Asana, Slack, and others.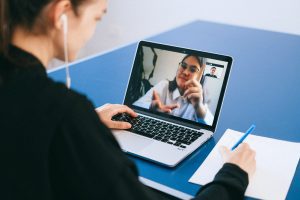 Step #8: Program weekly staff meetings in your virtual office.
Now that you have your own VR space in the metaverse, the next step is to start using it by setting up weekly online meetings everyone can look forward to. This is a key step to ensuring everyone is engaged and motivated at all times. Not only that, but it will hold employees accountable, especially if you require progress reporting at each meeting and a monthly KPI review.
Depending on your organizational structure, you could have a single meeting with the entire team; you could hold separate meetings with smaller groups or both. You can also set up recurring brainstorming sessions to keep an innovative spirit going.
Step #9: Define standard operating procedures, guidelines and policies.
Employees in remote teams need to be as independent and self-sufficient as possible since they can't always rely on their colleagues for advice when needed. Therefore, when establishing a remote business, the rules and policies need to be clear from the get-go since they will serve as an orientation for workers unfamiliar with working remotely or who are only starting in your company.
Additionally, you also need to establish a set of standard operating procedures or SOPs that can answer any questions about how things should be done in your remote business environment without having too many people waiting on hold at once.
The bottom line
If you're looking to start a remote business, now is the time to get started. By setting boundaries to avoid burnout, writing a business plan, securing funding, taking advantage of the metaverse and following the rest of the steps shown above, you can make your remote business thrive.
If you get these steps right, your remote business will be working like a well-oiled machine from the start, and you'll be able to dedicate all your time and effort to offering as much value as possible to your current and future customers.