Coworking spaces are growing in popularity all around the world. According to Statista, the global coworking space market across the world is expected to grow at a CAGR of almost 15% for the 2021 – 2030 period. 
Because of the flexibility it provides and the amenities it offers, investing in a coworking space is the preferred choice for businesses, freelancers, and remote workers around the world. These coworking statistics by The Address throw light on how coworking spaces are taking over the traditional 9-to-5 offices. 
However, the rise of coworking spaces has led to fierce competition among coworking space providers. Attracting new clients/members is one of the most common challenges coworking space providers face. 
In this post, we will share some ways to leverage virtual events for publicizing your coworking space and growing your member base.
7 Virtual Event Ideas to Attract New Coworking Members
#1. Industry-Specific Seminars
Host industry-specific seminars that are relevant to the existing and potential members by coordinating with the subject matter experts. It offers excellent opportunities for attendees to learn about the latest industry developments.
Seminars also educate the attendees about effective strategies and tactics that help them stay on par with the competitive industry.
Divide the main topic into smaller subtopics and create a series of seminars to keep the attendees interested. Offer some takeaways, such as ebooks, checklists, swipe files, or other resources that would help the attendees in the future.
#2. Panel Discussions
Host a panel of experts or invite coworking members to participate in panel discussions on the latest industry topics and trending news. The main focus of these discussions could be how to stay productive and navigate through the challenging industry landscape.
The interaction of the experts helps the attendees learn the perspectives of different industry professionals, their opinions, perspective, and more. The Q&A session also provides practical insights to the attendees.
These takeaways impact audience participation and can help coworking spaces in reaching out and attracting new members to their workspaces.
#3. Speed Networking
Speed networking gathers coworking members and encourages them to exchange information to grow their contacts. It involves sharing professional experiences and business goals.
For example, Forge Coworking Space hosted a speed networking event in September 2022 to encourage professionals to meet new people and build connections. The event was open for both, the members of the coworking space and non-members. It provided the attendees with an opportunity to speak about themselves and their businesses directly without the fear of being salesy.
Many coworking spaces have realized the power of speed networking events and are leveraging the same to grow their member base. Making the event virtual and open to the public has helped them attract prospects to the coworking spaces and convert them into space members.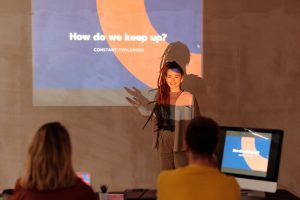 #4. Entrepreneur Talks
Hosting talk sessions and inviting entrepreneurs, niche influencers, or industry experts is an effective way to inspire coworking members. 
Request the entrepreneurs to share their success stories including the hardships and challenges they faced and how they overcame these obstacles. These sessions will be helpful for professionals who wish to start their entrepreneurial journey.

Similarly, inviting niche influencers and industry experts as guest speakers keeps your event audience updated about the latest industry developments without having to disrupt their work schedules or personal lives.
The speakers can also share stories about their failures, blunders, fiascos, and FUBARs thereby giving other businesses and members insights into the real side of entrepreneurship and growth.
The talk sessions offer invaluable knowledge and learnings that working professionals might not be able to get anywhere else. It enhances community engagement which indirectly contributes to growing your member base. 
#5. Hackathons
Hackathons are great events if you wish to attract tech professionals to your coworking spaces. These competitive-style events generally involve programmers getting together for a short time and collaborating on a project for a short time frame. 
Hackathons offer excellent opportunities for meeting like-minded individuals and networking. It helps you build a good rapport with existing coworking members and also, with the prospects. You offer your community a chance to expand its horizons and discover its true potential. 
#6. Virtual Launch Parties
Celebrate the success of the members by hosting a launch party or an achievement party and contributing to their exposure in the community. 
Whether the member has launched a new product, a website, or received an award, recognizing them and applauding their effort is a great way to build a sense of community among the members. It also offers you ample opportunities to attract potential members to your coworking space. 
#7. Skill-Specific Workshops
Organize training workshops for the community where the members can master new skills. 
Partner with an industry expert to start a workshop or a series of educational sessions that members can take up to enhance their skills. These workshops can be focused on professional, industry-specific skills or soft skills. Ask your existing members and prospects (via online channels) what they would like to learn and make arrangements for the same. 
You can also provide opportunities to the existing members to plan and arrange a workshop. Ensure that these workshops do not affect their working hours.
By supporting your members in career development, you provide value to your community and empower them to become skilled, knowledgeable, and responsible professionals. It creates a culture of continuous learning and improvement that cannot be ignored by prospects who are looking for coworking spaces.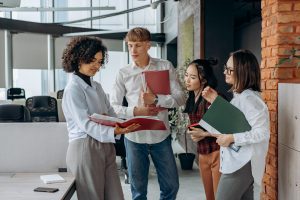 Top 6 Tools to Coordinate Virtual Events
– Event Landing Page Maker
Create an event website or a landing page to capture the registrations and share important details of the virtual event, such as the event agenda, speakers list, FAQs, contact information, and more with the attendees. Use an intuitive website builder tool to create the event website without any hassles.
– Customer Support Tool
Connect with the attendees and resolve their queries with the help of customer support solutions. Leverage tools like live chat, knowledge base, and email to provide attendees with faster responses.
– Live Streaming Platform
Use a live streaming platform to enable attendees with seamless access to your virtual event. Utilize features, such as virtual booths, polls, Q&A, gamification, breakout zones, and more to deliver an enhanced experience to the attendees.
– Social Media Scheduler
As the name suggests, this tool will help streamline your social media promotions. Plan your social media marketing strategy for the event and schedule the posts across various social media platforms. The posts will be automatically published leaving you with some free time to take on other critical event-related tasks.

– Graphic Designing Tool
Design visually-appealing images and banners for your event using icons, illustrations, images, charts, and more. Import pre-designed templates into your design and create catchy graphics for your visual assets in a few clicks.

– Email Marketing Software
Engage the event attendees throughout all the stages of the event – pre-event, during-event, and post-event with personalized emails. Use email marketing software to automate the process and save time.
Wrapping Up
Organizing regular virtual events for the community helps attract new members to your coworking space and makes them stay longer. It offers a great way to build a sense of community among the members and keeps them engaged. Are you ready to host an exciting virtual event?