With the number of coworking spaces expected to double to 49,500 by 2022, it's certain that they are the way of the future. 
While one of the biggest benefits of being part of a coworking culture is the impact it has on one's productivity, what happens when you realize your business might not be cut out for what you've signed up for — and it's too late to leave?
Whether you're an independent worker or have a small team, choosing a coworking space is a difficult decision to make. If you're looking for a new coworking space for your business, here's a useful checklist to help you make the right decision. 
There's more to the location of the coworking space than its proximity to your house. Make sure the locality you consider is easily accessible by everyone in your team and is well-connected by public transport. 
If you're a client-facing business, choose one that's near your clients' offices so you don't waste too much time commuting. While the ideal scenario is moving into a coworking space that's in a centralized location, do know that would also mean higher costs. So, the key is to weigh the pros and cons and strike the perfect balance.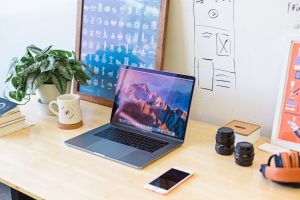 Imagine trying to get work done in a chatty, messy, and uncomfortable environment. The working setup you opt for is crucial to success. Start by figuring out what your business needs are.
Firstly, what kind of desks do you want for your team? Most coworking spaces offer three options — hot desks, dedicated desks, and private offices. 
Hot-desking is when desks are assigned on a first-come, first-serve basis. It works fine for independent workers but if you have a team, looking for a desk every morning can be frustrating.
On the other hand, dedicated desks guarantee you the same desk and also let you use the storage facilities available. Then, there are private offices which allot a separate area to your team. Clearly, this is the most expensive option.
Another important factor that often goes unnoticed is the ergonomics of the space. The last thing you want is to be stuck with uncomfortable chairs because it's sure to dampen productivity levels. So, try out the desks and chairs to check whether they're adjustable, comfortable, and if there's enough leg space. 
Lastly, assess the lighting of the space, as it plays a huge role in setting the tone. Make sure there's adequate lighting (natural and artificial) and is placed appropriately such that it doesn't interfere with the work. 
Considering the amount of time you'll spend in the coworking space, you need to choose one that offers substantial amenities, facilities, and perks.
Here' a list of the basic amenities that you should look for —
Parking

Wi-Fi

Meeting and conference rooms

Free water, coffee, and tea

Printing and scanning equipment

IT assistance 

Office stationery and supplies
Apart from these, if the coworking space happens to have recreational rooms and sleeping pods, then consider that to be a bonus!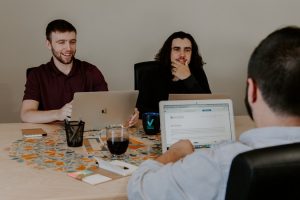 One of the best parts about working in a coworking space is the ability to network, make connections, and be part of a community. For all you know, you might find your next client(s) in the same coworking space.
While doing your research, it makes sense to see the kind of companies and entrepreneurs who you'll be sharing space with. There are many coworking spaces that organize community building and networking events. So try and find a space that has an active community of coworkers — it always helps.
With so many people from different backgrounds and industries working under the same roof, safety and security are some of the most important factors to consider while choosing a coworking space for your business.
From security guards, visitor management, and door access to locking facilities and well-placed surveillance cameras — do a thorough check to see whether all the precautions are taken to prevent theft and keep the space physically secure.
Having a safe workspace also means protecting it from cyber threats and establishing a secure network. It's a good practice to give every individual a unique password protected with multi-factor authentication systems to minimize threats.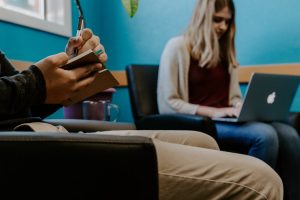 In the U.S., the average monthly price of a hot desk is $195, while a dedicated desk is $387. What you need to see is whether there are any hidden or additional costs involved. For instance, some places might charge you a fee for parking amenities or using other services. 
So, make sure you're aware of these additional costs and consider them before you make the final call.
Ultimately, you need to derive value from the final amount you're paying. If you don't use half the perks the space is offering, then it doesn't make sense to opt for it. 
There are many coworking spaces across the world that offer free trials so always ask for one — even if it's for a day. It will help you get a feel of the place and evaluate if the environment meets your business needs and working style.
——————————————————————————————————————————
All of these factors are equally important in choosing a coworking space. So, take your time and do quality research to narrow down a space where your team can truly thrive and grow. Believe it or not, your environment plays a huge role in team morale, productivity, and overall working experience.