Known as the city of endless buffets with beautifully diverse selections of sassy and saucy local foods, of rustic bicycles squeaking about on every corner and every street, of very well presentable trash bags lining up more respectfully than any other trash bags in the entire world, Taipei has more depth than one could ever be able to discover and more charm than one could ever be able to resist. Standing behind its enchanting cultures is a blooming generation of creative and progressive workforce: visual artists, textile designers, web developers, entrepreneurs, educators, and more. And coexisting with this dynamic workforce is the consistent growth of its coworking spaces, who – like their members – are equally creative and progressive.
Whatever bit of uniqueness your workation desires, inside and outside of the office, Taipei has a piece for you. Here's a list of six coworking spaces in Taipei that will win your (even demanding and quirky) heart.
The Hive Taipei is probably one of the best coworking spaces that doesn't just provide a cozy environment for you to work, but also delivers an excellent community-led experience to their members. Perfect for entrepreneurs who travel frequently, the Hive operates 22 locations in seven major gateway cities across APAC – and offers its members the opportunity to build deep, lasting connections across the Hive membership base, whatever their role, industry or location, via their Hivers App.
The Hive first began in 2012 in Hong Kong, founded by British entrepreneur Constant Tedder who built upon a core ethos of creating a second home for entrepreneurs to thrive. Since then, it's become renown for its vibrant schedule of events – this warm coworking space hosts everything from networking brunches to digital marketing workshops and fireside chats with industry leaders, so they're sure to have something for you, whether you're an early-stage startup, an established founder, an independent freelancer, or a digital nomad. Plus, they offer special rates for newly founded startups, young entrepreneurs, and frequent travelers.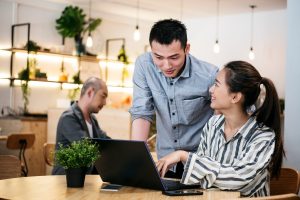 Bonus Tip: The Hive Taipei is located in Ximending, a neighborhood known as the 'Harajuku of Taipei' and the beating heart of Taipei's culture (and foodie!) scene, populated by a vibrant mix of independent restaurants, bars, and shops where international influences mingle with traditional Japanese cuisine. The Hive team strongly recommends local favorite Lao Wan Ji if you're on the lookout for authentic beef noodles, as well as Ramen Nagi to all their members. Make sure you don't miss out if you're in the neighborhood!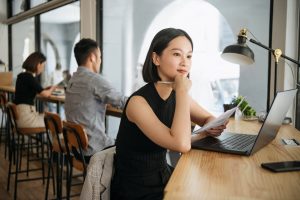 Make sure you mark Connect coworking space on your Google Maps and head over there—not only because the owners Yoko and Yusuke will instantly make you feel at home with their sweet personality, but also because this space is home to an amazing community of entrepreneurs who bond over coffee breaks, networking events, and communal breakfasts.
Starting this space themselves after leaving their home country of Japan, Yoko and Yusuke's vision was to create a space where people could feel connected. Within six short months after opening the space, Connect is now the go-to coworking space for many expats in Taipei, not only from Japan but also from other parts of the world. No matter which part of the globe you hail from, Yoko will surely give you a lot of good SEO tips for your website or a good hearty conversation—or both!
While at Connect, take advantage of the hourly pass system to optimize your work-play balance in Taipei.
Bonus Tip: Whenever you feel ready to lean slightly on the 'life' portion of the work-life scale (no need to ask me; you know which side I lean toward!), walk over to Nice Cream for the best vegan ice cream you will ever taste. The texture is as soft and authentic as the homemade gelato shops near the Ponte Vecchio in Florence, and the flavor is both light and unforgettably powerful at the same time. This vegan ice cream will literally melt your palate. Try chocolate if you're in for richness, limoné for a subtle tanginess, or strawberry for unworldly soft texture. (Or just try them all!)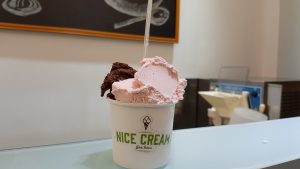 Like Connect, Project 0.1 is merely a baby in the coworking industry, though the space has already proven to be a giant in what it's been able to accomplish in a short period of time.
The owner of Project 0.1, Cordelia, had been an independent worker herself and knows exactly what's required to design the perfect coworking space that's able to stimulate a flawless balance of relaxation and productivity. From ergonomic swivel chairs, to white walls with a touch of yellow and baby blue, to the modern lofty open design, to the infinite glass door, every little detail contributes to making Project 0.1 a great work space and at the same time, a place to sit back, take a sip of coffee, and breathe.
Project 0.1 is proof that the days of confined spaces with cubicles that visually and mentally block your creativity are obsolete. Modern coworking spaces are no longer focused on the conventional 9 to 5 grinding; the focus has been shifted to creativity nurturing and mind expanding, learning and growing. No matter what group you belong to—whether it's the new-age, hippie squad or the more techy startup geekdom—as long as you're there to learn and grow, you'll find your crew at Project 0.1.  
Side note: Take advantage of the workout area upstairs to have a good sweat between your work sprints. Or if you've got beats, request to perform a piece of musical number. Or if you're just like me, lounge on the sofa, order a home-baked fresh blueberry cheesecake, and people-watch. Either way, you can't lose.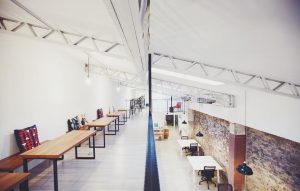 Bonus Tip: While in the neighborhood, pack your swimming suit and a towel, hop on the nearest MRT for a quick ride to Beitou Hot Spring. At only 40 NTD, the public hot spring will soak you up to your heart's content, both in the steam and in nature's beauty. Or if you want to avoid awkward eye contact with the curious Taiwanese grandmas around you and Mr. Wallet is feeling particularly generous, you could rent out a private indoor hot spring at 1,400 NTD. As for me, I'd take nature any day.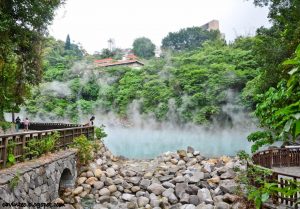 One of the first and fastest growing coworking spaces in Taipei, CLBC will not disappoint your expectations. Not only does it offer two modern and unique workspaces in hopping locations in Taipei, but CLBC also houses multiple event venues that could fit 100, 300, and 400 people.
Both looking like a professional corporate work space without the constrained cubicles and a cozy coffee shop without the distracting background music, CLBC provides the ideal setting for those who need to cross off their to-do lists but want to enjoy themselves at the same time.
What can you do during work breaks? I'm glad you asked. Several options include playing your favorite cat video on one of the many projector screens (that are also window shades TADA!), taking a few sips of their complimentary apple juice, or signing up for the next music venue available.

Bonus Tip: No need to read through the 200 page Taiwanese buffet guide somewhere on the internet, Fruitful Food is the place to go. Although its location is almost as hard to find as Platform 9¾ at King's Cross Station for first timers, the struggle will be worth it. (Hint: get in the secret elevator in front of Uniqlo and hit 12F). Spare a big chunk of your time at Fruitful because you will need it. There are easily 10 deli bars spread out all corners of the restaurant, ranging from salad, sushi, bakery, homemade buns of different flavors, freshly grilled (gigantic) shiitake mushrooms made to order right in front of you, the best stinky tofu you'll ever taste, and enough sweet baked goods to satisfy your appetite. Each little gourmet dish served at Fruitful is as exquisite in taste as it is in presentation. A truly elevated cuisine experience at a price of a fraction of what it's worth.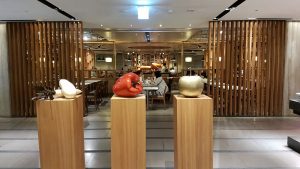 There are probably a million and one things to explore in and around the little street of Chifeng, known as the oldest street in Taipei city, and Changee Creative House is one of those things. It sits quietly in a five story building somewhere between an endearing mechanic shop and a quaint vintage clothing store and on top of a little cat cafe called Found Cat.
Second floor of the building is dedicated to coworking area and communal kitchen, where its lovely manager Nicole will be more than happy to serve you a cup of hot tea while you converse with other coworkers about work, life, and well, just anything on your mind. Because Changee Creative House is that kind of coworking space: sweet, cozy, comfy, and homey. Third floor is a group of private offices and meeting rooms. Fourth and fifth floor are private accommodations that you could book either through AirBnb or through Changee's main website.
However, what will really leave a mark on your impression of Changee Creative House isn't its location or its (much convenient) coliving set-up or its soul soothing tea, but its wonderfully helpful community and staff. In four years, Tracy and her team have birthed Changee and nurtured it from an idea to a collective of five different locations, each one with a different specialty, but the focus remains guiding local entrepreneurs and giving them all the resources they'd need for a successful business, both intellectually and financially.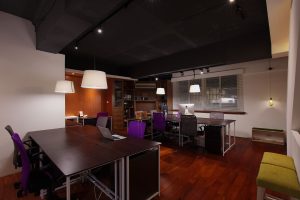 Bonus Tip: There's almost too much to do around Zhongshan. I'm just kidding; there's no such thing. Between tiring my legs wandering around every single rusty yet charming automobile part shop on Chifeng street and window shopping every cute little clothing boutique in the area, my favorite thing situated very humbly in Ningxia Night Market: a grilled food stall. Come in with an empty stomach and max it out with a delicious selection of any freshly grilled food you can imagine. Do not pass up on the mushroom, or broccoli, or tofu, or corn, or green beans, or pretty much any vegetables. Ask for extra layers of homemade BBQ sauce, chilli sauce, and pepper.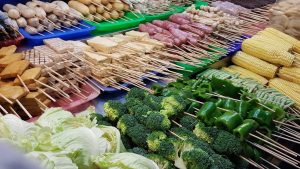 Size doesn't matter? Hmm… think again, because Futureward Central is not coincidentally both enormous in size and excellent in quality.
It is both the largest and most comfortable coworking space in Taipei. Whether you're in the mood for a work sprint, a good conversation, a quiet corner for some me-time, or literally just coworking alongside with other coworkers, Futureward has what you need. Definitely not just another bunch-of-desks-crammed-in-a-space kind of coworking space, Futureward has enough room for you to stretch your legs, do cartwheels, and invite your whole village over. Prepare your best self for a wonderfully mixed community that you'll mingle with: from entrepreneurial locals, long-term foreign residents, to international nomads.
Did I mention that they even have a community Slack channel? Yeah. Yep. That's right. Definitely get on that. Plenty of office gossip and weekly events that you don't want to miss.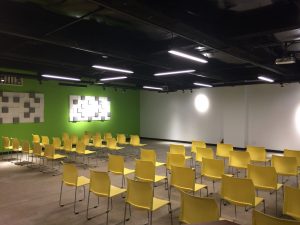 Bonus Tip: What's a workation without a good cup of coffee at a cute coffee shop in a quaint hidden alleyway? It'd be a decaf workation if you asked me, and anything decaf is no fun at all. Hype your spirit up with a cup of home-brewed Cappuccino at Coffee Essential, my favorite coffee shop in Taipei. Save that cold misty drizzling afternoon for Coffee Essential, where you can let the smooth and rich coffee slowly run through your tongue while immersing yourself under the glass roof. Order a pesto mushroom sandwich and a slice of home-baked matcha cake for a late lunch snack, you'll have yourself a most simplistic luxurious experience.