After the Black Death of 1348-9, the survivors found that the new scarcity of the workforce meant they could demand triple wages and enjoy higher living standards than ever before.
COVID-19's impact hasn't been quite so dramatic. But it's gifted a new dimension of working life to everyone living through the crazy weeks and months since March 2020: a working style previously restricted to a handful of forward-thinking tech companies, more likely to be met with a surprised 'don't you get lonely?' than a 'me too', and, if adopted at all, usually tempered and diluted with a 20-80 hybrid approach.
I'm talking, of course, about remote work.
I remember the feeling of trepidation I had as I read the email from the Quality Director of the small software company I worked for, instructing us to leave our Sheffield office and work from home for the foreseeable.
Now, two years on, I can't imagine going back to an office. And I now work for a company that was pursuing a remote-first culture even before the first case of COVID-19 hit the news.
So, yes: remote work from anywhere is great for you, your colleagues and your business. Here are 6 reasons why.
– Access to talent
It's simple: you want the best people to work for you.
But if your business operates entirely from a physical site like an office, you're essentially saying you want the best people in about a 30-mile radius to work for you.
And that's not exactly the same thing. It's all very well if your business sits in a densely populated metropolitan area, with thousands of suitable candidates on your doorstep who can reasonably and comfortably travel the distance ten times a week.
But exactly by being in such an area, you're facing inflated operating costs and competition from dozens of other employers. At the same time, the perfect candidate with exactly the experience you're looking for might be viewing your job listing, shaking their head and moving onto something a little closer to home.
Ridding your workforce of the physical ties of an office cuts your costs and widens your talent acquisition pool from about 2800 square miles (if my πr2 is right!) to the entire country – or even the entire continent or planet if that's appropriate for your business.
My team at Qualio is full of fantastic, motivated colleagues spread across Texas, North Carolina, both sides of Ireland, New York City, and more. I'm still based in Yorkshire, northern England – and it doesn't matter one bit. Our skills and experience got us all hired, not where we live.
As businesses find hiring difficulties at their worst, offering remote work from anywhere is an instant remedy for the problem of sourcing new talent.
– Access to employers
It goes both ways, too. I remember attending a careers fair in my final year of university. It was a total waste of time: every single job advertised was London-based, and I simply didn't want to live there. I preferred green space, affordable housing and seeing family and friends. (I still do.)
As almost everyone I knew drifted south into the capital for their first jobs, I found myself scratching around in Leeds and Sheffield for a graduate position. Shockingly, almost half of all British graduate positions are in London alone. Where I'm from? 3%.
I did okay in the end – but how much brighter and more optimistic my early years of work might've been had I found a remote role back then.
– More time and energy
This reason is probably the one that springs to mind first when you think about remote work: the glorious hours of time saved each week by ditching soul-draining commutes on jammed motorways or in packed train cars.
This shouldn't be underestimated. As someone who is categorically not a morning person, getting an extra hour in bed means I feel sharper, more focused and more productive in the mornings. I go downstairs, make myself a coffee and go.
Conversely, once 5pm comes around I'm home instantly – not at 6pm like I used to be. That means another hour with my wife, cooking, catching up on a TV show, going for a run, and so on.
After an acquisition, I found myself working for a company in 2021 which insisted on getting people back into the office, despite things ticking along remotely for over a year. This meant a 90-minute drive each way for me. I headed straight for the door, closely followed by many others – proof that remote work can boost retention as well as recruitment.
What could you do with a few extra hours each day?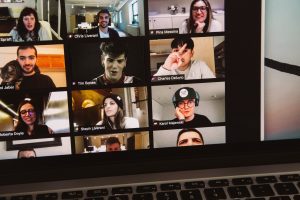 – Remote cultures are evolving
As I touched on before, I now work for a business that embraced remote work even before 2020. 
This has given Qualio a distinct advantage in the maturity and depth of its remote culture, and other businesses are (and should be) working to get something similar in place.
We all work hard to make, market and sell eQMS software. But around that core work is a bundle of remote activity and cultural work led by our People team.
Some key initiatives include:
Emphasis on asynchronous and flexible work, particularly as teams sit across time zones

Investment in tools like

Slack

for instant work

and

non-work communication. Alongside team-specific groups like sales, marketing and customer success, we have different groups for discussions around gardening, football, cooking, pets and more

A 'local everywhere' focus, including expensing books from local independent bookstores at Christmas time

Taking time to discuss personal lives on calls as well as work
It's also important to note that remote work doesn't have to mean a lonely, atomized existence where you never physically meet any colleagues. Annual, biannual or even quarterly team get-togethers are all options for remote companies – and meeting someone face-to-face you've only ever seen on a screen isn't as strange as you might think.
– Greater productivity
Alongside the social possibilities of remote work, it's also useful to consider the value of being undistracted and focused in your own personal space.
We've spoken about commuting already but think as well about the time costs of office small talk, superfluous meetings and heading to the coffee machine or watercooler.
Remote businesses face none of these hurdles, and since most communication is scheduled and diarized you can prepare beforehand to get the maximum value from every interaction.
To amplify these benefits, initiatives like Focus Fridays with minimized or eliminated meetings can be implemented too.
– See the world
With ubiquitous Internet connectivity, working from anywhere can mean exactly that.
The consequences of COVID-19 have made international travel all but impossible for 2 years. Remote work gives you the opportunity to make up for lost time. 
Want to visit family in another country? See Paris? Take a long trip without using up all your holiday days? Remote work from anywhere gives you the flexibility to take your laptop with you and do so. 
Seeing the same four walls for 48 weeks of the year is no longer inescapable. And that might be the best benefit of all.