There's much to be said about the opportunity to work remotely. You get to create, or choose, your own environment. You even get to earn a living while you satisfy your wanderlust and explore the world. 
But working solo isn't always all it's cracked up to be. Sometimes you need environments more conducive to productivity and creativity than your kitchen table, home office, or hotel room. 
Sometimes, you need better technology than you can get for your workspace at home. Sometimes, you simply need to be surrounded by other professionals in a convivial and inspiring atmosphere.
When you find yourself in a beautiful, bustling city like Buenos Aires, Argentina, you may require a coworking space that allows you to do your best work. 
Let's take a look at what makes a great coworking space and identify the six best coworking spaces in Buenos Aires!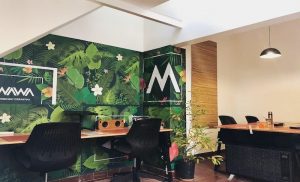 Manawa Coworking
If you're looking for a Buenos Aires coworking space that offers both flexibility and a relaxed and supportive environment, then Manawa Coworking has you covered. This space is centrally located in the heart of the city — close to shops, restaurants, and bars. 
The facility itself offers ample indoor and outdoor meeting spaces, personal lockers, and a game area. Membership rates are also quite reasonable, with several different packages to suit every need.
Most importantly, the space offers reliable, high-speed internet access. However, if you want to go the extra mile in protecting both your work technology and your data, it pays to install a virtual private network (VPN). 
You have the peace of mind of knowing your technology is secure with a VPN. Otherwise, you would be concerned about lapses in the network or a public Wi-Fi connection.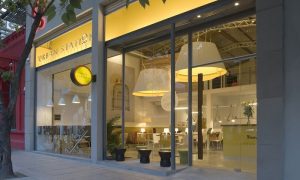 Urban Station – Palermo Soho 
Urban Station is an industry leader in coworking, with 17 branches worldwide, including four in Buenos Aires alone. 
Urban Station allows you to truly reap the rewards of having a job that travels because you can find a coworking space that is familiar and functional in most major cities. 
For example, the Palermo Soho branch is located in the highly desirable Buenos Aires design district. It offers communal workspaces, a rich variety of food and beverage offerings, and a colorful and cozy atmosphere that makes working fun. 
Whether you're working as a freelance writer, an itinerant event planner, or another flavor of a digital nomad, Urban Station has the facilities you need to thrive. On the upper floors of the Palermo Soho branch, for example, you'll find a wide variety of technologies — from digital projectors to LCD equipment.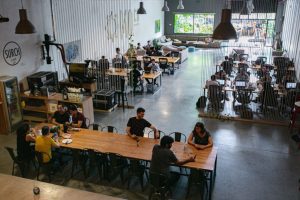 La Maquinita Co.
La Maquinita Co. is one of Argentina's largest, most popular, and most flexible co-working space franchises, with six branches currently in operation and more in the works. What truly sets this brand apart, though, is its focus on agility.
The franchise offers a variety of membership plans, as well as an array of spaces to suit members' evolving needs. The facilities' large event spaces, for example, can accommodate up to 150 guests, making them the perfect site for large gatherings, such as trade shows, seminars, and conferences. 
Independent workers looking for a bit of camaraderie will enjoy the hot desk and surf desk options. These memberships allow solo workers simply to come in, sit down, plug in, and get to work among other autonomous workers.
La Maquinita Co. also offers a range of amenities that remote workers love — from personal lockers to dedicated kitchen areas to accessible bathrooms for persons with disabilities.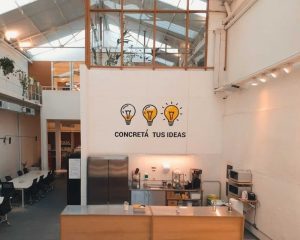 Huerta Coworking
Huerta Coworking is another shared work facility boasting a premium location in the business and tech-heavy district of Palermo. The site's proximity to Buenos Aires' leading innovators and entrepreneurs means that you can find yourself working, and networking — right where all the action is.
The location is by no means the only thing that Huerta Coworking has going for it. The space is also remarkably agile, and membership is all-inclusive — meaning that you won't have to haggle over every little add-on service or amenity. 
There are three membership tiers — fixed, flex, or private office plans — which allow you to choose the model that best matches your needs at any given time. For example, the all-inclusive private office plan includes dedicated meeting areas capable of accommodating up to 20 people. 
In addition, workspaces and meeting rooms are tricked out with all the tech you are likely to need for your work — from super-fast Wi-Fi to wireless printing. You'll also have access to a personal locker, as well as to secure bike storage. 
Huerta Coworking also offers plenty of opportunities to relax, unwind, and do a bit of socializing between tasks. There's a lounge/living room area with a wide variety of games for members to enjoy, as well as terrace spaces for eating and relaxing outside.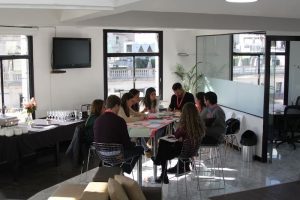 Workey
Billing itself as "the most exclusive coworking and event space in Buenos Aires," Workey is located downtown in the dome of the historic Miguel Bencich building. This is a high-profile space with spectacular views of the city. From the terrace, you can glimpse the Obelisk, a national historic monument in the Plaza de la República.
Workey has 12 private offices, as well as hot desks so you're free to move around. There's a lot of natural lighting from the building's many windows. As a member, you can also reserve meeting rooms free of charge, which seat up to 15 people.
The space includes a shared kitchen, living room, and terrace. The meeting rooms include a minibar, a high-definition projector, and those spectacular views of the city. Amenities include premium coffee, an onsite cafe, high-speed internet, and correspondence reception.
You're guaranteed access to the workspace from 7 a.m. to 9 p.m., Monday through Friday. Spaces are available by day, week, or month, so you can book based on when you need it and aren't locked into a monthly membership unless that's what you need.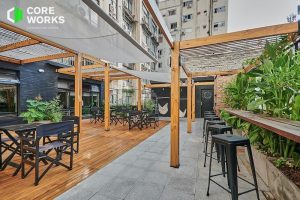 Coreworks Coworking  
For those looking for a truly flexible coworking experience, Coreworks offers 24/7 access. Your fingerprint is your key to this modern space, which comes with a host of amenities and services. The location, on Avenida Córdoba, is a five-minute walk from public transit and you're centrally located right in the middle of it all, near landmarks like the Teatro Colón opera house and the Palacio Barolo. 
Coreworks comes highly recommended, and the space is clean and stocked with plants to keep things fresh. Details that may seem small — such as ergonomic furniture and exceptional Wi-Fi speed — help make members' experience top-notch. The coffee bar doesn't just have coffee, you're also free to indulge in snacks, fruit, infusions, and juices.
At the space, you'll find a green terrace where you can relax and network with other members, or even spark up the grill and host a barbeque. You get a locker to keep your valuables safe, and there are phone booths for private conversations. Meeting rooms are set up for 12 people. 
Coreworks offers a variety of shared workspace plan options by the day or month and a monthly private office plan. Benefits also include a network of gyms and cafes.        
The Takeaway
The right coworking space can help remote and hybrid workers enjoy the best of both worlds: the independence of the digital nomad combined with an office's camaraderie and convenience.
The good news is that there is no shortage of great coworking spaces in Buenos Aires — whether you're looking for flexibility, functionality, or professional friendship.