Remote work is here to stay. In fact, a Harvard Business School survey found that 16% of responding businesses plan to exclusively hire remote workers. Further, a report from MIT reported that 34% of American workers who had previously commuted to work are now working remotely.
What does this mean for people who are sick of working at their dining room table?
It means a major shift in workplace models, and that coworking spaces are becoming more important. Virtual-only employees are finding it important to separate work from home by "heading into the office," even if that office is a hot desk. The key to ongoing success is for coworking spaces to leverage the power of technology to increase safety, and here are some ways flexible operators can do just that.
1.   Secure Connections and Software
Coworking spaces have unique technological needs. Pretty much everyone who is showing up to grab a hot desk or lease office space will be working online. That means connectivity is key.
Here are some ways that cutting-edge technology makes coworking spaces more valuable and secure:
Uninterrupted power supply 
Sometimes discussed using the terms "uptime" or "downtime," a building full of desktops and laptops needs enhanced power solutions. In addition to powerful electricity, modern coworking spaces will have generator systems and backups to ensure the lights are always on.
Internet solutions 
Coworking spaces shouldn't use the same internet as other commercial spaces. In a restaurant or retail spot, minimal bandwidth will do. However, in a shared workspace, high-speed internet with optimized frequency and low latency is a high priority. This high-tech solution ensures seamless video calls, lightning-fast downloads and no disruptions.
Cybersecurity issues 
Coworking spaces facilitate a variety of workers with a variety of devices. These may include business-owned devices or personal devices. They are also logging into plenty of different servers and networks, some of which may be accessed through hardware or software VPNs or other secure connections. All of these needs to be a point of consideration for coworking spaces. In addition to the standard password-protected server, some innovative spaces are beginning to offer software VPN subscriptions and malware subscriptions as part of their monthly packages. All of these solutions enhance user confidence and keep things safe.
2.   Access Control
Security starts at the door. Access control for coworking spaces has become a hot topic, especially during contact tracing for the COVID-19 pandemic. Who is in the building, and whether or not they should be, is something that should be carefully tracked.
It is easier than ever to upgrade existing structures for high-tech access control systems. Many coworking spaces are using the following technologies to keep visitors and regulars safe:
– Key card
– Magnetic stripe card
– Smart card or chip card
– Proximity card
– Wiegand cards
– Key fobs
– Mobile phones with biometrics
When deciding which technology to use, not only the building but user behavior should be considered. Will a typical worker be more comfortable using their own device or having an additional physical device, like a fob or card?
Then, consider integration: can these access control systems be integrated into your registration process or payments? A synthesized process that considers the user experience will optimize safety and ensure global buy-in for the system you select.
3.   Social Distancing/De-Densification
Offices are getting a makeover: and this isn't just about carpet and paint. De-densification is a hot topic that basically means spreading people out. The physical layout of an office building or coworking space can be shifted to enact social distancing for health and safety.
One example is growing in popularity: the six feet office model. Essentially, this is just an interior design or building configuration model that allows for six feet of space between desks. It may be pretty easy to pull this off and provide an immediate, visual illustration to people in the building of just how much care a coworking space is willing to take.
4.   Enhanced Cleaning Procedures
As the pandemic lingers on, the systems remain. However, keep in mind that new standards and recommendations are regularly being issued by government entities globally. It's important to stay up-to-date on the latest technology that's available to sustain enhanced cleaning procedures. For example:
– Air purifiers that use HEPA, UV and ionic air purification methods can be installed in HVAC systems. These are proven by research to kill viruses and contaminants in the air.
– Apps are now available to monitor touchpoints and shared spaces, and can even activate cameras and sensors if a surface requires cleaning.
Keep in mind that enhanced cleaning and privacy is a huge value add to the average person who wants to book coworking space. It's important to have visual signs, a dedicated traffic flow and ongoing messaging about the efforts being made to keep people safe.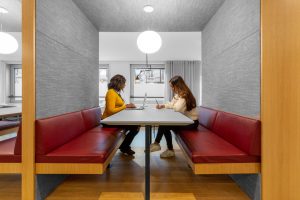 5.   Wellness Support
In addition to keeping a coworking space safe and clean, it's increasingly important to support wellness. As more people opt for a hybrid work environment, they may spend a great deal of their time in a coworking space. Administrators can do a lot to enhance this experience, especially as it pertains to health:
– Position desks toward the light to support the research-backed need for Vitamin D
– Leverage the social aspect of shared spaces to sync up bio fitness devices
– Offer access to recommended resources, like cleanliness tips
– Add "look away" prompt options for computer screens
– Offer prompted break sessions
– Add in ergonomic elements to desks/chairs
Fortunately, there are numerous ways to reconstruct coworking spaces to meet modern demands for comfort and safety.
Coworking Spaces: The Future of Productivity?
There are more than 26,000 flexible workspaces in the U.S., a number that is expected to grow by 13% by the year 2022. This means that more people are grabbing a desk or leasing an office in a space that is conducive to high productivity and peace of mind.
As such, it's vital that coworking spaces leverage all available technology to keep people coming in, and feeling safe as they do. This will lead to a more productive workforce and work environment overall, which is a win-win for companies and employees worldwide.