Coworking spaces are becoming more common globally. As more people make the transition to remote work, they're utilizing these spaces to stay productive, network with others, and have a dedicated space that helps them strike a healthy work-life balance.
The coworking space industry shows no signs of slowing down, either. While the U.S. has the highest number of coworking spaces in the world, Asia leads the way with the highest average capacity at 114 people per space. That includes several spots in Hanoi, Vietnam.
Hanoi is known as a business hub, and it's often a central location for startups in multiple industries, including the tech sector. It's also known as the fine art capital of the country, boasting both ancient artifacts and contemporary pieces that attract visitors from across the globe.
Whether you're heading to Vietnam to work, going on an extended vacation where you'll need to maintain a bit of a workflow, or you're moving to the area and looking for places to stay productive, we've got you covered with the 5 best coworking spaces in Hanoi.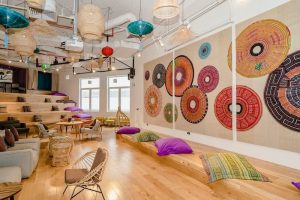 1. Toong IPH
Toong IPH has over 22 progressive working environments — one of the liveliest spaces in Hanoi. It's located in the Cau Giay district — a perfect spot for urban living.
While planting yourself in this space, you'll be near a variety of businesses to make your life easier, including Starbucks, Highland Coffee, CVG Cinemas, and more.
Although amenities like these aren't essential for a great co-working space, providing things like coffee and snacks in the workplace has been shown to boost morale and creativity. Even if you choose a location that doesn't provide its own refreshment, you can take frequent breaks throughout the day and head to your favorite coffee spot for a pick-me-up.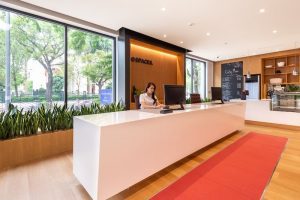 2. Spaces – Belvedere
Spaces Belvedere by IWG features over 10 floors of offices, so you can choose whether you want to work in a space designed to be more modern or traditional.
At Spaces Belvedere, you'll find private offices, meeting rooms, and larger coworking areas, making it the ideal location for start-ups that don't want to pay much for overhead.
Every room is designed to be comfortable, well-lit, and has high-speed Wi-Fi so you can work seamlessly without distraction.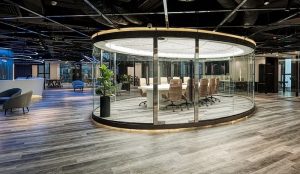 3. HiLink
HiLink caters to existing enterprises, rather than startups, but that doesn't mean you can't boost a small business there, or work remotely as a solo entrepreneur.
One of the unique things about HiLink is that it offers co-living accommodations for digital nomads. You'll also enjoy perks like free coffee and tea, personal lockers, a kitchen space, and an onsite restaurant.
The space also features just about every possible piece of equipment you could need, from monitors and scanners to microphones and VR equipment. No matter the industry you're in, you can grow your business here with ease.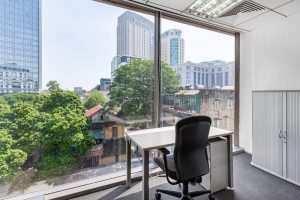 4. Regus Hanoi – Ly Thai To
Regus Hanoi Ly Thai To is located in Sentinel Place — a quick jaunt from the Opera House and Hilton Hanoi Opera. If you're into the fine arts, this coworking space could very well be the ideal coworking space for you, so you can unwind with some of your favorite activities after work.
Of course, it's not just the surroundings that make this location great. You'll find multiple meeting rooms, and pricing based on your needs. It has private offices for rent, dedicated desks, open-plan seating, and even virtual office options so you can select a plan that fits your budget.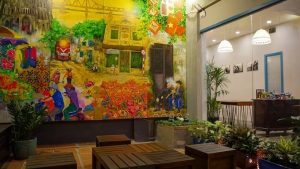 5. IVINA Hub — Tay Ho
IVINA Hub is a coworking space in the beautiful Tay Ho district — but it claims to be much more than just that.
Offering a cultural experience to those visiting Hanoi for the first time, IVINA Hub aims to differentiate themselves from their competitors by coaxing out the "gem" that exists in every person. "We are not creating a co-workspace," they claim, "but rather building a community, a place for hatching your ideas and connecting to many communities of art and culture."
In this space, you can either enjoy a private office of your own, open-desk seating, or a dedicated desk within the coworking area. IVINA Hub also offers a 10-person meeting hanging room for rent, a nap room, showers and personal lockers, and a lounge/chill-out area to make your workday more comfortable and enjoyable.
You can also enjoy a vast library, blow off some steam playing foosball, and even enjoy a mini golf course in this cat- and dog-friendly coworking.
____________________________
Clearly, you can't go wrong with any of these coworking spaces in Hanoi. Because so many people and businesses flock to the area, having plenty of coworking spaces is beneficial for businesses and employees alike.
These spaces can connect organizational silos by facilitating greater connection and communication between apartments, and they are incredible resources for startups that might not be able to afford a lot of overhead.
Dig a little deeper into what each space can offer, and you'll quickly find one that fits your needs, whether you're in the country for a few months or you're making a permanent move.
Coworking spaces aren't just a passing trend. They'll continue to see an increase in popularity as remote work becomes a more viable option across the globe. Taking advantage of one of these spaces now can help you grow as a freelancer or business owner and stay ahead of the upcoming competition.