Events with participation of people from different countries are a frequent occurrence in modern life. Therefore, specialist translators have developed a set of rules necessary for holding multilingual meetings in coworking spaces.
Many translation agencies keep the following considerations in mind to solve the tasks assigned to them effectively and ensure the event in question runs as smoothly as possible.
Why a coworking space and not an office?
The main advantage of coworking spaces in comparison with an office is the low rental cost. Even a fixed place or meeting room in a high-end coworking space for a multilingual event will cost you less if you rent an office space.
For many freelancers, it's critical not to overpay for a workspace that they need on an irregular basis. For example, if you need to hold multilingual events once a week, it makes no sense to rent a separate office for everyday work. Rather, you can work in the coworking space, and if necessary, use a meeting room for a fee.
In addition, if you rent an office for a short time or a few hours, the required date and time may be busy and you will have to make changes to your schedule.
In coworking spaces, there is enough space for everyone at the same time so that you can host multilingual events even during the most popular hours.
1. Select the language of the event
The primary language of the event is that used by the chairman and important speakers.
When organizing a meeting in a coworking space, you should know the representatives of which countries will be present to properly form a team of translators or use translation equipment so that the event goes smoothly and everyone is comfortable.
Remember that a multilingual event is a priori challenging. Imagine that a meeting, the primary language of which is English, will be attended by native Spanish, Danish, and Chinese speakers. In order for all participants to feel free and understand the interlocutors, it is necessary to compose language pairs correctly.
2. Place participants correctly in the coworking space
Nowadays, consecutive interpretation has given way to simultaneous interpretation, which has made meetings more dynamic and effective. However, simultaneous interpreters cannot work without special booths and translation equipment.
Therefore, as the organizer of the event, you must provide the agency in advance with information about the coworking space in which the event will take place, indicating the location of its participants. There are three main formats for holding events:
theatrical – the performer is on the stage, and the listeners are in chairs, which are arranged in rows;
classroom – the speaker is in front of the audience, each of whom is seated at a separate table;
round table – all participants are sitting at a round table or tables arranged in a circle.
Each format requires a different approach to microphone placement, cabling, and booth installation.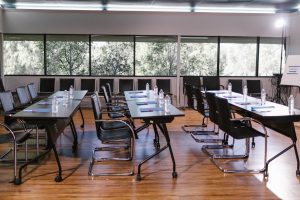 3. Make preliminary preparations
If written translation allows a specialist to think over the text and terms, to use auxiliary material and the help of native speakers, then simultaneous translation does not. Translators should be as well prepared as possible for the meeting.
It is imperative to provide information about the upcoming conference: the features of the coworking space, its participants, the organizations present, the specifics, and materials that will be read or explored.
It is necessary to make a list of terms and abbreviations, acronyms, and everything that may be affected during the discussion for the translator.
4. Rules of conduct on the day of the conference
– Conduct a consultation; Each participant should know how to use headphones and microphones. Many organizers provide short, illustrated instructions.
– Conduct a briefing with service personnel; Once again, make sure that all translators know their responsibilities and check that the equipment is functioning correctly.
– Maintain feedback with participants; It is essential to know how well the job was done. Therefore, it is worth keeping in touch with the participants to get feedback on the quality of the event's organization.
– Maintain contact with the translator team leader;
By devoting attention to these four considerations, coworking owners and operators can ensure that a wide variety of multilingual events can be hosted at their coworking venue.