Home to the world's busiest airport, there's a good chance you've passed through Atlanta at some point. What you may not have realized, however, is that Georgia's capital of Atlanta is much more than just a popular transport hub.
Atlanta is also an attractive startup destination. Every year countless founders choose Atlanta as a base to build their startups because of its trendy, and cost-friendly environment.
While there are only a modest amount of investors in Atlanta, the city does have a welcoming startup environment with countless incubators and coworking spaces.
Atlanta already serves as a clustering hub for tech companies involved with information security, telecom, and health care. If you're in a similar industry, Atlanta would be an excellent startup destination for you.
Plus, check this out…
Atlanta is one of America's top education hubs with over 30 colleges and universities. If you need to hire young talent on the cheap, Atlanta is a great place to do so.
Finally, it would be impossible to talk about Atlanta without talking about the city's lifestyle perks. With a population of about 500,000, Atlanta is big, but not too big. The city also has an excellent restaurant scene, comfortable weather, and an excellent public transportation system.
Are you ready to head on over to Atlanta yet?
Whether you're a first-time visitor or a lifelong Atlanta local, keep reading as we dish the dirt on the 4 best coworking spaces in Atlanta!
SharedSpace is Atlanta's coworking space for professionals that don't want to worry about the small stuff. Troubleshooting wifi, changing lights, paying utility bills… none of these are things that are going to grow your business.
If you want to focus on YOU and the skills you specialize in, joining SharedSpace will help you do just that. SharedSpace does an excellent job of taking care of all the small details involved in running an office so that you are able to focus on the most important thing — your work.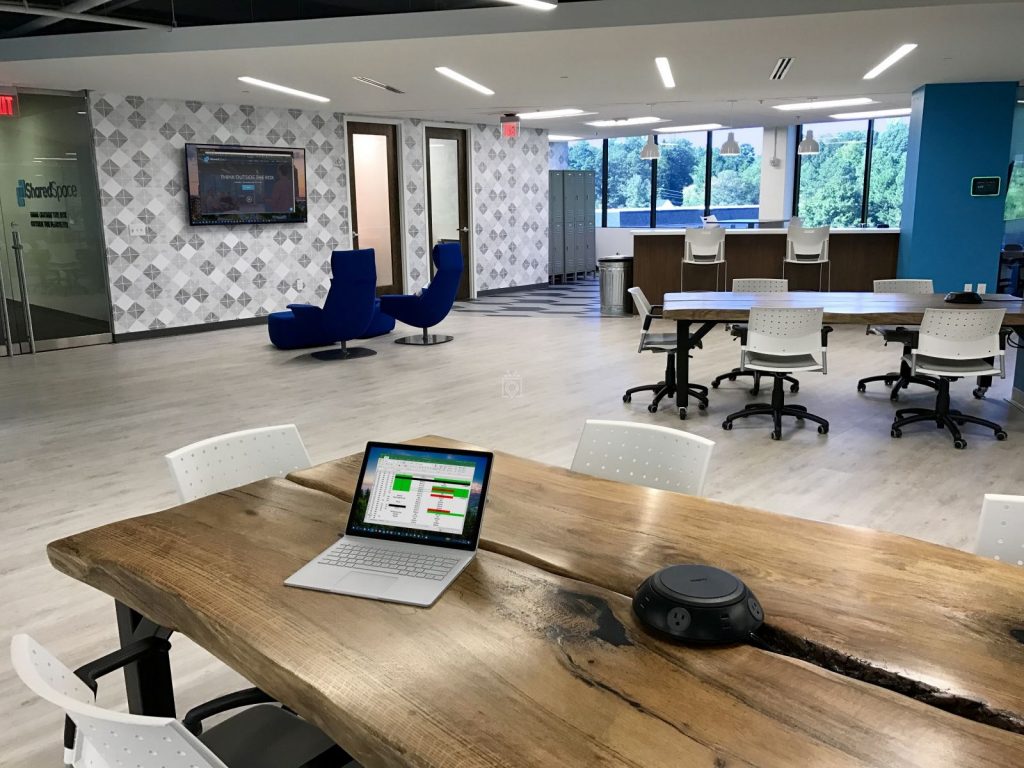 Another nice perk of this coworking space is that long-term leases aren't required. At SharedSpace, you can rent month-to-month, upsizing or downsizing as you need it.
And here's the real kicker. Monthly memberships at SharedSpace start at just $199/month. Free coffee galore, paid amenities, networking — all included.
Not sure if it's for you? Get a free day pass at SharedSpace.
TechSquare Labs is an incubator, seed fund, coworking, and corporate innovation space all under one roof. If you're ambitious, you'll love working at this space. The community motto at TechSquare Labs is to "Build Something From Nothing".

With professionals at TechSquare Labs ranging from fresh computer science graduates to Fortune 500 CEOs, this Atlanta coworking space offers incredible networking opportunities and knowledge sharing opportunities.
Oh, and here's another nice bonus. TechSquare Labs is also within walking distance to the Georgia Tech campus. This makes it easy to find highly educated interns and manage your company's labor costs.
If you're looking for gorgeous facilities, exciting community events, and 24/7/365 access to your workspace, TechSquare Labs is one of your best coworking options in Atlanta.
Merriam-Webster defines the word industrious as, "constantly, regularly, or habitually active or occupied". Or, as we would say in 2019, hustling.
That's exactly what Industrious Atlanta Midtown stands for. This beautifully designed coworking space is the perfect place to work hard and fly past all your competition.
With speedy internet, a coffee bar, and energetic peers, working at Industrious Atlanta will give you the push you need to get off auto-pilot and take your career or business to the next level.

Of course, that's not to say work-life balance isn't important. It is. Fortunately, Industrious Atlanta has a lounge for you to breathe after a hard morning of work.
Community members also frequently organize happy hours and dinners for everyone to share their successes and de-stress after a long week of work.
With a welcoming community, upscale work environment, and an excellent location in Atlanta's rapidly growing West Midtown area, what's not to love about Industrious Atlanta Midtown?
Are you part of team #NoCar? If so, the first Atlanta coworking space we'd recommend to you would probably be Alkaloid Networks. This space is easily accessible by bike, public transportation, or even on foot.

Is joining Alkaloid Networks worth it? We're glad you asked. Here are a few perks Alkaloid Networks offers its members:
— Blazing fast 1GB-55MB internet.
— Unlimited conference room usage.
— A modern workspace with an abundance of natural lighting.
— Free, locally roasted coffee.
— On-site showers.
— 24/7 building access.
And that's not even everything. We don't want to bore you though 😉
Despite having all these perks, many members of the space say the best part of working at Alkaloid Networks is the community. We've heard countless professionals say that no coworking space in Atlanta does a better job of helping you fight isolation (without crowding you so much that it's difficult for you to focus on your work).
Conclusion
We hope you've enjoyed our list of the best coworking spaces in Atlanta. Click here for our full list of coworking spaces Atlanta has to offer for professionals.