The effectiveness of any team depends on the level of communication among team members. However, when we're talking about remote teams, you have to take that communication one step further.
Communication is the life and soul of a remote team. It would be impossible for remote teams to achieve anything or be productive if they cannot communicate amongst themselves frequently and with their superiors to remain aligned. 
The lack of in-person meetings means that it's possible to quickly forget about members of your remote team or not pay attention to them, leading to avoidable problems. In order to prevent this, communication is critical. You must take proactive measures to ensure that you look for areas where there are issues with engagement and communication and solve them as quickly as possible. 
It would help if you always communicate with your remote team members, but you should look for means to enhance that communication continuously. How can you achieve this?
Here are three tips to try out that will help you enhance communication among your remote team:
#1 Create opportunities for a remote team member to connect, chat, and meet through technology
Years ago, it was impossible to connect instantly with anyone who wasn't at their office at a particular time (unless you sent a fax). And then came emails. Now, technological advancements ensure that we have several diverse communication streams in which we can easily connect. 
While remote teams can't take part in typical "water cooler" conversations, they can leverage technology to connect amongst themselves and engage plenty of daily interactions. For instance, you can take advantage of your call-in meetings by offering small talk at the start or end of the session. Initiate discussions that can help the team members communicate and learn more about each other. This means ending your meetings with questions that are unrelated to work and are casual or fun. Then everyone gives their answers in a fun way to kick start some small talks beyond the surface level. 
It can be as fun as asking about a music track or album that they can sing the lyrics better than everybody in the meeting. You will see how fun that is (especially if they feel the need to try and prove themselves). 
These trivial chats about their favorite reality TV shows, your pets, weekend plans, etc., are essential for team bonding. However, you must maintain moderation in the discussions, so you don't meddle too deep into anyone's businesses.  
The fact that your team is dispersed means that time zones can be different. So, it would help if you tried setting up your meeting for times when the time difference is bearable to a large extent for everyone. Also, make it a video call rather than a phone call.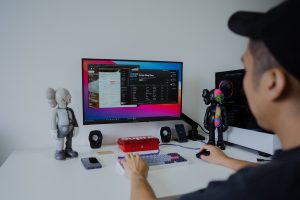 #2 Over-communicate with your remote team members
If there's one thing that you can't say you are overdoing when relating to your remote team members, it is communication. No matter what, you just can't overdo it. Since your team isn't in the same geographical space, they need to be communicating at all times.
Ordinarily, they would walk over to a partner or team member's desk to get the information they need, but they lack that right now. You have to make up for this by continuing to communicate, even if it's the same thing repeatedly. 
Also, it's easy for a remote worker to disappear unless they are proactive about avoiding this and over-communicating. However, you also have to do your part when it comes to communicating with them. If you will be delivering a project late, or have extra time, or are waiting on something, over-communicate it all. This way, everyone will be on the same page and you will be able to avoid any unpleasant surprises. 
#3 Make video calling a priority
One of the significant problems with communication within remote teams is the inability to hold in-person conversations. Not seeing the body language or the face of the person you're communicating with isn't always ideal in a work setting. 
It is a big problem if you have to communicate with people over a long period, as with remote teams. That is why video calling should be a priority. It is essential for teams to keep aligned on strategy, especially when discussing how to meet targets, improve performance, and get a certain project over the finish line.
While there are different ways to communicate and over-communicate among remote teams, chatting online and using email aren't always sustainable for every remote team. Many people need to see themselves and each other when holding team meetings and discussions, even if it's virtual, to stay accountable and be productive.
Conclusion 
With remote working becoming the day's order and more teams than ever going fully remote, communication will mostly be digital. Although you could use tools to bring the gap in traditional communication amongst remote teams, ultimately everyone has to develop their communication skills in light of this digital age and prioritize new forms of engaging virtually.