2021 has officially come to an end and with it, many new changes to the way people work. 
As the leading platform for finding and booking coworking spaces, we've had a busy year at Coworker driving our mission forward. Despite facing an unprecedented downturn as a result of COVID-19 forcing many spaces to pause or close their operations, we are pleased to report that interest in flexible workspace has returned to pre-pandemic demand. 
At Coworker, we are proud to be a part of the remote work movement, especially as more corporate teams turn to coworking for an agile and scalable solution. Even when up against seemingly insurmountable challenges, we are thankful for the opportunity to be part of the coworking story as the world's leading—and largest—global database.
Since we reached a number of exciting milestones this year, here's a recap of Coworker's top 10 highlights from 2021: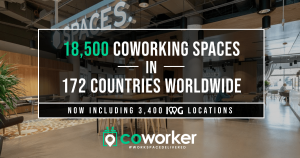 1. Surpassed 18,500 coworking spaces in 174 countries
In 2021, we hit a major milestone of reaching and surpassing 18,500 coworking space listings on Coworker. At the time of writing, we have listings for over 18,500 spaces worldwide in 3,027 cities and 172 countries. Furthermore, we are on track to surpass 20,000 locations in January 2022. 
Reaching this major milestone of 18,500 spaces on Coworker means that we now have coverage of roughly 75% of all coworking spaces in the world, including both independent chains and major flex office providers. This year, we were excited to onboard a significant number of leading international operators such as IOS Offices (Mexico), CommonGrounds (U.S.), and Carr Workplaces (U.S.).
2. Expanded to more than 3,000 cities
Beyond hosting close to 20,000 unique listings for coworking spaces all across the globe, another major milestone we reached in 2021 was expanding to over 3,000 cities. The total number of cities represented on Coworker as of December 2021 is 3,027. 
Not only does this number confirm that the coworking industry is continuing to recover from the effects of COVID-19, but it also shows that flexible workspace providers are moving into new territories. With the rise of the hub-and-spoke model of working and the growth of coworking spaces in suburban locales, it makes sense that new cities are appearing in our database. 
A few international examples of new cities with coworking listings that were added in 2021 include: Ericeira, Portugal; El Paso, Texas; Xi'an, China; Oran, Algeria; and Struer, Denmark.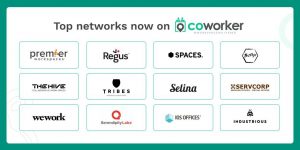 3. Introduced new coworking network pages
To celebrate the many networks in our marketplace, in 2021 we introduced specific network pages to our website. These network pages provide listings of all of a particular coworking operator's locations, allowing users to search through a network's full database of spaces. 
Some examples of the top coworking networks that are represented on Coworker include: the Hive (Asia), Serendipity Labs (U.S.), and JustCo (Asia), to name a few. To view a more robust list of the top networks on Coworker, you can visit the network section of our homepage. 
4. Helped over a million professionals find flexible workspace
In 2021, over a million individuals used our website to find coworking spaces in their area. Although COVID-19 led to closures, temporary shutdowns, and new protocols for coworking operators all across the globe, both seasoned and first-time remote workers turned to Coworker for alternative options to working from home. 
In a survey we conducted in May-June of our member coworking spaces, we found that 62.4% of spaces experienced a rise in the number of people working from their space in 2021. Furthermore, 57.9% of spaces were contacted by large corporations looking to decentralize their workforces in 2021. 
Both of these statistics underscore the importance of flexible spaces, especially as more enterprises seek alternative options to working from home for their employees.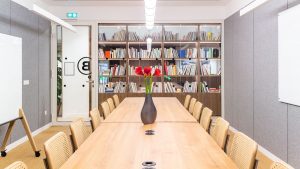 5. Introduced meeting room pages
This year, we made it possible to view and request specific meeting rooms within our coworking spaces. We also created dedicated search pages on Coworker's site to discover and book a wide variety of meeting spaces around the world. 
As meeting rooms significantly grew in demand this year, we were pleased to be able to offer meeting room search pages to simplify the process of easily booking meeting spaces. In our view, coworking meeting rooms present the perfect in-between office space, offering a solution that's just as professional as a traditional office but still casual enough that it can be used on an as-needed basis.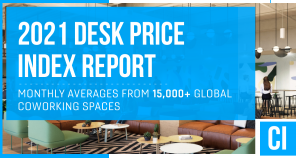 6. Published the 2021 Desk Price Index Report
As industry experts, we were excited this year to compile and offer in-depth insights exclusively from our backend data. With this data, we launched the third annual 2021 Desk Price Index report on Coworking Insights in March. 
Utilizing data from Coworker's network of 18,500+ coworking spaces worldwide, the Desk Price Index compares average desk prices to see how competition is changing. As the most extensive comparison of global desk prices, the report highlights:
– Global coworking space distribution
– Monthly hot desk price world average
– Content comparisons 2018-2021
– Hot desk price by city
– Top 100 countries price index
To discover how hot desk pricing has evolved over the last four years on a global scale, the third annual report can be viewed here.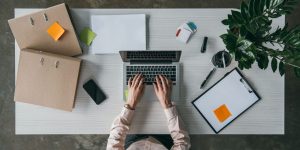 7. Launched virtual offices
Also this year, we wanted to make it possible for users to search for and find virtual offices, or VOs, through our website. With more and more people turning to digital solutions for their business operations, it made sense to accommodate demand for these types of virtual spaces. 
There are many advantages of virtual offices, which offer an efficient and cost-effective solution to businesses that want to access the conveniences of a professional environment without actually having a physical office.
Generally speaking, virtual offices extend features such as a physical address, 24/7 phone and receptionist services, and access to meeting/conference rooms. Some virtual offices also provide things like document shredding, shipping, networking events, and event space.
By making virtual offices available to our user base, we are able to give remote teams and workers the best of both worlds—for an affordable price, businesses can utilize their VO provider's amenities without being tied to a conventional lease.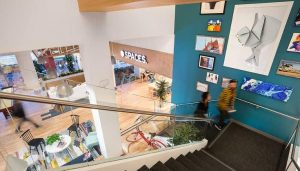 8. Welcomed IWG's entire network onto Coworker
In April, we integrated 3,400 International Workplace Group (IWG) spaces to our marketplace, bringing our grand total to 18,500 workspaces worldwide and making Coworker the largest global network of flexible offices.
With IWG's complete network of offices now included in our marketplace and as part of Global Pass, the alliance will make flexible work more accessible on an international scale.
IWG's diverse network of flexible workspace under a variety of brands—including Regus, Spaces, BizDojo, HQ, OpenOffice, and Signature—are now listed on our platform and available on Global Pass as of June 2021.
9. Grew CI Weekly, adding featured stories
As news about the flexible office space industry's future developed rapidly, we decided to launch CI Weekly in 2020, a weekly newsletter providing the top coworking and flex space headlines in five minutes or less. This year, to enhance the look of CI Weekly, we added a new section to the newsletter to feature one top story per week. 
With a dedicated following of nearly 14,000 readers, CI Weekly continues to deliver the week's top headlines every Friday to coworking enthusiasts on a global scale. To receive CI Weekly and stay informed, subscribe here.

10. Featured hundreds of coworking spaces on our social media channels
In 2021, we quickly realized that many of the coworking operators in our network were turning to social media to combat the effects of COVID-19 and to help them draw in new members. To support the spaces in our network in what was most certainly a challenging time, we bolstered our opportunities for social media promotion, featuring hundreds of coworking spaces throughout the year on our social media channels.
For example, on our Instagram, we offered spaces such as Heden (Portugal), Mindspace (Europe, Israel, and the U.S.), Future Leap (UK) and others the chance to take over our channel for the day! Having surpassed 25,000 followers, these takeovers proved to be a great way for us to boost engagement for spaces in our network. 
Through these features (and other Instagram spotlights on spaces such as The Train's House in Zanzibar, Tasmania and Let's Work Phuket in Phuket, Thailand), we are proud to show our support for the one-of-a-kind spaces in our network, help them generate additional followers and members, and maintain our reputation as the only truly community-based coworking marketplace. 
___________________________________________________
2021 was a year marked by uncertainty as the global pandemic ensued, causing many unforeseen changes to the way we work. As we look to 2022, the market for coworking is gearing up for new innovations as more corporations focus on decentralized workspaces, distributed teams, and a more hybrid style of work.
While it was still quite a difficult year for many coworking operators, demand is finally pointing toward recovery on an international scale, meaning the future of the coworking and flexible office space industry is once again on track for growth following the effects of COVID-19. 
Thanks to everyone who supported us this year. We can't wait to see what 2022 holds for the flexible workspace sector!