Coworking Insights has released its second annual
2020
Desk Price Index Report
, which offers a comparative, data-led view of the coworking industry based on monthly hot desk prices across the globe. With data from 12,601 coworking spaces in 170 countries provided by our team at Coworker, the 2020 Desk Price Index Report represents the average monthly pricing for each continent, as well as leading cities and countries. The report illustrates how these prices have changed over the last 12 months (from Jan. 2019 to Jan. 2020) so operators and practitioners can better understand the industry's emerging markets. By examining data from Coworker's ever-expanding network, the report provides the most extensive comparison of global desk prices across different cities, countries, and continents to date. The report's data is representative of the following number of spaces in six continents, plus the Oceania region —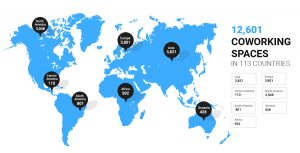 Key Desk Price Index Report Findings
Coworking Insights' findings this year have concluded that
hot desk prices dropped by 2.14% globally between 2019-2020
, which demonstrates the increasing supply of new flex office spaces. The statistics give evidence of the further maturation of coworking markets as demand for shared workspace continues to grow across all continents. On the whole, there was much less volatility in 2020 compared to price changes in 2019. For instance, the biggest continental price change was in South America, where desks prices fell 6.4%, compared to a rapid 28% increase in 2018. In terms of the countries with the most expensive hot desk prices, 
Monaco
took the top spot in 2020, coming in at $397 per month.
Switzerland
came in second place at $395 per month, and
Malta
is third with $347 per month. For a full analysis of all countries and of the most (and least!) expensive cities for monthly hot desks,
download the 2020 Desk Price Index Report here
. In this year's report, you will also find key data related to international open/flexible seating prices, providing insights into topics such as:
Monthly hot desk price — world average
Price comparisons by continent (2018-2020)
Price evolution by continent (2018-2020)
Average hot desk price by country
Top 250 cities price index (most expensive cities for coworking)
Notable cities — price evolution (2019-2020)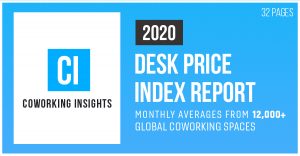 To find out more information about the
2020 Desk Price Index report
, visit Coworking Insights to see a preview and
download the report
.