2019 has officially come to a close and what a year it was!
As the leading platform for finding, reviewing, and (now) booking coworking spaces, we've had a busy year at Coworker driving our mission forward. Everything we do is centered around connecting people with their perfect workspace, and this is as important as ever as the flex office market continues to expand and transform.
2019 has been our biggest growth year to date, underscoring just how bright the future is for coworking! Since we reached a number of exciting milestones this year, let's recap Coworker's top 10 highlights from 2019: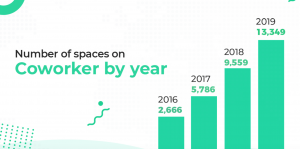 1) Surpassed 13,000 spaces in 100+ countries
In 2019, we soared to 13,349 total coworking space listings on Coworker. This was a big milestone for us, making us the leading coworking marketplace worldwide and representing a +40% annual growth since Dec. 2018. With the addition of more IWG offices, we estimate our database will grow to over 18,000 in 2020 alongside the continued expansion of the flexible office industry.
Moreover, reaching 13,349 spaces on Coworker means we now have coverage of approximately 90% of the world's independent and small-chain spaces. This year, we were excited to onboard a significant number of leading international coworking operators, including Servcorp, WitWork, and Selina. 
2) Launch of day pass sales on Coworker
Prior to this year, Coworker was utilized chiefly for locating and reviewing coworking spaces. Now, we offer our users the opportunity to book day passes and short-term memberships for coworking directly through our website. We've shifted gears from a coworking directory to a dynamic booking platform for daily coworking passes and memberships with plans to expand these and other offerings in the upcoming months. Have you booked a day pass yet? 
3) Coworker x TEDx Partnership
In February, Coworker confirmed a new partnership with TEDx, a program that brings the spirit of TED's mission to share ideas worth spreading to local communities across the globe. Through this partnership, 1,200 spaces in 114 countries and over 550 cities around the world have volunteered to donate space to TEDx teams in need of a location to either plan or host events. This not only improves visibility for spaces among a thriving network of entrepreneurs and speakers, but it also allows spaces to give back to one of the world's leading and most influential nonprofits. If you have a coworking space and would like to join the TEDx Host Space network, please contact [email protected].
4) Launch of the Coworking Insights Podcast
This year, we got our start in podcasting! Coworking Insights — our publication that delivers special insights on the latest coworking news and data — launched its very own podcast in 2019 called the Coworking Insights Podcast. Already, we've released eight episodes, with members of the Coworker team discussing everything from the global coworking space capacities to the trend driving the expansion of new coworking locations. Subscribers can listen on Apple Podcasts, Spotify, Stitcher, and Google Play! 

5) First Coworking Insights data reports
As industry experts, we were excited this year to compile and offer insights exclusively from our backend data. With this data, we launched the first official Coworking Insights data reports in 2019, which explored two key topics:
2019 Desk Price Index Report

— Our first report, which launched in January, presents the average pricing for coworking desks across different cities, countries, and continents based on data from over 10,000 spaces.

2019 Coworking Size and Capacity Report

— Our second report, which launched in May, includes data from 6,500 spaces in over 150 countries and illustrates the competing sizes, capacities, and densities of the spaces. 
6) Began a partnership with OfficeRnD
We entered the world of real-time availability this year through our exciting, integrative partnership with SaaS-based coworking platform, OfficeRnD. By joining forces with OfficeRnD, our member spaces are able to advertise up-to-date inventory specifics and prices on their listings. In turn, users can now book a range of meeting rooms or memberships instantly and in real time. Already, this has fueled customer satisfaction and made the entire process of finding and booking a coworking space easier and more seamless than ever.

7) Held the second annual Coworker Members' Choice Awards (CMCAs)
Founded in 2018, the CMCAs are the only global coworking industry awards, which recognize the world's favorite spaces based on member feedback. This year, we developed a new ranking system based on a weighted score and celebrated 529 unique coworking spaces as winners of their cities. We always love showcasing and rewarding the best of our member spaces, and we're already looking forward to next year's awards!
8) Opened Coworker's new European HQ
In September, we opened our new European headquarters, located at OneCoWork Catedral in Barcelona. With several of our team members now based there full time, Barcelona has become our European hub for meetings among a thriving (and impressive) startup scene. 

9) Launched the new Coworker app
Available on both iOs and Android devices, the Coworker app is here. As the leading coworking app, users can utilize the app for a number of purposes, including discovering spaces near and far, reserving a desk, and managing their Global Pass subscription. The app was an integral component to the future success of Global Pass, which will officially launch this month. By downloading the Coworker app, users can make the most of Global Pass by easily finding which spaces they'll visit next and planning out their coworking journey. Moreover, the app makes it easier than ever before to locate available space that's nearby and read reviews.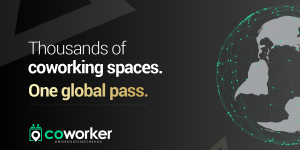 10) Introduced Coworker's Global Pass 
Perhaps our biggest "win" of 2019 was the introduction of our new product, Global Pass — an idea that's been four years in the making. After developing the product throughout this year, we began beta testing in October and are thrilled to announce it will go live on January 6. If you haven't heard, Global Pass is the first ever truly global coworking membership, granting subscribers frictionless access to thousands of spaces in over 108 countries. For just $50 per month, subscribers can cowork from any four locations in the Global Pass network, which features spaces in major cities like London, New York City, Dubai, and Singapore (and in smaller towns, too!) 
To register your space to the Global Pass network, visit our main Global Pass page. Also, our Founders Launch pre-sale of a limited number of Global Pass subscriptions will take place on January 6. If you want to be a founding member of this exciting new product, be sure to join our waitlist.
____________________________
2019 was a fast-paced, productive, and incredibly successful year for us at Coworker. As we look to 2020, the coworking industry is gearing up for a number of innovations that will not only fuel additional growth, but transform the traditional membership model entirely.
Thanks to everyone who supported us this year. We can't wait to see what unfolds in 2020!