Many small businesses are struggling to keep their heads above water right now and others are simply digging in as the economy stalls. While it's an anxiety-inducing time, it's also a time we are seen communities come together like they never have before. In the midst of crisis, there is opportunity. Not to make money, but to offer support and put your values on display.
For instance, there's the opportunity to help those in need in a time when people are more likely to accept your help. The coworking operator, WorkSuites, provides a great example of this with their recent initiative to convert full-time staff members into consultants for the U.S. administration's CARES Act.
There's the opportunity to create goodwill with your future customers by showing that you're the kind of business who helps those in need. Even if you aren't able to use your shared office space as usual, coworking spaces are still finding ways to bring their communities together and support them as much as possible from afar.
If your business, small venture, or corporation is facing unfavorable consequences from COVID-19, there's also the opportunity to accept help from others. Put stubbornness aside and admit that sometimes it's better not to go it alone.
Every day, we're seeing more and more businesses learning this lesson:
It pays to help others.
Gratitude is a currency not unlike dollars. It can be stored, it can be cultivated through investment, and it can be spent. Sure, it's not entirely selfless for businesses to offer discounts, but it's not exactly selfish either — especially right now.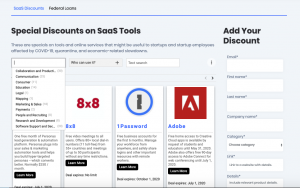 An opportunity to take advantage of deals
Our startup, Personas, scoured the internet to produce this list of 138 COVID-19 discounts being offered by SaaS companies. It's growing daily and gives discount descriptions, expiration dates, and links to use.
If you're looking to tighten your belt and cut expenses, or simply need a new tool in order to work remotely, you can search anything from marketing to productivity to payments. Just select the category that you're interested in and take a peek at the available discounts. Or if you're looking for a specific product, type its name into the search bar.
Also, if you're part of a SaaS startup yourself, you can add your own discount to the Personas COVID-19 minisite above to gain some exposure for your business.
My team has personally been trying out new tools they have been meaning to explore. It's a great chance to support some small SaaS teams and give their apps a go. While there's an exponential number to choose from, here are some of the tools we've been trialling and enjoying:
– 1Password (has quickly become a favorite of our team)
– Jamm (quick video conferencing compatible with Slack)
– Lucidchart (diagraming our genius concepts remotely for each other)
Whether you're a business owner navigating operational challenges from COVID-19 or you're a solopreneur just starting out that's in need of simple, cost-effective SaaS tools, we hope you find the discount you're looking for. Don't forget to check back every few days for new offers!